DePauw University Orchestra Opens its 2018-19 Season Sunday
September 18, 2018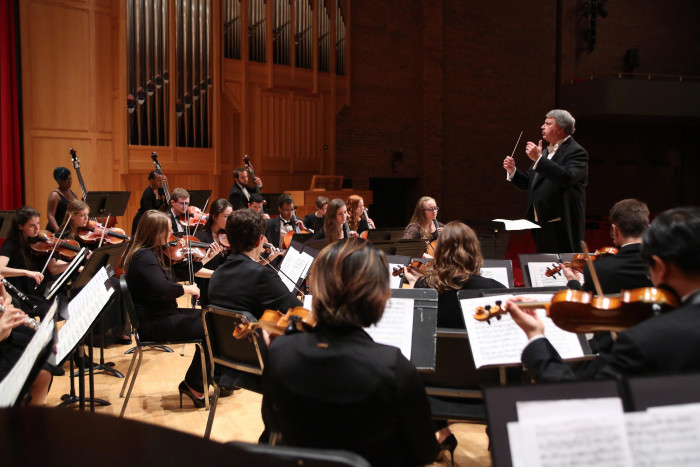 The DePauw University Orchestra begins its academic year with a festive tone, opening its 4 p.m. Sunday, September 23 concert in the Green Center for Performing Art's Kresge Auditorium with Roman Carnival Overture by French composer Hector Berlioz. On the podium leading the ensemble in its first concert of the season will be Professor Orcenith Smith.
Following the overture, based on musical themes from Berlioz's opera Benvenuto Cellini, Maurice Ravel's Une barque sur l'océan (A Boat on the Ocean) will provide an impressionistic contrast before the program's grand finale: Russian composer Modest Mussorgsky's masterful Pictures at an Exhibition. The orchestra will perform a unique version (and one of the first) of this immensely satisfying work, arranged by Mikhail Tushmalov, a student of the great Russian orchestrator and composer Nikolai Rimsky-Korsakov.
"It is an exciting year ahead for the University students in the orchestra," Smith, the ensemble's music director, said. "With a January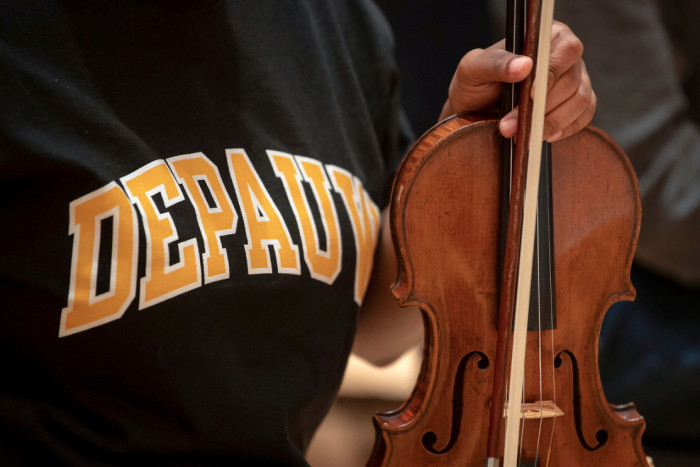 Winter Term concert tour to Japan by our Chamber Symphony, there is much energy surrounding all of our music making this season. Our opening concert captures this energy and brings it to our audience."
Later this fall, friends and family also can look forward to the University Orchestra's appearance during the ArtsFest Fall Gala at 4 p.m. Sunday, Oct. 28, and Thanksgiving Week concert at 4 p.m. Sunday, Nov. 18. In addition, the orchestra will perform during the School's Eighth Annual Holiday Gala and Family Concert to be given on Dec. 1 and 2, respectively.
General admission to Sunday's concert is $5; tickets for seniors, youth and all students are free. To purchase tickets, visit depauw.edu/music or stop by the Green Center at 605 S. College Ave. The venue's box office is open from noon–4 p.m. Monday through Friday and beginning 90 minutes hour prior to each performance.
Back