DePauw Toasts Alumni for Accomplishments, Contributions
June 12, 2019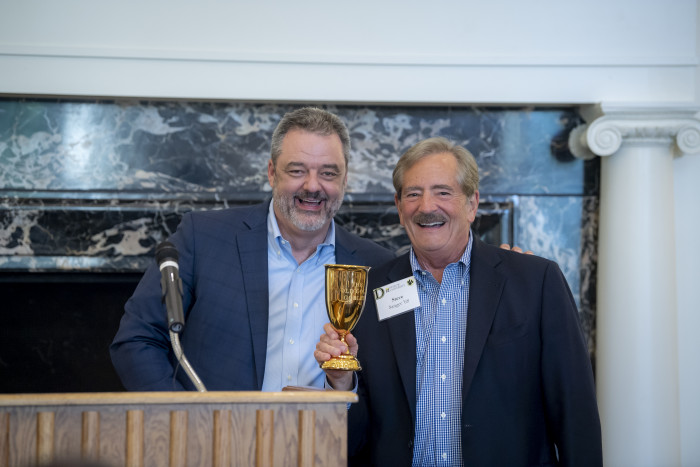 Steve Sanger '68, the former top executive at General Mills, received the Old Gold Goblet at DePauw University's Alumni Reunion Weekend on June 7.
The Old Gold Goblet is bestowed annually to recognize an alumnus for "eminence in life's work and service to alma mater." Sanger, a member of the DePauw Board of Trustees who worked at General Mills for 34 years, including 13 years as chairman and CEO, in 2009 won the Woodrow Wilson Center's Award for Public Service, given to "policymakers, philanthropists, scientists, civic and religious leaders and celebrities who have excelled in their fields while leaving a deep, positive impact on their communities and the world." He and his wife Karen Ogren Sanger '68 last year provided $20 million to create the Sanger Leadership Initiative, which will support extracurricular and cocurricular leadership opportunities and experiential learning programs for DePauw students.

Kyle Smitley '07, founder and executive director of Detroit Achievement Academy and Detroit Prep, also was honored at the Distinguished Alumni Achievement Awards dinner, where she received the Young Alumni Award. She previously founded barley & birch, a U.S.-made organic clothing line for children, which pledged more than half its profits to environmental and social causes around the globe. Inc. magazine featured Smitley in its 2009 listing of "30 under 30: America's Coolest Entrepreneurs" and Forbes honored her as one America's top 10 most promising women entrepreneurs.
The university also awarded citations to Amanda D. Lotz '96, Chinonye Chukwu '07 and Ben Solomon '10. Lotz is a media studies professor at Queensland University of Technology; a researcher in the Digital Media Research Centre; and a fellow at the Peabody Media Center. She is author, co-author or editor of eight books and has received many awards and honors, including Coltrin Professor of the Year by the International Television and Radio Society for 2004-05 and Faculty Fellowship by the National Association of Television Program Executives in 2004 and 2015.
Chukwu, a film director and screenwriter, won the 2019 Sundance Film Festival's U.S. Grand Jury Prize: Dramatic for her feature film "Clemency." An educator and social justice advocate, Chukwu worked on the clemency campaign for Tyra Patterson, who was released from prison after serving 23 years for a wrongful murder conviction. Chukwu teaches screenwriting and directing at Wright State University, from where she and her students work with Pens to Pictures and other social justice advocacy projects in Ohio.
Solomon is a video journalist for The New York Times. In 2015, he and six colleagues were awarded the Pulitzer Prize for international journalism for their coverage of the 2014 Ebola outbreak in West Africa. They also won a George Polk Award for health reporting. He has received five Emmy nominations over the past six years for directing short films and virtual reality projects.
Back