Professor David Alvarez is Co-Editor of Imagining Religious Toleration: A Literary History of an Idea, 1600–1830
November 26, 2019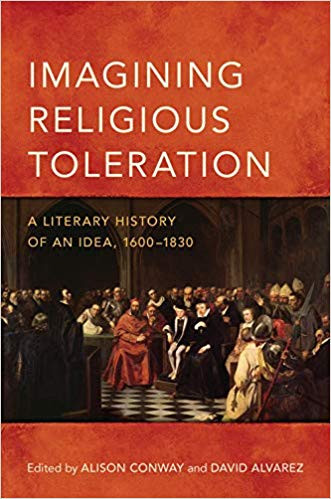 David Alvarez, associate professor of English at DePauw University, is co-editor of Imagining Religious Toleration: A Literary History of an Idea, 1600–1830. The book, a collaboration with Alison Conway, professor of English and cultural studies at the University of British Columbia, has been published by the University of Toronto Press.
A synopsis states, "This study offers a distinctive, literary studies approach to analyzing the history of toleration from the early modern period to Romanticism. Religious toleration is one of today's most urgent challenges. By opening up new perspectives on the past, these essays offer new possibilities for our present."
Kevin Seidel from Eastern Mennonite University's Department of English states, "With scholarly voices working across several literary historical periods, Imagining Religious Toleration helps readers rethink stories of toleration. If societies are not becoming more secular as they become more modern, then we need to think again about toleration and religious pluralism, and the essays in Imagining Religious Toleration do just that, providing readers a set of insightful, initial investigations into what we might learn from older, imaginative writing about toleration today and about the role literature might play in sustaining such toleration."
Learn more and order the book at Amazon.com or the publisher's website.
Alvarez teaches a wide range of courses on Enlightenment literature and philosophy, focusing on religious tolerance, satire, economics and literature, cosmopolitanism, and coffee. He has received a Fulbright Lecturing award for Delhi University, India, and a Ford Foundation Award for U.C. Berkeley. A recipient of a John and Janice Fisher Fellowship for a project on "Enlightening Shaftesbury: Collaborating on a Scholarly Edition of the Complete Works of the Third Earl of Shaftesbury," he was a visiting scholar at the Friedrich-Alexander University, Erlangen, Germany, February-August 2017. Most recently, he has been awarded a two-month fellowship in 2020 at the Interdisziplinäres Zentrum für die Erforschung der Europäischen Aufklärung (Interdisciplinary Center for the Study of the European Enlightenment) at the Martin-Luther University in Halle-Wittenberg, Germany, in support of his book project, "Imagining Global Religion: Empire and Secularity in the English Enlightenment."
Back