DePauw Student Journalists to Join Top Peers Investigating Juvenile Justice
January 10, 2020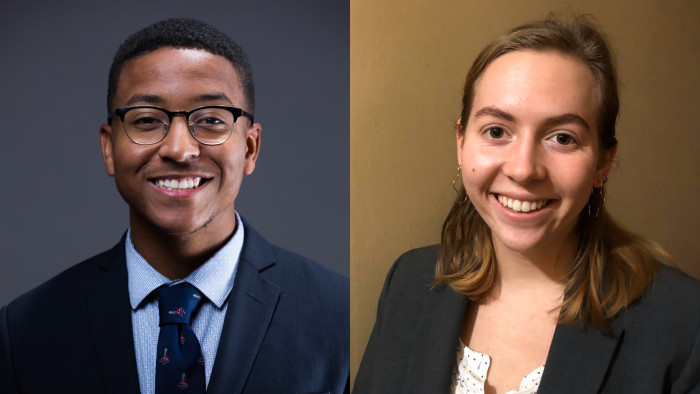 Two DePauw students will join top student journalists from 15 other universities next summer to investigate youth violence and the juvenile justice system in America.
Byron Mason '20 and Joslyn Fox '21 have been selected to participate in the Carnegie-Knight News21 multimedia initiative, a decade-old program established by the Carnegie Corp. and the John S. and James L. Knight Foundation. The program, headquartered at the Walter Cronkite School of Journalism and Mass Communication at Arizona State University, was founded to demonstrate that students could produce innovative, in-depth multimedia projects on a national scale.
"Participating in a summer internship is essential for any student considering a career in journalism, and News21 is one of the best," said Kathy Whyde Jesse, adviser to The DePauw, the university's student newspaper, and a journalism professor of practice.
Both students have worked at The DePauw – Mason as a photographer and Fox as news editor.
"I want the News 21 internship because I want to be a part of a legacy of journalists who seek to tell the most impactful stories," Mason said. "I hope to continue to develop my visual storytelling skills and forge a career of documentary and feature filmmaking."
Fox isn't sure what her future holds "but I think that, regardless of where I go, this experience will follow me and leave me more informed. … I am excited about this internship because it gives me the platform to tell stories and elevate the narratives of people that may otherwise go unheard or ignored."
This is the third year DePauw has participated in the internship. This year's team of student journalists will investigate disparities in sentencing and jail time; conditions of juvenile detention facilities; and the impact on families, communities and victims. The work will be published on a website and will be made available to news organizations; portions of previous investigations have been published by The Washington Post, NBC News, USA Today and the Center for Public Integrity.
Back