Retired professor Bob Newton dies
February 6, 2020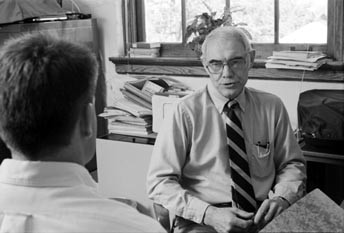 Robert Newton, a retired philosophy professor who taught at DePauw University for 52 years, died Tuesday night at Putnam County Hospital. He was 92.
Newton retired from DePauw as the Blair Anderson and Martha Caroline Rieth professor of applied ethics at the end of the 2007-08 academic year. At the time, he was DePauw's third-longest-serving faculty member.
He joined DePauw in 1956. His class on biomedical ethics prepared two generations of students to become medical professionals. In a story written at the time of his retirement, he recalled his thoughts when a first-year student asked a difficult question: "This is a kind of inquiring mind and insightful mind that I think is very interesting."
He was a co-coach of DePauw's Ethics Bowl team.
He earned a bachelor's degree from Yale University in 1950, then a Bachelor of Divinity from Union Theological Seminary in 1953. He received a doctorate from Columbia University in 1960.
At a retirement reception in his honor, Newton was given a book filled with testimonials of colleagues and former students, sentiments that gave him "a sense of satisfaction and not pride so much as delight." He planned to travel and explore topics such as philosophical theology.
He recently was a member of the DePauw Coffee Group, a regular gathering of retired faculty and staff members – and some active ones – who met weekdays at 101 E. Seminary St.
Newton's wife Ann was an adjunct faculty member at DePauw. His daughter, the Rev. Beth Newton Watson, is a university chaplain here and his son Christopher Newton is assistant director of the Pulliam Center for Contemporary Media and the operations coordinator for WGRE. Arrangements are pending.
Back