DePauw welcomes renowned composer and soprano Susan Botti
February 6, 2020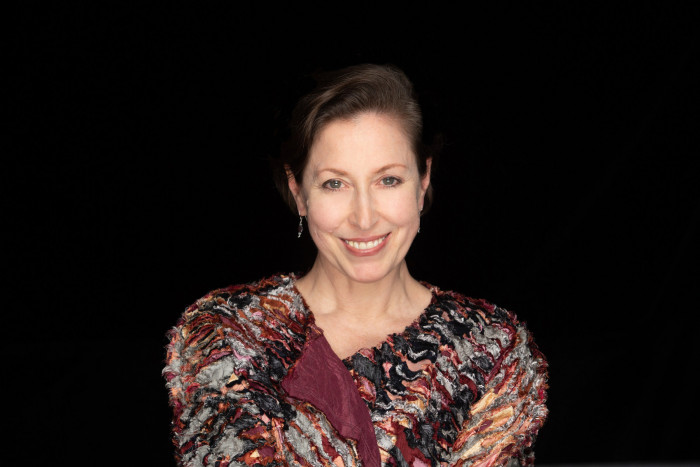 Renowned composer and soprano Susan Botti will be at DePauw University for the 2020 Music of the 21st Century Festival. The five-day residency, running Feb. 10-14, produces two concerts dedicated to Botti's works.
A 7:30 p.m. chamber concert on Thursday, Feb. 13, in Thompson Recital Hall features an evening of solo and chamber music performed by DePauw students and faculty members. The program offers the audience a glimpse into different worlds with pieces that transport the listener from the canals of Northern Italy in "Two Italian Songs" to the microscopic world of crystals in "Cristalli," accompanied by Alice F. Weston's video "Crystal Clues to the Sublime" and performed by faculty pianist May Phang.
The closing gala concert, set for 7:30 p.m. Friday, Feb. 14, in Kresge Auditorium, is a feast for the senses, showcasing pieces such as "Glaze," which evokes imagery of glazed pottery. In this program, Botti will not only present her works but also her own voice, performing the hauntingly beautiful solo in "Cosmosis" – the story of a spider attempting to spin a web in space – supported by treble choir and wind ensemble. After the concert, a one-hour Valentine's Day reception for guests will be held with selections of wine, chocolate desserts and hors d'oeuvres. Audience members are encouraged to stay and mingle with the performers and Botti.
"Susan's music is gorgeous and expressive and has so much character; her pieces are like a theater of sounds," says festival coordinator Eliza Brown, professor of composition at DePauw. "My hope is that her week on campus is one of sustained musical growth and discovery for the School of Music and anyone who comes to hear the two concerts of her work."
Percussion student Abigail Foehrkolb '21 is excited to work with the dynamic, forward-thinking composer. "Susan Botti's music allows us as performers to go outside of the box through improvisation, unusual sounds and unique musical characters," she said. "When we rehearse with a living composer, the energy in the room and in the music becomes electric. I can always feel the sense of immediacy in new music that reflects the culture of a world that we all live in."
In addition to a week of rehearsals, class visits and coaching by the composer, the festival schedule includes "A Conversation with Susan Botti," moderated by Brown during the school's weekly recital hour, Wednesday, Feb. 12, at 10:20 a.m. in Thompson Recital Hall.
The 7:30 p.m. concerts, recital hour, and reception are free and open to the public. No ticket is necessary. For a full schedule, visit the School of Music website at depauw.edu/music or follow us on Facebook and Instagram @DePauwMusic.
Music of the 21st Century is underwritten through the support of 1969 DePauw graduates Robert A. and Margaret A. Schmidt.
(Video credits: Alice Weston, environmental artist; Susan Botti, composer; Phillip Bush, premiere pianist; and Chris Gliebe, animation director; "Crystal Clues to the Sublime" (2013): digital video (run time 17:22), Cincinnati Art Museum, gift of the artist.)
Back