English prof Heithaus publishes poetry collection
June 9, 2020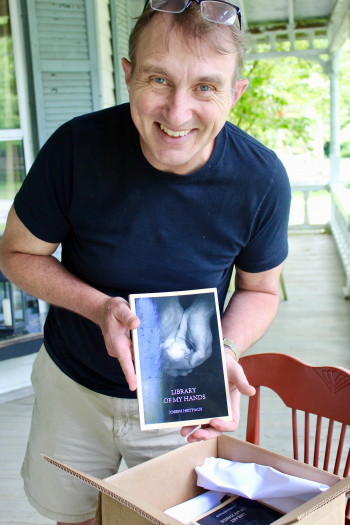 A collection of poems by English professor Joe Heithaus has been published by Dos Madres Press.
"Library of My Hands" is Heithaus's second collection' "Poison Sonnets" was published in 2012. His work also has been published in two books put out by "airpoets," the name adopted by a group of poets whose work is etched in stained glass at the Indianapolis International Airport. (Heithaus's "Indiana Flight" is on Concourse B.)
The title of his new book comes from a poem he wrote as a postcard to a fellow airpoet. "I just always liked that phrase," Heithaus said. " … 'Library' seemed like a fitting way to collect poems I'd written over several years."
The book is in titled sections and explores themes such as birth, loss and death, as well as meditations on the natures of light and water.
"Some poems are what we might call nature poems, but others contemplate language, the sounds and implications of words and some of my own personal struggles and joys in witnessing the birth of my children, losing one brother to AIDS, my parents and another brother to cancer," Heithaus said.
It's strange, he said, to have a book come out during the COVID-19 pandemic. The publisher accepted the book last fall, but "I wanted to do a lot of revising," Heithaus said. "I wanted the poems to fit together one after the next and from section to section in a way that made artistic sense. Ideally, each poem leads to the next, opens it up in a way."
Back