DePauw announces 2020-21 campus plans
July 25, 2020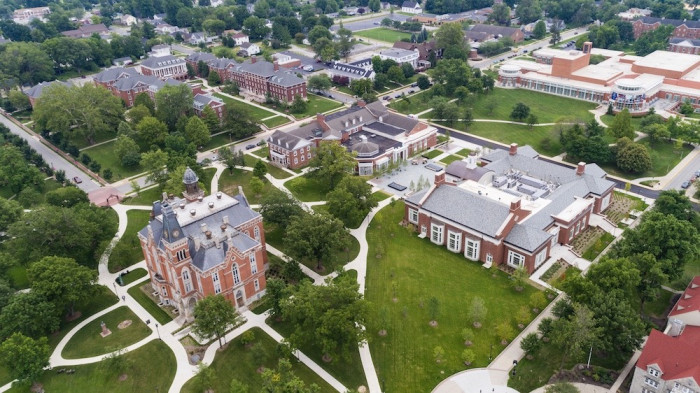 First-year students and sophomores at DePauw University will start on-campus classes Aug. 31, and juniors and seniors will return to campus in the spring, President Lori White announced today.
The staggered return to campus is in response to the resurgence of the coronavirus pandemic, White said.
"Despite our best hopes, efforts and preparations, we now know that to safeguard the health of our DePauw and Greencastle communities in the face of an alarming resurgence of COVID-19 in our state and nation, we must reduce the number of students who are on campus at any one time," White said in a letter sent via email to students, their families and faculty and staff members. (A comprehensive question-and-answer document can be read here.)
"The number of students we can have on campus for fall term in university-owned and Greek housing is based on our ability to provide students with single rooms and the need to carefully balance the number of those living on campus with the number of available isolation spaces, as per health department guidelines," White wrote.
White, who assumed the DePauw presidency July 1, said "I share the frustration and sadness that many of you must feel."
In addition to first-year students and sophomores, the university is allowing on-campus learning to new transfer students who want to live and study on campus; international students who must remain on campus because of travel and government regulations; students whose home environment is not conducive to academic success; students at academic risk; and some student leaders.
If, after allowing for adequate accommodations in the event isolation and quarantine are needed, some seniors and juniors will be allowed to return in the fall. Otherwise, those upperclass members will be learning remotely and return to campus in the spring, along with midyear transfers and students mentioned above.
"We know the on-campus residential experience at a small liberal arts college is paramount, and this approach allows every student who wishes to live and study on campus do so for at least one term," White said. "Extensive data support the importance of strong on-campus interaction and mentorship in facilitating degree completion for first-year and sophomore students. Giving priority to first-years and sophomores this fall provides first-year students time to familiarize themselves with campus and their professors, supported by student leaders and peer mentors, and allows sophomores, who have had only one full term on campus, to obtain additional support and experience."
Bringing upperclass members back to campus in the spring will ensure that seniors will be supported by DePauw faculty and staff as they prepare for graduate school and job interviews and make career plans.
White said the decision, though "especially difficult," was made "only after careful monitoring of data; evaluating multiple alternatives; seeking the advice of health experts in Greencastle and Indiana; and considering the recommendations of our campuswide COVID-19 planning, safety and operations teams."
Classes are set to begin Aug. 31. The last on-campus day of the fall term is scheduled for Nov. 20, followed by a week for Thanksgiving break; two weeks of remote instruction for all students; and a week for projects, papers and exams. The term will end Dec. 18.
Students who come to campus will be expected to follow health and safety restrictions, and violations will be considered violations of DePauw's Community Standards, with penalties up to and including suspension or termination of the privilege of living on campus. Testing and contact-tracing protocols will be put in place, with tests required before and after arrival on campus, and random testing upon request.
Masks are mandatory in all university-owned and operated common spaces. No social gatherings of more than 10 people may occur, and dining and serving lines will be limited.
Back