Legendary football coach Mourouzis dies
September 17, 2020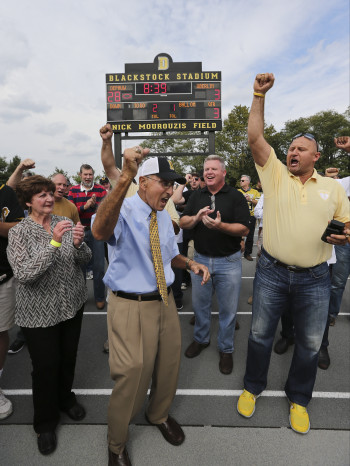 Nick Mourouzis, who guided DePauw University's football program for 23 seasons, died Wednesday evening.
Mourouzis, a professor of kinesiology, was named head coach in 1981 and directed the Tigers to a 138-87-4 record before retiring at the end of the 2003 season. He was named the Southern Collegiate Athletic Conference Coach of the Year in 2000 after leading the Tigers to a three-way share of the conference title and was named the Indiana Collegiate Athletic Conference Coach of the Year in 1996 and 1990.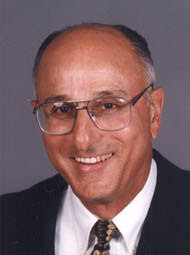 Mourouzis received the Distinguished American Award from the central Indiana chapter of the National Football Foundation in 2001 for his lifetime commitment to football and for making significant contributions toward bettering amateur football in the United States. He was inducted into Miami University of Ohio's Cradle of Coaches in 2003, joining legendary coaches such as Paul Brown, Ara Parseghian, Bill Mallory and Woody Hayes.
Upon Mourouzis's retirement, Gov. Joe Kernan awarded him a Sagamore of the Wabash, the highest award that can be given to an Indiana resident. Mourouzis was inducted into the Indiana Football Hall of Fame in 2004 and the DePauw Athletics Hall of Fame in 2006. He was DePauw's commencement speaker in 2004 and DePauw's football field was dedicated as the Nick Mourouzis Field in 2013.
"Nick was the epitome of Tiger Pride and positively engaged the Greencastle community for almost 40 years," said Stevie Baker-Watson, associate vice president for campus wellness and the Theodore Katula director of athletics and recreational sports. "That was whether or not an individual actually had the opportunity to play for him on the field.
"Everyone knew Coach Nick; he was a great man and role model for all, and brought so much joy and happiness to those who were connected directly to athletics and our football program. We are so very sad, yet so very grateful for Nick sharing his life with us all. We extend our deepest condolences to Nick's wife, Marilyn, and their family. We all loved him very much."
Before joining DePauw, Mourouzis was an assistant coach at Northwestern, Indiana, Ball State and Ohio universities.
He founded Chi Alpha Sigma, the nation's first collegiate scholar-athlete honor society, which has 289 chapters in 42 states. He graduated from Miami University of Ohio in 1959, earned a master's degree in physical education from Ohio University in 1961 and received a director's degree from IU in 1971.
(Photo above: Mourouzis celebrates a DePauw win on the day the football field is dedicated in his honor.)
Back