DePauw wins $1 million grant to use technology to improve outcomes and outreach
September 24, 2020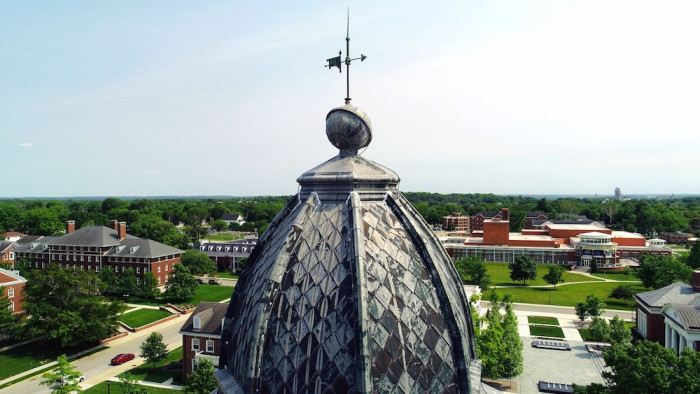 With support from a $1 million grant from Lilly Endowment Inc., DePauw University will leverage technological lessons learned from responding to the COVID-19 pandemic to attract prospective students and enable faculty members to integrate presentations by successful alumni into courses and career programs.
The grant is part of Lilly Endowment's statewide initiative, Charting the Future for Indiana's Colleges and Universities, which provides $62 million in implementation grants to Indiana's 38 accredited public and private higher education institutions. The aim of the initiative is to challenge colleges and universities to improve how they prepare students for successful futures and to address ways to strengthen their long-term financial sustainability.
DePauw's application for the grant was crafted by Dave Berque, vice president for academic affairs and professor of computer science, and Carol Smith, DePauw's chief information officer, with input from the faculty's Strategic Planning Committee.
During the four-year grant period, DePauw will:
Develop courses and/or guest presentations that will be offered remotely to prospective high school and transfer students. The goal is to attract students to attend DePauw.

Offer these courses and/or presentations to admitted students before and after they have paid deposits. The goal is to increase the number of accepted students and decrease "melt" – students who change their mind about attending.

Provide faculty members with opportunities to integrate alumni presentations into courses and career programs. The goal is to demonstrate to students that a liberal arts education prepares graduates for lives of meaning and means.

Providing funding to faculty members to redesign their traditional, face-to-face courses to include virtual approaches.
As added benefits, students will gain experience with remote learning technologies, preparing them for careers that may require them to work remotely, and faculty members will become more adept at online instruction, preparing them for future emergencies such as weather events and pandemics.
Over the four-year initiative, the university will offer workshops to expose faculty members to the project's goals and solicit their proposals for modifying existing courses or designing new modules. It also will provide technology support and enhanced learning spaces to enable faculty to implement their proposals.
DePauw received a $100,000 planning grant from Lilly Endowment late last year that set the stage for this implementation grant. Those were the first two phases of Lilly Endowment's three-phase initiative. Grants under the third phase, which is competitive, will be awarded in 2021. Those grants will support collaborative efforts that seek to have large-scale impact on the ability of higher education institutions in Indiana to fulfill their educational missions.
Lilly Endowment is a private philanthropic foundation created in 1937 by J.K. Lilly Sr. and his sons Eli and J.K. Jr. through gifts of stock in their pharmaceutical business, Eli Lilly and Co. The endowment is a separate entity from the company.
Back