Professor emeritus Ralph Gray dies
October 6, 2020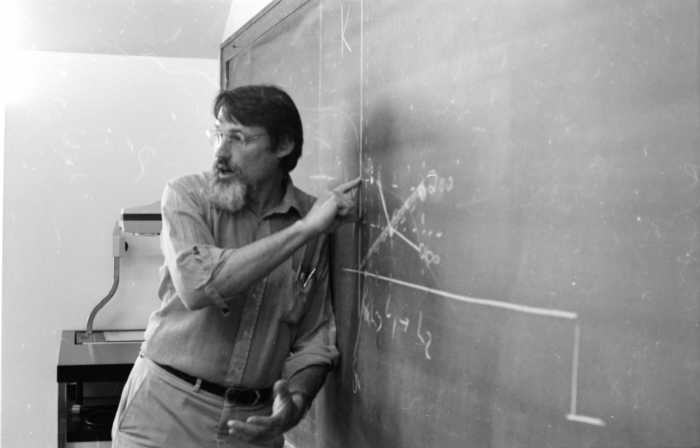 Ralph Gray, professor emeritus of economics at DePauw University, died Sunday morning.
Gray joined the DePauw faculty in 1965 after teaching at Ohio University and the University of Arkansas. He received a doctorate from Syracuse University and an undergraduate degree from Ohio University. He retired from DePauw in 1997.
Gray co-authored an economics textbook for undergraduate courses in American economic history and articles for the National Tax Journal, Municipal Finance and other professional journals.
Named a DePauw "best teacher" in 1966-67 by students, Gray took a yearlong leave of absence in 1967, when he was appointed development economist for Arkansas' Economic Development Administration. He assisted in the coordination of state-initiated economic development programs while serving as an advisor to former Arkansas Governor Winthrop Rockefeller.
Gray was married to Sally Hall Gray, who died in 2012. She was an economics professor at DePauw from 1965 through 1979 and a retired senior judge of the Putnam County Court.
Matthew Kincaid '92, judge of Boone Superior Court 1, reflected in the fall 2018 issue of DePauw Magazine on how Gray affected his life: "Gray … instilled in me and others that being professional meant showing up and being prepared. … In Ralph's world, you followed standards, met high expectations, but were a kind human being who enjoyed life. On days when I am able to both adhere to rules, standards and expectations of the law but also be warm and kind to the people before me, those successful days come in large part from DePauw and professor Gray."
Said Dave Berque, vice president for academic affairs: "Ralph Gray was a very strong teacher and dedicated member of our community. I remember him calling me to see how we could work together to support a student we both knew and then remember that same student commenting on how much professor Gray had meant to him. Professor Gray touched many lives and will be greatly missed."
Due to travel restrictions and limitations on safely holding gatherings, there are no plans for a memorial service.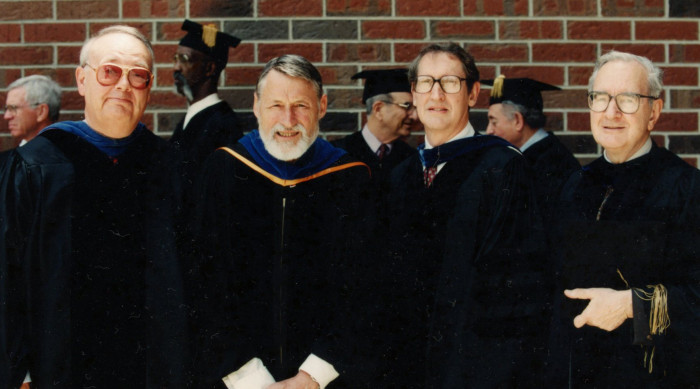 (Photo above: Gray, second from left, with retiring faculty in 1997.)
Back