'18 alum wins competitive fellowship to study, serve in foreign service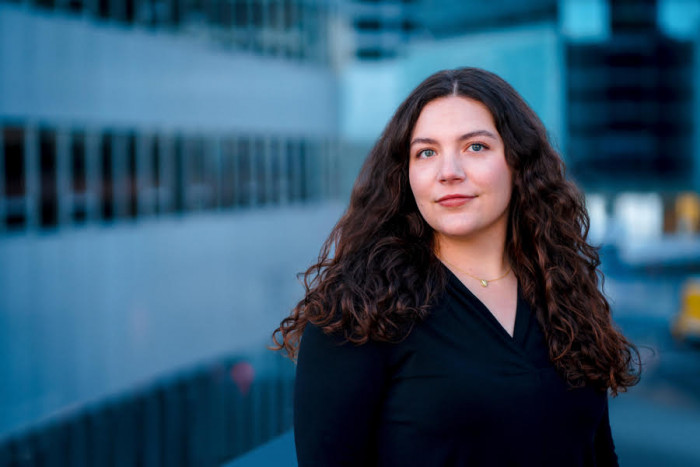 A DePauw alumna whose studies and academic acumen resulted in several global experiences as a student has secured a highly competitive Pickering Fellowship offered by the U.S. State Department.
The fellowship will cover expenses – tuition, room, board, books and fees – while Maya Cotton '18 pursues a two-year master's degree. Cotton said she plans to study international affairs with a specialization in economics and business.
"I hope to strengthen my understanding of trade policy, commercial diplomacy and U.S. business interests," she said via email.
After she has completed her graduate degree, Cotton will serve in the foreign service, "though I hope to continue serving beyond this initial five-year period," which is required of Pickering fellows.
Learning about and operating in foreign lands is nothing new to Cotton, who was a Bonner scholar who majored in religious studies and minored in French and peace and conflict studies at DePauw.
She studied abroad in spring 2017 at the Institute for Field Education in Strasbourg, France, then won a Benjamin A. Gilman International Scholarship that enabled her to study in fall 2017 at Mahidol University International College in Salaya, Thailand.
"The Gilman scholarship served as my first introduction to U.S. Department of State funding opportunities and inspired my pursuit of a Fulbright English teaching assistantship," she said. And indeed, a month after her May 2018 graduation, she won a Fulbright award that sent her to Morocco, where she taught university-level business English to more than 200 students at the National School of Business and Management in Agadir.
She also led workshops for students applying to U.S. Embassy exchange programs and volunteered at Social Innovative Students, an economic development initiative to increase social entrepreneurship and business knowledge among Moroccan youths.
Since her Fulbright appointment ended, Cotton has been working at CT Strategies, a trade and border-management consultancy in Washington D.C. "Through my role in business development, I've deepened my understanding of international trade and contributed to our efforts to expand our business into foreign markets," she said. She also serves as assistant vice president of mentoring for the Association of Women in International Trade.
Jeffrey Kenney, the professor of religious studies who, Cotton said, "played a critical role in encouraging me to apply for these opportunities and has supported my efforts throughout the years," said that "Maya's award is very good news, and something she worked for and deserves. …
"Maya entered DePauw with a keen interest in the intersection of culture, religion and politics, which overlapped with much of my teaching and scholarly work," he said in an email. "… Her eventual path of international affairs was a natural outcome of her desire to both learn about the world and make a difference."
Kenney said his role "was simply that of letter writer and editorial assistant for her applications," but Cotton says the professor "exemplifies the type of mentorship and advising available at DePauw that helps students achieve professional success."
The last DePauw alum to win a Pickering Fellowship was Hermes Grullon '13, who is a foreign service officer in the State Department, most recently was posted to the US Embassy in Djibouti.
Photo by Johnny Shyrock, www.johnnyshryock.com/
Whether we are writing about the intellectual challenge of our classrooms, a campus life that builds leadership, incredible faculty achievements or the seemingly endless stories of alumni success, we think DePauw has some fun stories to tell.

News media: For help with a story, contact:

Sarah Steinkamp, Vice President for Communications and Strategy and Chief of Staff.
sarahsteinkamp@depauw.edu.