'20 alum wins Fulbright to teach English in Austria
DePauw alumna Connor Locke '20 will teach English in rural Austria for a year after winning a grant from the Fulbright English Teaching Assistant Program.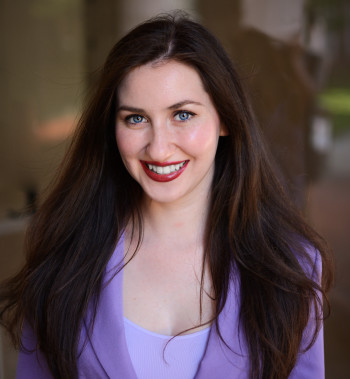 Locke will teach in Pinkafeld, a community of fewer than 6,000 residents in eastern Austria.
The program is offered by the U.S. State Department. It is intended to increase mutual understanding among nations through educational and cultural exchange and to develop leadership skills in its participants. It is open to recent college graduates and young professionals.
"It's an amazing opportunity," Locke said, "and especially for me, because it's been my dream for so long. So it's such a great opportunity to get me to Austria and to help me pursue my dream."
Locke is set to graduate later this month with a master of music degree in opera performance from the Maryland Opera Studio at the University of Maryland.
She majored in music performance and German at DePauw and is "conversationally fluent" in the language, she said. German is spoken in Austria, and her goal "is to be completely fluent by the end" of the yearlong program. She acknowledged some nervousness since the rural dialect in Pinkafeld is "almost a new language." But "I'm excited to do that, even though it'll be really hard and it's something I can't study for. I can only learn by speaking and listening."
Locke became interested in the German language while in high school, where she studied it for three years. She visited on a class trip and as a foreign exchange student. "And then when I realized that I wanted to be a classical singer, or specifically opera, I realized that that would be probably the best place to do it, where I would have more opportunities, and it would be more of a stable job."
Her ultimate career goal is to become a contract singer at an opera house in a German-speaking country. "I don't want to be traveling too much," she said. "I want to be able to stay in one place a little bit. So I think that would be perfect and amazing."
At DePauw, she had roles in operas each of her four years and won two concerto competitions. She is a mezzo-soprano and "I'm waiting for my voice to settle in. And then I'll know when it's time" to audition for professional roles. Meanwhile, during her year in Austria, she plans to apply to young artists' programs and volunteer to sing at churches or other venues.
Whether we are writing about the intellectual challenge of our classrooms, a campus life that builds leadership, incredible faculty achievements or the seemingly endless stories of alumni success, we think DePauw has some fun stories to tell.

News media: For help with a story, contact:

Sarah Steinkamp, Vice President for Communications and Strategy and Chief of Staff.
sarahsteinkamp@depauw.edu.