Leaders the World Needs
is a regular feature of DePauw Magazine, which is published three times a year.
Lettering for four years doesn't necessarily top off a sporting career, nor does college graduation terminate it.
A two-decade lull in competition while establishing a professional life and raising a family doesn't spell the end. Nor does a bout of cancer. Even induction in 1996 into DePauw's Athletics Hall of Fame didn't cap George "Muggs" Thornton '62's swimming life. At this writing, the 82-year-old is awaiting word about a possible relay-team swim in the English Channel next summer.
If it happens, it will be just the latest event in a lifetime spent in the water.
Though he swam in pools throughout the recent winter, Thornton, who said he is driven to set goals and achieve them, much prefers long-distance, open-water swims. Last August, he was the second-oldest swimmer to complete the Bosphorus Cross-Continental Swim, a 6.5-kilometer race that took him from Asia to Europe in an hour and a quarter. In September, he swam on a relay team – the youngest members of which were 65 – that crossed the English Channel. Thornton originally recruited five other octogenarians for the team, but when COVID-19 travel restrictions prevented swimmers from New Zealand and South Africa from reaching England, last-minute recruits completed the team. The six members rotated time in the water and swam 15 hours and 19 minutes before Thornton, achieving "a lifetime goal," walked ashore near Calais, France.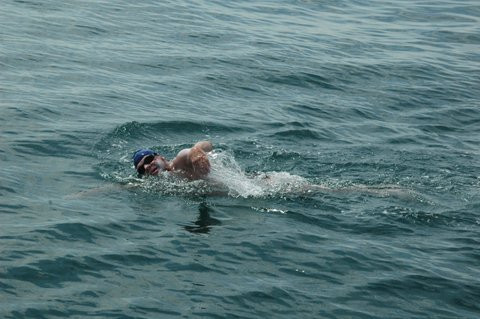 He previously attempted, at 73, to be the oldest person to solo the channel; he had swum more than 19 miles over 9.5 hours when he became delirious from hypothermia and had to stop.
From age 45 to 71, Thornton competed in 94 triathlons, which consist of swimming, biking and running varying distances, depending on the event. Twelve of them were IRONMAN® races, and two of those were on the grueling route in Kona, Hawaii. Competing in triathlons, he said, was a manifestation of his midlife crisis.
He started swimming at age 10 for the Dayton, Ohio, YMCA and participated in the 1956 Olympic trials. When he was considering college, some friends attended Ohio State University, then a swimming powerhouse, and he thought he'd go too. But he didn't like "the big-school atmosphere," and found DePauw – where still other friends attended – attractive.
He was a Rector scholar who started out studying business, but also was intrigued by psychology, especially after hearing from a guest lecturer from IBM. He saw industrial psychology as a way to combine those interests and apply "scientific methods to the study of human resource management issues."
Meanwhile, Thornton was conference champion three years – 1960, 1961 and 1962 – in his individual events, the 220- and 440-yard freestyle, and led his team to conference championships the same years. He was captain his senior year.  
He went on to earn master's and doctoral degrees in industrial psychology at Purdue University before spending his career as a professor at Colorado State University. He also has been an industrial psychology consultant for many companies, has written seven books and has another on the way. He retired from a regular job about five years ago, but has no plans to retire from swimming.
DePauw Magazine
Spring 2022
A GATHERING PLACE FOR STORYTELLING ABOUT DEPAUW UNIVERSITY
Whether we are writing about the intellectual challenge of our classrooms, a campus life that builds leadership, incredible faculty achievements or the seemingly endless stories of alumni success, we think DePauw has some fun stories to tell.

News media: For help with a story, contact:

Bob Weaver, Senior Director of Communications.
bobweaver@depauw.edu.