This story appears in the Spring 2023 issue of DePauw Magazine.
By Sarah McAdams
Study Abroad Brings Growth, Self-Awareness
Biology professor Kevin Kinney takes DePauw students to the Galápagos Islands off the coast of Ecuador during Winter Term to observe and experience – in some ways – what Charles Darwin did in 1835. Darwin's observations of the unique species there, which he found differed slightly from island to island, later inspired his theory of evolution.
"DePauw has a long history and tradition of students participating in off-campus study and that's built into the experience right from the start," said David Crout, director of off-campus programs. "So many people who work in this field – myself included – see firsthand the impact of study abroad, and it stays with you forever," said Crout. "But it's very difficult to convey that in words until you do it."
For faculty members like Kinney who lead these courses abroad, the experience enables them to build interesting projects and teach courses from different perspectives. 
An experience abroad can complement students' majors by enhancing their knowledge of a particular subject, through immersion in the culture and language of a different country. It can also broaden their understanding of the world and of other perspectives, as it did for Maddie Perry '23, who participated in the Galápagos 2023 winter term travel course Natural Laboratories for Evolution. Perry is a biochemistry and neuroscience double major. 
"It was incredible," she said. "I really got to learn from the individuals who lived there – about how much pride they have for where they live and how much respect they have for the place they live."
Andrew Conarty '24 gives a lecture, or "site report," about the Theater of Marcellus (visible in the right part of the background) to peers and professors during his study abroad experience.
It Inspires
Kinney has led the course 14 times since 2004. It includes a few days in Quito, Ecuador, and a tour on a live-aboard boat to five or six of the 12 major islands. As Darwin discovered, each island and what resides there is subtly different from the others. "That little, tiny environmental change is what we try to get the students to see," Kinney said. 
Kinney said some of the students come back to campus energized about biology, and he feels it, too. This semester, he is teaching an ecology and evolution class. "I've probably mentioned a specific example from Galápagos every day," he said. 
"Enabling students to go off campus is one of the things that DePauw does so well," Kinney said.
This year, the stars aligned for Kinney's colleague, associate professor of biology and 2003 DePauw alumna Sarah Mordan-McCombs. She co-led the winter term course with Kinney, who had been her academic adviser when she was an undergraduate biology major. She didn't participate in a semester-long study abroad program as a student at DePauw and said it's one of her great regrets.
Mordan-McCombs taught at another institution for more than a decade before being hired at DePauw in 2020. "It was my dream to be able to come back to DePauw to teach," she said. And because COVID derailed group travel for a couple of years, 2023 was her first opportunity to participate as an instructor.
Kinney started teaching the Galápagos course the year after Mordan-McCombs graduated. "So it's something that we've talked about a lot since I graduated," she said. They had even talked about organizing an alumni trip. 
"I think going and experiencing a different place and learning that you are okay being in a different place is a really valuable lesson," Mordan-McCombs said. "No matter where you go. It broadens your global perspective, which is one of the great things about a liberal arts institution."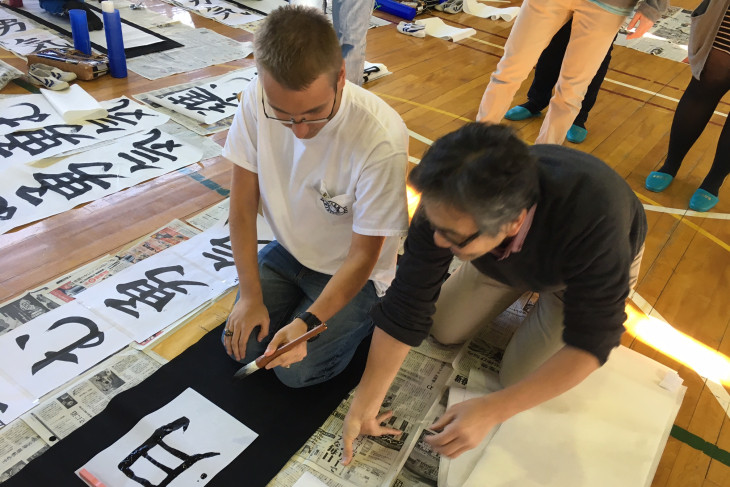 A hands-on lesson introduces students to traditional calligraphy during a winter term course in Japan.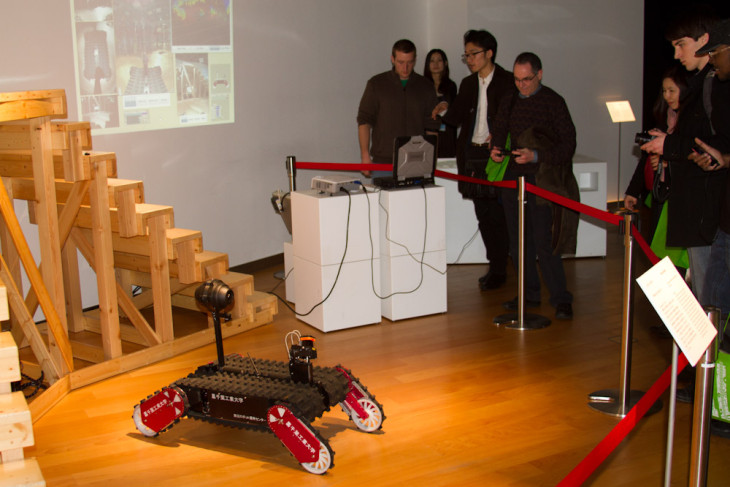 A visit to a Japanese technical institute during the same trip illustrated the evolution of craftsmanship in Japanese culture.
It Changes Perspectives
Andrew Conarty '24 spent last fall semester in Rome and describes it as "perspective-changing." In fact, the experience was so impactful he is returning in May to conduct research for his Honor Scholar thesis.
Conarty is a classical-civilization major and literature minor, an Honor Scholar and a member of the pre-law and public affairs student organization. He plans to attend law school after graduation.
He went abroad as part of Duke University's program, the Intercollegiate Center for Classical Studies in Rome, which he chose with the assistance of his adviser, professor of classical studies David Guinee. It aligned well with his major, offered field trips almost daily, and Conarty knew the program "would attract bright, dedicated students."
Because of the experience, he said, "I feel a lot more independent and confident in my schoolwork and a lot more confident in my ability to succeed."
Conarty received funding from the Honors Scholar Program Hallward-Driemeier Fund to research "how the Popes have influenced our – the public's – understanding of the ancient Roman past, through their collections of Roman antiquities in the Vatican Museums."
"At the risk of sounding overzealous, DePauw makes it so easy to study abroad," Conarty said. "It's such a life-changing opportunity, I would encourage anyone to do it."
Studies show that students studying abroad learn independent thinking, decision-making, budgeting, networking, language skills and cross-cultural communication among other skills. "We know that those skills are what employers and graduate schools are looking for," said Crout.
He and his Hubbard Center team focus on inclusion and making sure study abroad is accessible and available to all students. Finances are a big part of that. "DePauw does a lot in that area to try to help make off-campus studies affordable," said Crout.
For professors Dave Berque and Hiroko Chiba, their experience teaching a winter term travel course in Japan "is a really good example of how we've both grown as faculty members, as well as offering what we think is a really good experience for students," Berque said.
Berque is vice president for academic affairs and a professor of computer science, and Chiba is the Tenzer Family University Professor in Instructional Technology, and a professor and director of the Asian studies program.
Their course – Japanese Culture, Technology and Design – examines the spirit of craftsmanship present in both the long history of traditional art- and craft-making to the production of modern products, from cars to robots to video games.
Berque said he's "learned a lot about Japan, and some of that has found its way into other courses that I teach." Chiba said, "I learn a lot from the students. We want to bring new perspectives to the students, but they bring new perspectives to us, too." 
DePauw Magazine
Spring 2023
A GATHERING PLACE FOR STORYTELLING ABOUT DEPAUW UNIVERSITY
Whether we are writing about the intellectual challenge of our classrooms, a campus life that builds leadership, incredible faculty achievements or the seemingly endless stories of alumni success, we think DePauw has some fun stories to tell.

News media: For help with a story, contact:

Bob Weaver, Senior Director of Communications.
bobweaver@depauw.edu.