This story appears in the Spring 2023 issue of DePauw Magazine arriving in May.
By Casey Patrick
In 1879, a fire destroyed old Asbury Hall. Among the wreckage, fewer than 6,000 books were saved. This meager collection sat in storage until a space was carved out in the basement of East College to become the school's first official library. The facility was open to young scholars 8–11:45 a.m. daily.
Over the years, DePauw's library footprint, accessibility and resources have expanded again and again to meet the needs of students, faculty and scholarship in general. Arguably the most remarkable expansion was unveiled in January 2023, when students returned to Roy O. West Library after three years and an extensive $30 million renovation. The project covered 92,602 square feet and brought the beloved yet outdated library instantly into the 21st century.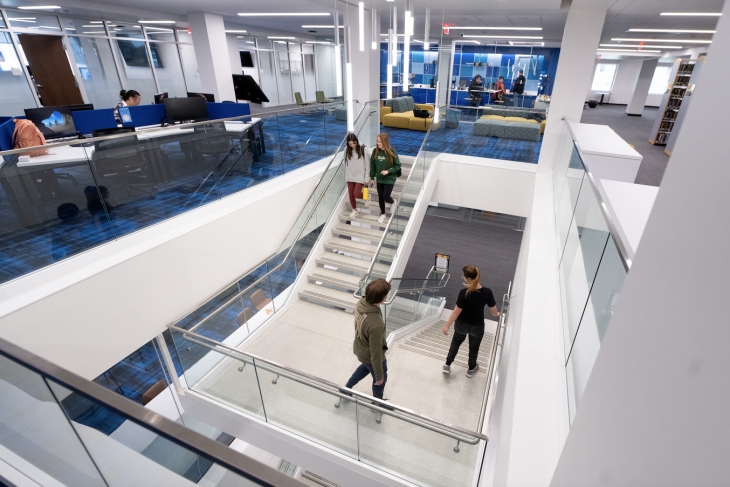 Roy O.'s familiar open layout is preserved — while adding more connections between spaces and people.
The dedication to transforming Roy O. is a clear indication that DePauw is committed to developing thinkers, adhering closely to its liberal arts and sciences tradition. This approach to education is more relevant than ever. By one popular estimate, 65 percent of children entering primary school today will ultimately end up working in job types that don't yet exist.
While no one can predict what kinds of leaders future generations of DePauw graduates will become, it is evident that Roy O. is ready to accommodate them – offering students access to digital connectivity and human connection.
THE IMPETUS FOR RENEWAL
At a basic level, the library renovation was necessary. After all, it was a mounting list of deferred maintenance items that launched planning back in 2015. But for university leaders and the generous alumni who supported the project, the focus was more on making sure Roy O. continued to be the intellectual center of DePauw. Dean of Libraries Rick Provine led the charge until Brooke Cox ('00) succeeded him in January 2022. Cox has worked at the university since 2001.
"Every student has a reason to visit the library. It's where they go to have a meeting, do their work or just hang out. It's the one building on campus best suited to be both a social and an academic space, but the nature of how students work has changed," says Cox.
Across Roy O.'s four floors are spaces to fit just about any way a student wants to learn on any particular day or night. The renovation increased the number of areas for student collaboration from 16 to 41. On a recent spring morning, two women studied at a four-top table, while others recharged themselves and their devices while curled up on sectional sofas or upholstered chairs with detached desks. The renovated library also has solo workstations, cozy booths and private study rooms.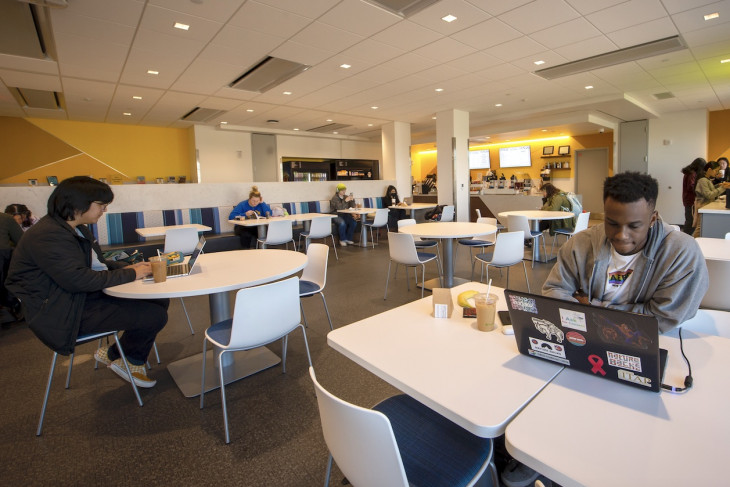 Students catch up on work and with each other in the new Café Roy.
"I've seen this desire play out in the library among students to both be with people and to seek solitude," Cox says. "While we always need solo study, we also need to interact with other people in the world. Libraries fulfill that role. We have so few common spaces in the U.S., and academic libraries serve that need."
On the library's west side is the new 3,280-square-foot Reading Room, which fosters quiet study. Later, students might grab a coffee in the bustling Café Roy or go to the third-floor meditation room to recenter in silence.
With the renovation, the Faculty Instructional Technology Support (FITS) was relocated from the basement to a more prominent home on the second floor, and students can engage with the archives of DePauw and the Indiana United Methodist Church in the University Archives on the lower level.
At every turn, the updated Roy O. brings information both digital and physical to life in ways the old space could not, inviting students to explore diverse ways to study and connect. The approach encourages students to think broadly about not only what they study but how.
While we always need solo study, we also need to interact with other people in the world. Libraries fulfill that role.

– Brooke Cox '00

, Dean of Libraries
BUILDING MULTIFACETED FLUENCY
Regardless of which academic program a DePauw student chooses, when they graduate, they will have a handful of foundational skills to help them pursue their careers and passions. Two of these key skills are now taught at Roy O.
The first focuses on technology, an industry that's expected to reach $4.6 trillion in spending in 2023, with much of that spending going to tech for industries like health care and education. This ubiquity of new technologies has changed what DePauw students need from a liberal arts education.
"The whole Tenzer Technology Center initiative is to increase digital fluency. We want to see our students – all of them – have more tech skills," says Michael Boyles, who became the first director of the Tenzer Technology Center in 2018.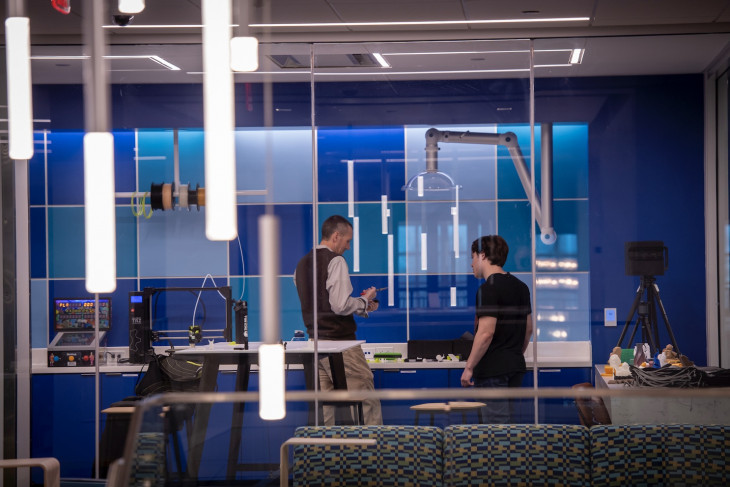 Michael Boyles and a student work in the Tenzer Technology Center's new 3D printer makerspace.
At its heart, the center is a high-tech collaborative space where students can enhance their technology, computing and visualization skills. It was made possible through a generous gift from Lee E. Tenzer (class of 1964), who died September 19, 2022. It houses a variety of advanced technology, provides workshops and seminars, offers internships and mentoring opportunities.
From a glass-walled makerspace with a row of 3-D printers behind him, Boyles shares how Tenzer is impacting more students by engaging faculty to incorporate technology such as data visualization software and extended reality in their courses. Dr. Nipun Chopra, for example, required students to present their biology projects as a website, audio story or video, leveraging the equipment and expertise at Tenzer to bring them to life.
The center didn't have a permanent home until the library renovation. Now it takes up real estate on the first and second floors of Roy O., an intentional choice to encourage every student to access its resources. It appears to be working. Morgan Lawson '25, a classical civilizations and independent archaeology double major, illustrated her own world and characters to win a recent Tenzer-led 3-D game development contest.
"All DePauw students will work in technology in some capacity," Boyles says. "Many of them will lead companies and people that are tech-focused, and they might be pulling together tech-related deals. Through Tenzer, they can get a better understanding of the products and people in that space. At a minimum, they'll be comfortable having those conversations." And DePauw graduates will learn to be effective in those conversations with the support of another important library resource, the Learning Commons.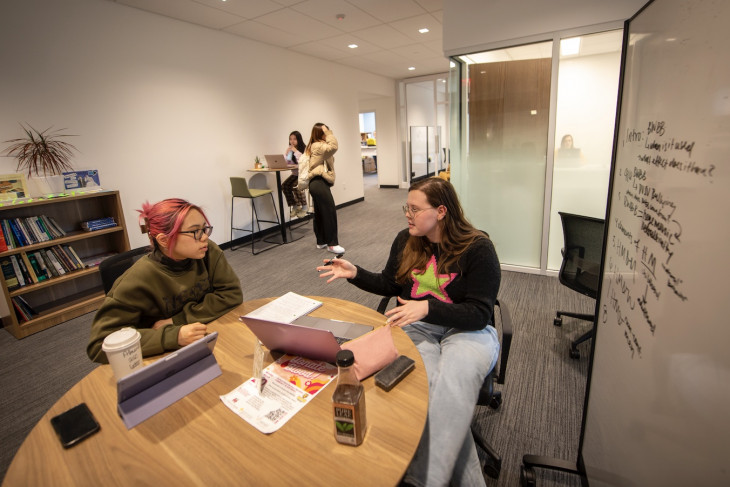 Students and tutors collaborate on assignments in the new Learning Commons.
Inside the Learning Commons, trained student tutors assist their peers with writing (W), quantitative reasoning (Q), and speaking and listening (S), corresponding to three of DePauw's graduation requirements.
Before the renovation, the Learning Commons, then called the Academic Resource Center, was in Asbury Hall, where only some students had classes. In its new location right inside the library's main entrance, visibility is much improved. The goal of the center is to help students produce academic work that is imaginative, well-organized, accurate and memorable.
"Scholars and professionals write in every discipline, so students should learn to write in different disciplines as well. This is a better model than expecting students to apply what they learned in one composition class to every other writing context," says Lynn Ishikawa, director of the Writing Center and the Writing Program.
Accordingly, tutors span the breadth of the DePauw curriculum, including biochemistry and math as well as English majors. Ishikawa says students who seek assistance often need help getting started on an essay, oral presentation or research project. They can come to the Learning Commons to brainstorm ideas and get unstuck. Later, when they have a draft written, they can bring it to the Learning Commons to get feedback.
"We are readers for writers," Ishikawa says, whether the class focus is history, linear algebra, transnational feminism or Mozart.
If the college campus is a chess set, the library is a king or a queen.

– Kevin Huse

, Architect, Ratio Design
THE HISTORY OF ROY O.
A Phi Beta Kappa graduate of DePauw in 1890, Roy Owen West gained national prominence as an attorney, political leader and presidential cabinet member. For his outstanding service to his country and university, Roy O. West Library, dedicated in 1956, was named in his honor.
At the time, the library's collection numbered 128,000 bound volumes, but the new 74,000-square-foot building had the capacity to hold 400,000. Project planners chose to include small reading areas and carrels for students instead of a large open space.
The last major renovation of Roy O. was completed in 1988 with a price tag of $5 million. A record of the project from the Archives and Special Collections notes, "Roy O. West Library welcomes users to its collections and services with a renewed sense of invitation, graciousness, openness and ease of use. Once again … the library has become a dynamic campus center."
With the renovation, the archives of DePauw and the Indiana United Methodist Church relocated to the library. A sweeping reference desk was built, and media equipment like micro-computers for word processing (considered state of the art at the time) were housed on the bottom floor.
In addition to 260 individual carrels and seven study rooms – including one to accommodate smokers – a series of double-decker desks were installed. In a black-and-white photo from the library's Archives and Special Collections, a young man, perched in one of those treehouses that became so evocative of Roy O., pores over a book.
In 2020, the interior of the library was taken down to the concrete, rendering it barely recognizable, but as project architects brought the new space up to date, they took special care to honor DePauw's heritage, identity and the story the library would tell prospective students. (The treehouses were refurbished and are still there, of course.)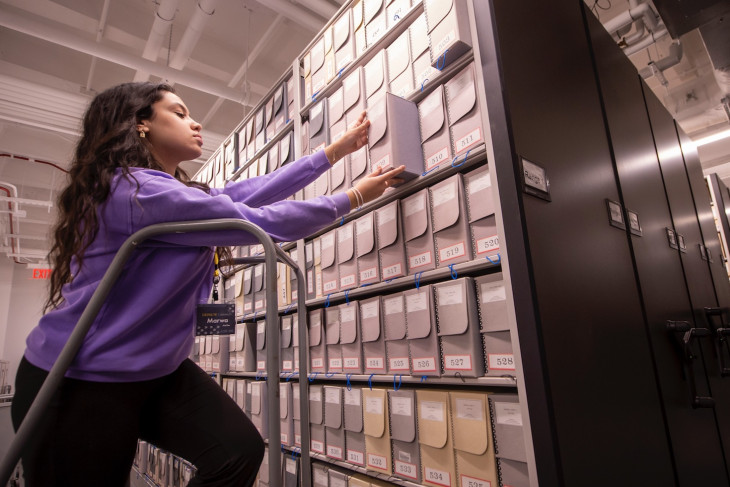 A student worker sorts through artifacts in Archives and Special Collections.
Architect Kevin Huse led the Ratio Design team of about 14 people in interior design, landscape design and architecture. This was Huse's last project before retiring after a long career focused on academic and public libraries. "If the college campus is a chess set, the library is a king or a queen," he says, intimating a reverence for libraries he brought to the Roy O. renovation.
Representatives from DePauw and Ratio visited other outstanding libraries for inspiration. They held sessions with staff and students to find out what physical attributes or intangible qualities they would like to keep from the existing library, what they would get rid of and what they would like to see created. High on the priority list: Students wanted to be surrounded by books.
"It's easy when you redo a library today to make it a modern 21st-century one with bright shiny spaces and new technology. But the difference here at DePauw is that traditional part. We brought back the wood-lined, book-filled space and large chandeliers that put this library in the tradition of all the great libraries on the East Coast and England. It's unique to DePauw," Huse says.
Huse is referring to the Reading Room, where students sit scattered among six sweeping hardwood tables, and shelves of books help create the scholarly environment they requested. Though the Reading Room's dark wood and massive fireplace hark back to academic tradition, the construction is completely new.
A view from the second floor of the new 3,280-square-foot Reading Room.
Ratio Project Architect Kevin Stewart calls the room's floor-to-ceiling curtain wall a gateway to campus. The windows are made with an electrochromic, light-sensitive glass. During the day, they automatically adjust tint to regulate light levels and glare to make the space more comfortable.
The library includes several major upgrades to save energy and increase sustainability, championed by Associate Vice President for Facilities Management Warren Whitesell. The HVAC system uses chilled beam technology where temperature is controlled by the movement of hot or cold water. These systems are more energy-efficient than standard commercial HVAC setups, and because chill beams take up less space than ductwork, the ceilings could be raised to create a more open feeling.
In the ways that matter, DePauw is always evolving. How students work, the things they need to be successful and the ways the university meets those needs are in a consistent state of change. The new Roy O. is a testament to that evolution.
"Undoubtedly, Roy O. West is a model for the kind of 21st-century library that fosters exploration, research, collaboration and creation," says Dr. David Berque, vice president for Academic Affairs.
And it is a testament to tradition, a steadfast reflection and centerpiece of DePauw University. The way the library represents both DePauw's academic excellence and rich heritage gives it a competitive advantage when prospective students visit campus.
"We already see students, faculty, staff and the greater community drawn to the library for research, study, scholarship and meeting in ways that embrace both print and digital resources and technologies," Berque says.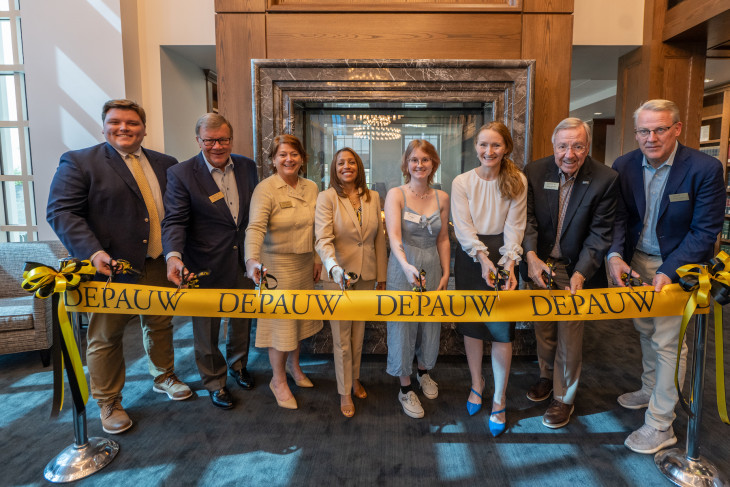 President Lori S. White marks the rededication of Roy O. West Library.
On one of those warm days that comes only a few times each winter in Greencastle, a group of students in shorts swing golf clubs at a tennis ball on the lawn in front of Roy O. People waiting for lunch orders inside the Roy Café sing along to Fleetwood Mac piped in through the speakers. And a student wearing a Monon Bell T-shirt talks quietly with a peer at one of the new stations that replaced what has been referred to as "Fort Reference."
Cox recalls working at that formidable reference desk when she was a research student. Lately, she has noticed more students seeking resources there and more students arriving to Roy O. earlier in the day to study and socialize. How people interact and the subjects they choose to interact with are already shifting.
"The impact of changes at Roy O. will ripple out to the rest of the university," Cox says. "It will be exciting to see what new things emerge as a result."
DePauw Magazine
Spring 2023
A GATHERING PLACE FOR STORYTELLING ABOUT DEPAUW UNIVERSITY
Whether we are writing about the intellectual challenge of our classrooms, a campus life that builds leadership, incredible faculty achievements or the seemingly endless stories of alumni success, we think DePauw has some fun stories to tell.

News media: For help with a story, contact:

Sarah Steinkamp, Vice President for Communications and Strategy and Chief of Staff.
sarahsteinkamp@depauw.edu.