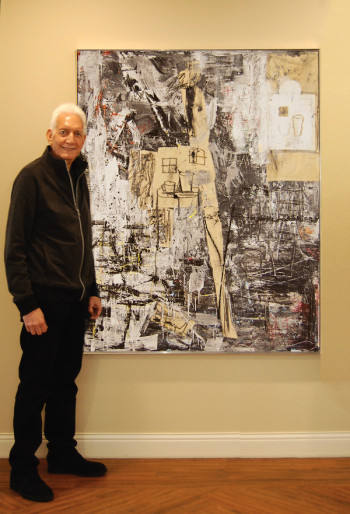 When Tom Grooms '66 was asked to name the single course that he took at DePauw that most influenced his career, his answer was a surprising one: Fundamentals of Art.
"It was an introductory art history course taught by professor Reid Winsey," Grooms said. "One part of the course that I remember so well is that the professor required each student to take on the persona of a specific artist while we were in class."
Winsey assigned Grooms to portray Franz Kline, an American painter associated with the abstract expressionist movement of the 1940s and 1950s.
"Today, Kline remains one of my favorite artists," Grooms said. "It also was after taking that course that I became much more interested in both art and design." 
Grooms's answer can be labeled "surprising" because the course was an elective rather than one in his major.
When he entered DePauw, Grooms knew that he wanted to go to law school, so he majored in political science. He excelled academically and was inducted into Phi Beta Kappa and Tusitala, DePauw's writing and literary society.
He enjoyed an active social life as well, joining Phi Gamma Delta fraternity his freshman year. "Being a Fiji had huge significance for me," Grooms said. "I was the only boy in my family, and I always wanted a brother. When I became a Phi Gam, suddenly I had 65 of them."
After Grooms graduated, he earned a law degree from Georgetown University and then worked in the chief counsel's office at the Internal Revenue Service.
His life took a dramatic turn two years later when he had the chance to move to India. He embraced the opportunity, even though he knew it meant putting his law career on hold.
This is the point at which that class in art history changed the course of his career.
"My time in India was a milestone period in my life," Grooms said. "I loved being immersed in such a rich and vibrant culture – I learned so much. But on the downside, my law background wasn't of any practical use to me in a foreign country."
Grooms decided to try to translate his passion for art, which had been ignited in Winsey's class, into a livelihood. He began by helping Americans living in New Delhi incorporate Indian art and handmade crafts into the décor of their homes.
Word of his talent spread, and he was hired to renovate the American Library and Cultural Center in Kathmandu, Nepal. The success of this project propelled Grooms to leave India after two years and enroll in the Parsons School of Design in New York City. He graduated after three years with an interdisciplinary degree that combined architecture, interior design, urban design and industrial design.
Possessing both a law degree and a design degree made Grooms attractive to the federal government. And so he began a distinguished 25-year career dedicated to bringing high-quality art and design into the public realm.
He first worked for the National Endowment for the Arts, where much of his job focused on administering the quadrennial Presidential Design Awards. This massive undertaking selected and honored federal projects from around the country that reflected the highest standards of design in a wide range of activities – from architecture and historic preservation to graphic art and interior design. Winners were honored at a high-profile event at the White House.
Grooms later shifted to the General Services Administration, often referred to as the federal government's landlord. His major responsibility was to ensure that the country's best architects were hired to design new federal buildings, including courthouses in cities from Miami to San Francisco. Grooms also managed the program that commissioned both prominent and emerging artists to create site-specific works for the new buildings.
After he retired, Grooms took on the task of designing and providing much of the funding for a major expansion of the Phi Gamma Delta house on the DePauw campus. This project led to his reconnecting with the Art Department, as he decided to place student artwork in the addition. He has purchased three paintings so far and hopes to add more in the future.
A recent financial gift from Rodger Streitmatter, Grooms's husband, has created the Thomas B. Grooms Art Award. This annual endowed award will go to outstanding studio art majors who've demonstrated a commitment to a career creating art.
"Tom and I have been together for 40 years, so I know how important both art and DePauw are to him," Streitmatter said. "So, when I began to consider honoring him in some way, I immediately thought of creating an award in his name for promising DePauw art students. I'm so grateful I have the resources to do this. He very much deserves this recognition."   
Whether we are writing about the intellectual challenge of our classrooms, a campus life that builds leadership, incredible faculty achievements or the seemingly endless stories of alumni success, we think DePauw has some fun stories to tell.

101 E. Seminary St.
Greencastle, IN, 46135-0037
(765) 658-4416

News and Media