The DePauw provided Meg Kissinger '79 training in journalism fundamentals, and the connections she made there helped her land her first job out of school.
But it also gave her a "sense of identity" during a "pretty tender time in my life …
"It gave me a framework and a mission and a purpose," she said. "And it sounds a little bit cheesy to say, but it's very true that DePauw believed in me before I believed in myself. You know, I was a little shaky coming there as a newly turned 18 … With all the turmoil and stuff at home, just having that purpose was really good for me personally. And I think that's why I threw myself into it."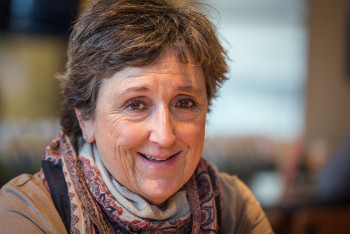 Kissinger was the fourth of eight children in a family beset by mental illness. Her older sister Nancy would die by suicide as Kissinger entered her senior year and became editor-in-chief at The DePauw; her brother Danny would do the same 19 years later.
Kissinger walked into The DePauw's building on her first day on campus "and never left there." Though her professors and sorority sisters wished otherwise, "my passion was the newspaper. We became family there. And we spent endless hours at the pub building."
The need for journalists to be accountable, Kissinger said, was "really underscored when you are in a small community like that. … I learned very early to get my facts straight, spell names correctly, make sure that you're quoting them accurately and you're putting it into the proper context. Because if you don't, you're going to hear about it. That is something that resonated with me. …
"I would, without hyperbole, say that my time at the pub building was as valuable to me as anything else in the classroom. I don't mean to minimize at all my classroom experience. But just the idea of an independent newspaper, where students are allowed to learn for themselves by real trial and error. We didn't always get it right, and we didn't always give it the proper emphasis. But we learned ultimately how to do that. And it was because of our independence."
After graduation, Kissinger covered a bunch of beats at a couple newspapers before landing at the Milwaukee Journal Sentinel. She ultimately became an investigative reporter focused largely on health matters, including mental illness. Before Danny died, he wrote a letter urging her to "tell people how terrible it is to live with mental illness. So I really took that as my battle cry."
She has won numerous awards for that work and reporting on other subjects, and was a Pulitzer Prize finalist for an investigation about the faulty regulation of a chemical used to make plastics. She was a visiting professor at DePauw in 2015-16, then was tapped by Columbia University to teach for what was supposed to be a year. After three years, she knew it was time to permanently split from the Journal Sentinel, and she remains at Columbia. Her memoir "While You Were Out" is due out this spring.
DePauw Magazine
Spring 2022
A GATHERING PLACE FOR STORYTELLING ABOUT DEPAUW UNIVERSITY
Whether we are writing about the intellectual challenge of our classrooms, a campus life that builds leadership, incredible faculty achievements or the seemingly endless stories of alumni success, we think DePauw has some fun stories to tell.

News media: For help with a story, contact:

Bob Weaver, Senior Director of Communications.
bobweaver@depauw.edu.