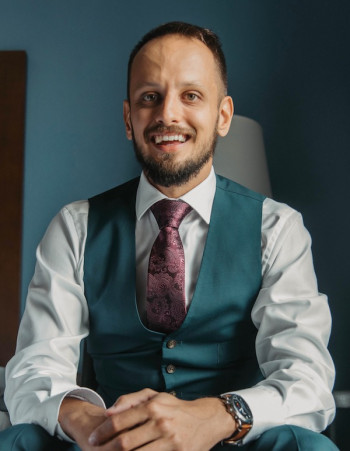 Raised in a single-parent household with a mother who didn't attend a four-year college, Vincent Aguirre '12 wasn't sure what to look for in his college search. "What led me to DePauw was the Posse Scholarship," he said. "DePauw stood out to me and, in talking with a high school teacher who was a mentor, she encouraged me to rank DePauw as my No. 1 choice.
Now a business owner living in Greencastle with his wife Shelby, Aguirre took a circuitous path to his major and career. "My original intended major was kinesiology, and I wanted to become a physical therapist," he said.
After a first-year seminar with Khadija Stewart, the Herrick E.H. Greenleaf professor of computer science and an associate computer science professor, he began to consider combining computer science and kinesiology as an interdisciplinary major. "I was thinking of movement and technology and computer games," he said. "But then I realized I really enjoyed creating, and computer science gave me an avenue to create things. It allowed me to dive into something deep and create." These days, he is owner of Distinct Web Design, a digital marketing company.
Aguirre said he dabbled in many things while at DePauw. "I played ultimate Frisbee, was a first-year mentor for two years, a student senator my senior year, deejayed at WGRE for a semester and held multiple positions within my fraternity, Phi Delta Theta, including serving as president," he said. "Fraternity life is what you make it. Some people join because they love philanthropy; some people join for the social aspect. For me it was an opportunity to be involved and challenge myself in leadership roles. It was an invaluable experience. The founder of Dropbox is a Phi Delt; I heard him speak at a conference, and he mentioned that anything he needs to know to run his company, he learned through the real-life experiences he gained in Greek life.
"Learning how to learn at DePauw has been the most impactful thing I took from my education," he said. "I can pull up some documentation on new software, have a comfort level with learning and very rarely be intimidated by learning something new. At DePauw, I took an Intro to Accounting course and was really struggling. Now in running my own business, I'm often in my books and I love it. As I matured as a learner, eventually that base of knowledge I gained in Intro to Accounting allowed me to feel comfortable and become quite proficient, even though in the moment I didn't feel prepared and was struggling."
Aguirre graduated with a degree in computer science and was considering joining Teach for America or consulting after graduation. "I settled on consulting but found I wasn't able to be as creative and use my non-technical skills or interact with people as much as I wanted. I came to work for DePauw for a year and started a web design business on the side," he said. "In January 2015, I committed full time to the business. I give credit to DePauw as a liberal arts institution. At another institution, I would have been hyper-focused on my major. At DePauw, I learned and exercised the versatility I have today with sales and being able to organize and lead my team.
"DePauw was a big part of my love for this community, but not the only part. When I returned to Greencastle, I realized it was a slower pace, friendly people, the lifestyle that I truly prefer," Aguirre said. He also met his wife, a Greencastle community member, and has been impressed by all of the new businesses, restaurants and opportunities in the community.
Aguirre stays involved with DePauw, serving on the GOLD Alumni Board, which he said has been an interesting experience that allows him to give back in ways he couldn't otherwise do. "I bridge an interesting gap since I'm one of few people who are in the Greencastle area, so I can share my perspective as an alumnus and a community member," he said. "The range of 10 years served by the GOLD board can represent such a vast difference in DePauw experiences, and it's very interesting to be a part of that. More often than not, we are making sure we are hearing the voices of students and young alumni and making sure we act on things that are necessary. We also focus a great deal on helping with the annual Day of Giving."
Aguirre is president of 100+ Men Who Care and serves on the boards of Putnam County Chamber of Commerce and Family Support Services of West Central Indiana.
Whether we are writing about the intellectual challenge of our classrooms, a campus life that builds leadership, incredible faculty achievements or the seemingly endless stories of alumni success, we think DePauw has some fun stories to tell.

News media: For help with a story, contact:

Bob Weaver, Senior Director of Communications.
bobweaver@depauw.edu.