J. David Cook '66, a retired "county-seat lawyer" and avid runner, had "really never been an athlete" and was decidedly not adventurous.
But his life changed when he accepted a friend's 2012 invitation to walk part of the French Way, one of the routes of the famed Camino de Santiago, a network of footpaths in France, Spain and Portugal that culminate at the tomb of St. James in Santiago de Compostela in northwest Spain.
Two years earlier, the friend had attempted the 500-mile journey that starts near St. Jean-Pied-du-Port in France, but foot problems caused him to miss the penultimate 100-mile stretch between Leon and Sarria, Spain. He asked Cook to walk that stretch and continue through the final leg into Santiago.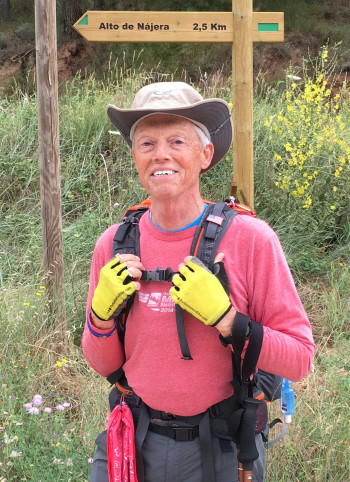 Cook readily agreed. He felt in good physical shape, having been a runner since 1978, when he and his Indianapolis church friends formed the Meridian Street Striders to compete in the second 13.1-mile OneAmerica 500 Festival Mini-Marathon. He subsequently competed 16 more times, through 1994; a month later, moments after he completed a 6.2-mile fitness run, he collapsed from sudden cardiac death. Bystanders revived him; he spent 12 days in the hospital and underwent surgery to remove an arterial blockage.
But he came back strong and, after laying off a year – doctor's orders – he since has run the last 27 minis, including the virtual events in 2020 and 2021 and the back-to-normal event in May.
Still, "there's a big difference between going out and running for an hour or an hour and a half and walking for eight hours," Cook said. He got shin splits – a first for him – and walked more slowly than his friend, so they often split up, enabling Cook to meet other pilgrims or spend time by himself.
For two weeks, he walked six or eight hours a day, covering about 15 miles, to complete the last 200 miles of the French Way. "I thought there might be time for some introspection and some deep thoughts, but I was just worried about where I was walking," he said. "… You just keep going and going. When you're on the camino, you have one thing to do, and that is to walk to the place that you're going to sleep that night."
Like many pilgrims, he slept at albergues, or hostels, where he also could eat, shower and wash his clothes. By finishing the last leg, he received a certificate that said he had completed the camino, despite not traversing the entire 500 miles.
Several years later, in 2016, another friend who had attempted the camino a decade earlier asked Cook to join her and her granddaughter on another pilgrimage. She likewise wanted to cover just part of the route, so they started in Roncevalles, Spain, just over the Pyrenees Mountains from the traditional starting point in France. He again walked for two weeks, covering the first 200 miles of the French Way.
A lot had changed in the 10 years since the friend attempted the camino, so it "was really a nice opportunity for me to experience … helping someone along the way," he said.
The journeys have been so meaningful that Cook said he'd return to the camino again, possibly to complete the 100-mile gap midway on the route that he did not cover on either previous foray or to repeat his 2017 service in Nájera, Spain, as a "hospitalerio," or host, who stamps pilgrims' camino passports to prove they've passed designated checkpoints. He is active in the organization American Pilgrims on the Camino, whose conference he attended in March, and started a chapter in Indiana, Hoosiers on the Camino.
"Now I have friends all over the United States, all over, and in a fashion, all over the world," he said. The camino changes "just about everybody," including him.
"I think I learned something about myself after I got over there," he said. "… I'd say I'm more open to having adventures now."
DePauw Magazine
Summer 2022
A GATHERING PLACE FOR STORYTELLING ABOUT DEPAUW UNIVERSITY
Whether we are writing about the intellectual challenge of our classrooms, a campus life that builds leadership, incredible faculty achievements or the seemingly endless stories of alumni success, we think DePauw has some fun stories to tell.

News media: For help with a story, contact:

Bob Weaver, Senior Director of Communications.
bobweaver@depauw.edu.