Early in her senior year at DePauw, Amy Houghton Warren '98 was dismayed that "I didn't know what to do with my life."
She turned to her father, Bill Houghton, who "was very adventurous. He would introduce me to women who were not the norm," she said. "… He was always trying to teach me to do things, to follow my passion. … His proposal was to take something that you're good at and try to match it with something that you like."
She had majored in Spanish, so she could speak the language, and she liked to scuba dive, something she and her father did together since she was 10. She was certified during a DePauw winter-term trip to Cozumel.
"Why not look into diving areas that haven't been documented, that speak Spanish?" he suggested. Maybe she could write a diving guide. Warren quickly focused on Cuba and, while her dad was leery, "he didn't want to burst my bubble. So he's like, all right, if you find a legal way to do it, I will go with you."
A career was born. During her senior year, she spent hours at the library, researching ways to travel to Cuba, a Communist country that prohibited American travelers and that had been struggling economically since the dissolution of the Soviet Union in 1991. The U.S. maintained an embargo that prevented American businesses from trading with Cuba.
But Warren "was raised to just take the risk. Go for it," she said. "What's the worst that can happen? If you don't succeed, you're going to learn something from that." 
A socialist organization based at the University of Iowa planned an educational expedition, and Warren and her father signed on to travel about a month after she graduated from DePauw. "I did have some fear, but to me the fear felt like adventure," she said. "… We definitely had trepidation that first landing because we didn't know what to expect. Everything that I had read in my research and the news was very polarizing. It was either super repressive and awful or a great place to vacation for Canadians."
She and her father went off exploring on their own a few times, and "it became this exciting thing because you finally get to see for yourself," she said. "… It's just fascinating to learn this completely different way of life and philosophical upbringing 90 miles away from us, and we tried to make sense of it from an American lens. After a couple of days, we weren't so scared."
Warren brought along a letter she wrote in Spanish and English, describing her plans for the diving guide, and gave it to a host from the University of Havana. That letter proved critical, because the woman connected her with María Elena Ibarra Martín, the director of the university's Center for Marine Research, who did not speak English but was sufficiently impressed to introduce Warren to the island and its marine protected areas.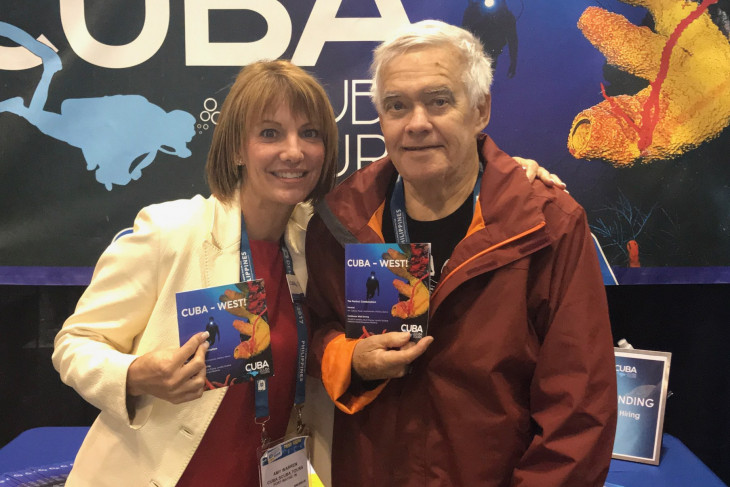 Warren and her father, Bill.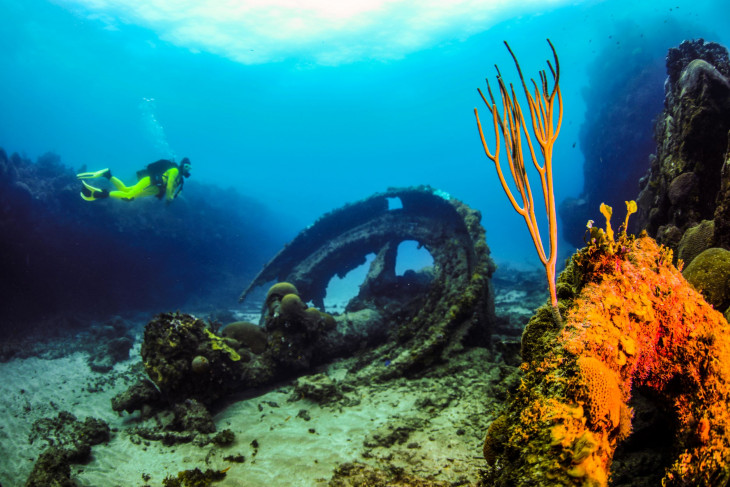 Warren at the Orquendo wreck
Over the next five years, Warren traveled to Cuba probably 10 times and "built this relationship with her and the marine biologists on her team. And we were able to dive from their marine research boat and basically map the island out." Back in the states, she got the notion to sell advertising to finance the guide's publication, so she attended a couple of conferences, including one hosted by the Professional Association of Diving Instructors, where she tried to persuade a marketing honcho to buy ad space.
"He didn't go for that, but we spent probably 45 minutes talking … About three months later, I got a call from him asking, 'Would you be interested in a marketing job here?'" She worked for the organization for about 12 years, first in California and then remotely from Fort Wayne, where she grew up. Meanwhile, Warren found a publisher interested in launching a series of travel guides, starting with her "Cuba Scuba" in 2003. 
Around 2015, when relations between the U.S. and Cuba had thawed somewhat, Warren developed Cuba Ecology, a tour business that since has taken almost 600 divers, in groups of 12 to 30, on excursions of seven to 12 days to Cuba, with the goals of exposing them to fabulous underwater experiences and indelible connections with the Cuban people. Warren reached an agreement with the Center for Marine Research that smoothed the way.
Clients, who book a year in advance, are exclusively divers, though their itineraries include many experiences on land. They are exposed to marine professionals, entrepreneurs, artists, teachers and pastors as they explore daily living, art and small businesses. Warren scrupulously avoids politics, and warns her clients early on to expect changes in their itinerary because of political or local circumstances. Most are flexible about that, she said.
She wants her company to improve the lives of individual Cubans, and thus directs business to them. Those connections pay off for both sides; her Cuban business partners nimbly adjust when circumstances require it and, when COVID-19 hit, Warren's customers donated money to buy food and have it distributed to "our trusted circle in Havana." She also is involved in other humanitarian projects.
Her business took a hit from COVID-19. Her primary source of income is a digital marketing job; diving tourism "is really kind of a side business for me now," she said. However, she visited Cuba in March and secured an agreement that will allow American travelers to engage in underwater ecology trips independently, not only with groups, and she plans to schedule both group and individual tours.
"I don't think that I'll ever not be involved in Cuba in some form or fashion. It has just become a part of me," she said.
Her journey from indecisive senior to adventuresome businesswoman "validates those who don't know exactly what they want to do with their life," she said. "I felt lost. And then I realized that is part of the adventure. Being an adventurer is not knowing your next step, but being confident enough to know that, whatever it is, I've got what it takes to get there. And the right people will be brought to my path."
Underwater photos of the 1898 wreck of the Orquendo by Vicente Gonzalez.
DePauw Magazine
Summer 2022
A GATHERING PLACE FOR STORYTELLING ABOUT DEPAUW UNIVERSITY
Whether we are writing about the intellectual challenge of our classrooms, a campus life that builds leadership, incredible faculty achievements or the seemingly endless stories of alumni success, we think DePauw has some fun stories to tell.

101 E. Seminary St.
Greencastle, IN, 46135-0037
(765) 658-4416

News and Media