Inspired by a winter-term mission trip to Guatemala, Betsy Hake '79 left her job as a nurse and headed to Honduras in 1980 to "go and serve and get it out of my system."
Forty-one years later – with nearly all of that time spent in the impoverished Central American country – it's obvious that Hake did not purge herself of the desire to serve.
"She was always lovely, kind and as beautiful on the inside as she was outside," said Tim Collins '78, who has known Hake since her first year at DePauw. "In retrospect, one should have known that she would spend her life in the service of those that need her the most. She has done truly amazing things at great personal sacrifice. The world is truly better for her service and courage."
Hake taught at a bilingual school during her first two years in Honduras. She felt called to the ministry, so she attended a seminary outside Pittsburgh before returning to Honduras to run a rural clinic – and use her DePauw nursing degree – for six years. Next she moved to the capital city, Tegucigalpa, to join a missionary group seeking to establish a church.
There Hake witnessed the change that occurred as day turned to night, and a middle-class neighborhood boasting five nice hotels turned into a red-light district, with prostitutes seeking the high-paying customers lodging there. She felt called to reach out to them.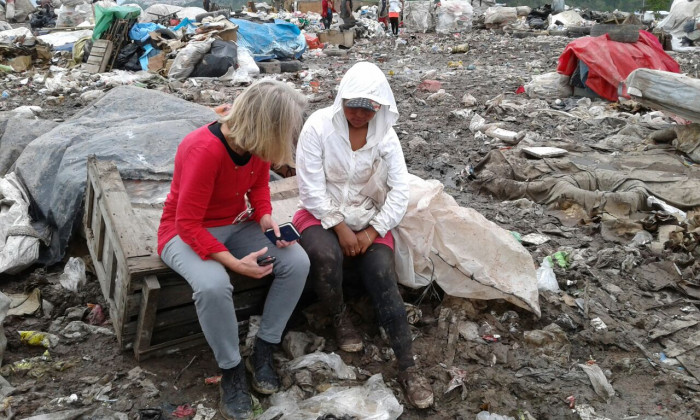 "It was really a step of faith for me to go out on the streets to try to reach the women, because it was outside my experience and outside of my training," she said. "But because I felt like the Lord gave me the burden, I convinced a couple of people in my church, and we started to make visits to the women on the streets. We'd just pray for them and share the love of Christ with them."
Hake knew that, without an alternative way to make money, the women were unlikely to abandon prostitution. So she asked one woman, whose mother also was a prostitute, about her skills. "She thought if she had a sewing machine, she could sew up a storm," Hake said. "… So I went out and bought two little sewing machines."
"My prayer is that God will just let me keep doing it."
Over the years, Hake said, she and her team have persuaded about 60 women to abandon prostitution or garbage picking, and donors contributed sufficient funds for the ministries to build a group home on 130 acres outside of Tegucigalpa. They also built a school for the women's children.
Soon after the home opened, the three women living there departed, one leaving her two daughters behind. Hake and the team took it as a sign that they should shift their focus to help children who have been abused, exploited, threatened by gangs or orphaned. Jericho Villa was transformed to a children's home, where 35 or so children live, and a second school was built. Hake lives in a cabin on the property with five girls: a 17-year-old who wants to be a doctor and four orphaned sisters, whose mother died in childbirth.
Hake hopes to expand the ministries. A chapel is close to completion; she wants to build more residential cabins and another school and transform the children's home to a retreat center. She maintains that God provides resources when Jericho Ministries need them.
She also believes God protected her when she was twice robbed at gunpoint in a country known for violent crime and that he cured her of cancer in 2008. She has no plans to retire.
"I've already been here 40 years," she said. "So yeah, my prayer is that God will just let me keep doing it."
DePauw Magazine
Fall 2021
A GATHERING PLACE FOR STORYTELLING ABOUT DEPAUW UNIVERSITY
Whether we are writing about the intellectual challenge of our classrooms, a campus life that builds leadership, incredible faculty achievements or the seemingly endless stories of alumni success, we think DePauw has some fun stories to tell.

News media: For help with a story, contact:

Bob Weaver, Senior Director of Communications.
bobweaver@depauw.edu.