Bio prof Hazel finds twins are nature's strategy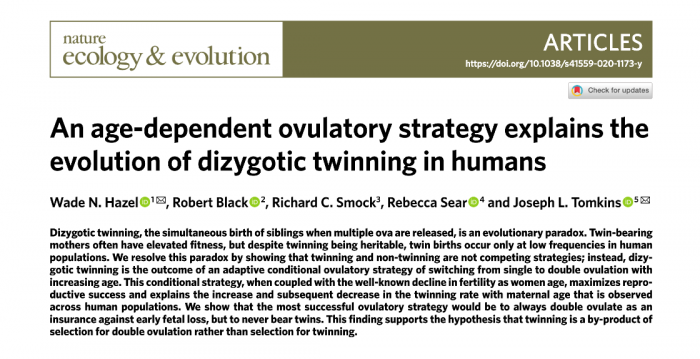 Biology professor Wade Hazel and Rick Smock, emeritus professor of mathematics, are getting a lot of international attention in the science world following publication of a study with Australian and British colleagues that suggests the birth of twins is a byproduct of an evolutionary strategy to combat increasing chances of pregnancy loss as women age.
Their paper was published Monday in the prestigious journal Nature Ecology & Evolution, and an article appeared in Nature, the related international weekly journal of science. Coverage in numerous publications has followed.
Nature wrote:
Fraternal twins could be the byproduct of an evolutionary 'insurance policy' for women as they age.
A woman's ovaries usually release one egg in a single ovulatory cycle, but occasionally release two — potentially leading to the birth of fraternal twins. A woman's chance of having fraternal twins rises with age, peaks in her 30s, and then falls.
To explain this pattern, Wade Hazel at DePauw University in Greencastle, Indiana, Joseph Tomkins at the University of Western Australia in Perth and their colleagues hypothesized that as women age, they are more likely to release two eggs in one cycle. This strategy safeguards against the increased risk of prenatal embryo loss, which is more common in older women.
The researchers built a model of fraternal-twin frequency and compared its predictions with the actual 'twinning rate' in nine human populations. The twinning rate for women of varying ages was best explained if the model included a double-ovulation rate that rises with age and a foetal-survival rate that falls with age.
Although double ovulation is a reproductive insurance policy, sometimes both embryos survive — and twins are born.
Hazel wrote "How we conceived twins," a post for the Nature Ecology & Evolution website about the backstory of how the research came together. Blog posts also have appeared on The Conversation website and the Evolution Institute site. Hazel and Joseph Tomkins, associate professor of biological sciences at the University of Western Australia, also made a video about their study.
Whether we are writing about the intellectual challenge of our classrooms, a campus life that builds leadership, incredible faculty achievements or the seemingly endless stories of alumni success, we think DePauw has some fun stories to tell.

101 E. Seminary St.
Greencastle, IN, 46135-0037
(765) 658-4416

News and Media