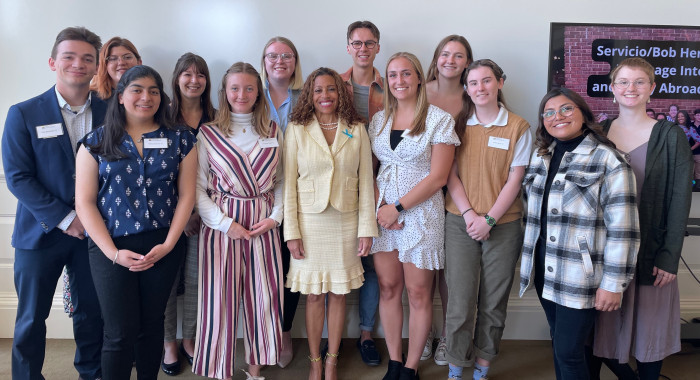 Students, faculty, staff and President White recently gathered on campus to celebrate the 15-year anniversary of the Servicio en las Americas program, also known as the Bob Hershberger Language Intensive and Study Abroad Program (after the late professor who helped start the program in 2007).
Servicio was established and continues through the philanthropic gifts of Steven L. Trulaske '79.
The four-week intensive summer program typically takes place on DePauw's campus and in an international setting prior to the beginning of the academic year. The program is designed for DePauw students interested in social justice, international curiosity, intellectual challenges and the Spanish language. Steve Trulaske's endowment gift covers 100% of program related expenses for first-year students selected to participate in this unique, pre-college study abroad program.
"Mr. Trulaske's gift to support the Robert Hershberger Servicio en las Américas program has opened the door of service-learning and international engagement to more than 200 DePauw students," said Steve Fouty, executive director of the Hubbard Center for Student Engagement and the McDermond Center for Management and Entrepreneurship. "The Servicio program has developed leaders committed to the expansion of language learning and community engagement."
Via video from his sabbatical in South Korea, Associate Professor of Hispanic Studies Paul Johnson '04 said, "Yet another cohort of first-year students will converge on campus this summer for the program, beginning their collegiate careers with an immense advantage over their peers in terms of academic preparation, international perspective, community engagement, Spanish proficiency and a strong network of social support."
Though this year's program will take place wholly on campus, many international components will be integrated virtually with participation from residents of Segovia, Spain.
"With its deep commitment to community building and solidarity, as well as its longstanding success in building resilient, creative and global leaders, the program is perhaps more vital now than ever," Johnson said.
Trulaske said, "My DePauw International Experience at the University of Freiburg, Germany was a life game-changer. Beyond understanding the value of learning a second language, the experience opened up a passion to explore the whole world and to enjoy the greatest education of my life which never ends."
Whether we are writing about the intellectual challenge of our classrooms, a campus life that builds leadership, incredible faculty achievements or the seemingly endless stories of alumni success, we think DePauw has some fun stories to tell.

101 E. Seminary St.
Greencastle, IN, 46135-0037
(765) 658-4416

News and Media