Chemistry prof wins research grant to collaborate with students
DePauw students and their undergraduate and graduate peers at Colorado State University will study how water molecules behave in miniscule environments, thanks to National Science Foundation grants awarded to DePauw professor Bridget Gourley and her co-principal investigator.
Gourley, the Percy L. Julian professor of chemistry and biochemistry and dean of the DePauw faculty, and Nancy Levinger, a Colorado State chemistry professor with whom Gourley has previously collaborated, won grants – $149,857 for DePauw and $382,279 for Colorado State – to conduct research with and train students.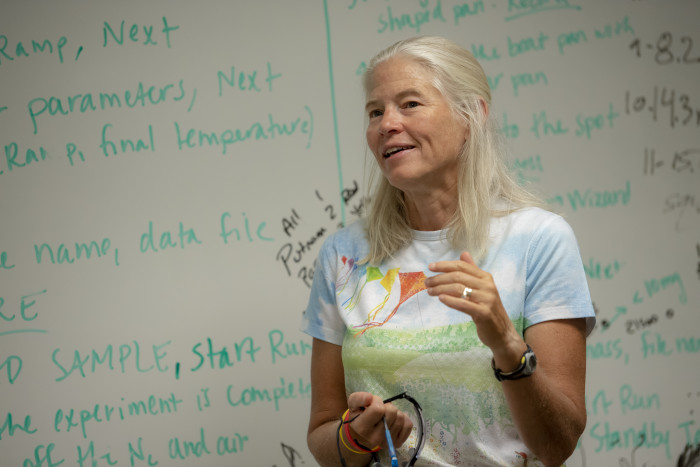 The National Science Foundation is a U.S. government agency that supports fundamental research and education in the non-medical fields of science and engineering.
In each of the next three summers, Gourley will collaborate with two DePauw students, who will receive stipends as they develop expertise at the molecular level and learn collaboration skills by working on an inter-institutional team of scientists at many career stages – undergraduate, graduate and post-doctoral. The grant covers the cost of a monthlong trip each summer to Colorado State, where DePauw students will work with an ultrafast laser.
The researchers will use magnetic and laser techniques to learn about the behavior of water when it is confined in structures measuring 40-billionths of an inch. Water behaves differently in such minuscule environments compared to, say, a drinking glass full of water, and other molecules that are often found in water in tight spaces also radically influence water's properties. The work will advance understanding of water's behavior in environments that are important to processes such as chemical synthesis, environmental remediation and cellular activity.
In addition, several students who have signed up to conduct research during the school year to earn academic credit will begin working with Gourley on her project during the fall term.
"The system that we are choosing to study lends itself particularly well to having lots of different undergraduates," Gourley said, "because it's a system that each of them can become an expert in their own subsystem but that contributes in a very meaningful way to our overall understanding of the whole. …
"Students may be working on my project, with me on my science, but what I'm always really trying to be very conscious about is helping them to see how they're developing skills that are broader than the particular project."
Gourley and Levinger also will develop materials and train graduate students to mentor novice researchers, with the goal of nurturing the development of future researchers.
Whether we are writing about the intellectual challenge of our classrooms, a campus life that builds leadership, incredible faculty achievements or the seemingly endless stories of alumni success, we think DePauw has some fun stories to tell.

101 E. Seminary St.
Greencastle, IN, 46135-0037
(765) 658-4416

News and Media