CNBC anchor Jon Fortt '98 to give commencement address
Jon Fortt '98, an anchor at CNBC and a veteran journalist covering technology, will deliver the keynote address at DePauw's May 22 commencement ceremony for the Class of 2022.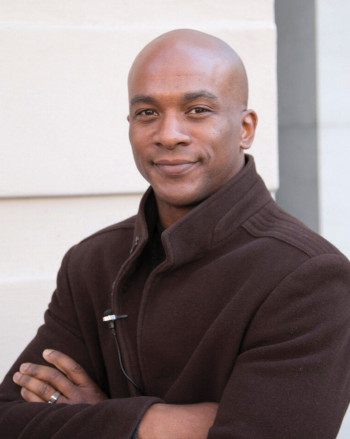 Fortt, who started his reporting career at The DePauw student newspaper, was an English writing and a media fellow at DePauw. His first post-graduation job was with the Herald-Leader in Lexington, Kentucky, where he was assigned to cover technology. He moved to Silicon Valley to work at the San Jose Mercury News, where he covered Apple and Adobe. He switched to broadcast journalism in 2010 when he went to work for CNBC. He became co-anchor of "Squawk Alley" in 2014 and has held the same role at "TechCheck" for the past year.
Fortt created, hosts and is executive producer of "Fortt Knox," a five-year-old digital interview program. He also created and writes a weekly "Working Lunch" segment, focusing on founders and CEOs, for CNBC's "Power Lunch," and a segment called "On the Other Hand" for "Squawk Box," in which he argues both sides of contentious business issues. After George Floyd was killed, Fortt – wishing to "prepare my young sons for life in America" – created a multi-part online course called "The Black Experience in America."
"I'm honored to address the Class of 2022 at an institution that has meant so much to me," Fortt said. "DePauw molded me in many ways — as a community member, a writer, a thinker and a journalist, to name a few. I arrived on campus as a student in 1994, the year the web browser was born; the DePauw liberal arts education prepared me for a world marked by internet-driven technological change and social upheaval.
"I hope to offer the graduates a message of hope: that the experiences that have molded them during their time at DePauw will position them to lead our country and our world to a better, braver place."
DePauw will award three honorary degrees at the commencement ceremony. Elgan L. Baker Jr. '71, a clinical psychologist and co-founder of Meridian Psychological Associates, will be named an honorary doctor of science.
William F. Carroll Jr. '73, an executive and consultant in the chemical and plastics industry, likewise will earn an honorary doctor of science degree.
Kelsey Kauffman, a former part-time university studies professor who has dedicated her life to improving the lot of prison inmates, will be awarded an honorary doctor of public service degree.
Whether we are writing about the intellectual challenge of our classrooms, a campus life that builds leadership, incredible faculty achievements or the seemingly endless stories of alumni success, we think DePauw has some fun stories to tell.

101 E. Seminary St.
Greencastle, IN, 46135-0037
(765) 658-4416

News and Media