What do you do when your disease doesn't have a name?
That's a quandary for people with an unidentified, rare genetic disorder. People and physicians dealing with these rare disorders often turn to ClinVar, a global database of genetic variations, in search of a match with someone else who shares the same condition.
When answers still elude them, patients can submit their own genetic information in the hope of crowdsourcing a diagnosis from independent researchers.
That's where a DePauw biochemistry lab enters the picture.
Professors Sharon Crary and Dan Gurnon are working with a team of DePauw students to investigate some real-life cases. Their Julian Center lab focuses on reported various mutations of the gene responsible for making a protein called lactate dehydrogenase.
LDH is crucial to the lactic acid cycle, which enables muscles to generate energy in the absence of oxygen, said Elizabeth Davis '24, a student member of the team. "When a patient's genome is sequenced, they would find out if they have mutations related to LDH, but that doesn't necessarily mean those mutations are the cause of their problems."
After cloning a mutated version of LDH, the lab can compare its performance to the expected version. The findings are sent to ClinVar, possibly providing a path forward for the original patient.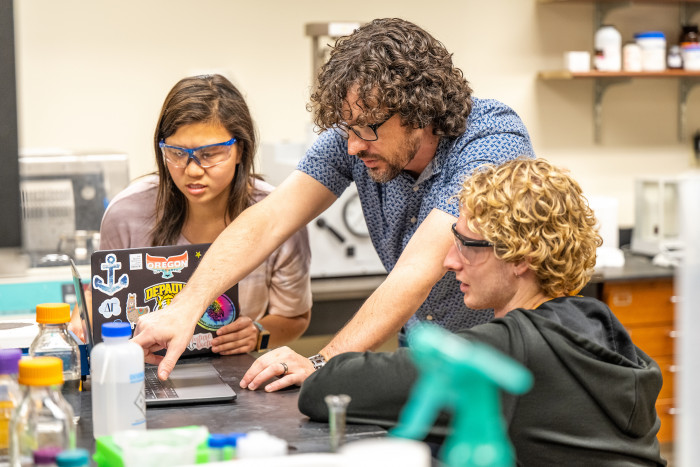 Gurnon, who has directed research using ClinVar data for years, said professors and students alike draw motivation from both the basic science of their work and its potential impact.
"We're learning a little bit more about the nuances of how one particular enzyme might work," Gurnon said, "but this work is also directly connected to a real person who had a real phenotype that caused them to need to go to the doctor, and they didn't get a definitive answer. So, we're helping with that story, too."
Each lab member also brings their own story to the research. Crary and Gurnon come from different backgrounds in biochemistry, while the students represent nearly the full spectrum of DePauw class years, from recent first-year to rising senior. If there was any pressure from the seriousness of their work or the varying degrees of experience they all bring to it, it's been replaced by a team spirit filled with friendly chatter and background music.
"It's something that's really important to us that our students feel comfortable in our spaces," Crary said. "Dan and I want students to feel comfortable in the lab, because we love the lab. It should be a happy place."
Whether we are writing about the intellectual challenge of our classrooms, a campus life that builds leadership, incredible faculty achievements or the seemingly endless stories of alumni success, we think DePauw has some fun stories to tell.

News media: For help with a story, contact:

Bob Weaver, Senior Director of Communications.
bobweaver@depauw.edu.