A job as a production assistant on The Jerry Springer Show turned her off from her planned career in television. A career investigating insurance fraud followed.
But Deonna Craig '04 needed something more.
"I was making great money superficially but inside I started not feeling great because I wasn't doing whatever 'it'was," she said. "And I didn't know what 'it' was at the time. I just knew that I had creativity that I needed to somehow use. I just didn't know what. So for 15 years, I just was journeying, traveling, getting my creativity out that way. …
"I've always doodled; I've always colored. But I never picked up a paint brush, and then my mom and I went on a trip to one of those wine-and-canvas type of places and afterward the instructor asked if I had ever studied art before. I said 'no.' He was like, 'you probably should tap into that and kind of see where you go.' And so I took a couple of classes and then it was all she wrote from there."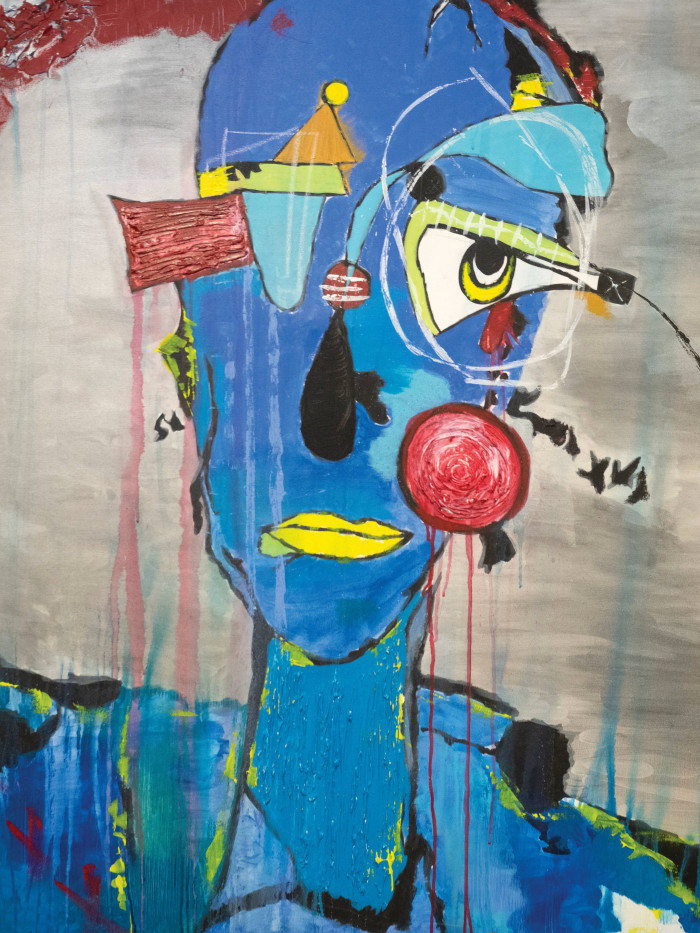 Though she dove deep into painting, working on it before and after work virtually every day, it was a part-time avocation until a business partner with a clothing line asked her to provide artistic flare to items that would be sold in connection to the NBA All-Star game in 2018. Her employer wouldn't give her the time off to travel to California. "So I quit!" she said. "I quit my job and I said 'this is my chance. I'm going to try it out.' And I've been doing art ever since."
These days, she and another clothing designer share a gallery in downtown Indianapolis, having won use of the space for 30 days via the St'artUp 317 program that matches artists with vacant buildings. When the time expired, they asked and the building's owner allowed them to stay, rent-free, until planned construction begins in 2021.
Craig does residential and commercial commission work; operates painting parties like the one where her talent was recognized; and paints spec pieces inspired by vivid dreams that she records, upon waking, in a dream journal. "I call myself an art activist, meaning that I want my paintings to spark a conversation but not bias a conversation," she said. "I am probably one of the most nonjudgmental people that you'll ever meet, so I love to engage in all types of conversations and encourage them as well. I would shy away from saying it's political versus encouraging political conversations." 
She works in acrylics, watercolor and spray paint, and is taking a class in oils. As a communication and sociology double major at DePauw, she took only one art class, during winter term.
"I want to be able to have a conversation about the art and tell a story. The art is very personal and whenever I take you around to look at my paintings you get a piece of me, but also hopefully it's a mirror so that you get one little nugget and think about it and maybe even call me to talk about it."
"Even though sometimes I wish that I would have gotten into art earlier in my life, I think having a traditional education and career and then transitioning to art has given me a better appreciation for it versus a 'what if' scenario. If I would have just done art all together, I would have maybe thought about making those big bucks in corporate and always wondering what would have happened," she said.
"So I've been able to do both and live in both worlds and I feel like that's kind of what liberal arts is all about. When you think about going to a liberal arts school you have the ability to do anything with that. And I've been all around. From this job to this job and I've finally landed where I needed to be. But I think that that is because of that foundation that I had.
"Schooling and traditional education have prepared me to be the creative that I am, and that is the most oxymoronic-sounding statement ever, but it has helped me tremendously. It's just helped me to become very well-rounded. And because I am a one-man show, I have to be a creative and a business person and market my business as well as paint for myself. It's been a long, roundabout road but I wouldn't have had it any other way."
Look: deonnacraigart.com/
Whether we are writing about the intellectual challenge of our classrooms, a campus life that builds leadership, incredible faculty achievements or the seemingly endless stories of alumni success, we think DePauw has some fun stories to tell.

News media: For help with a story, contact:

Bob Weaver, Senior Director of Communications.
bobweaver@depauw.edu.