DePauw among best in nation for students' study-abroad opportunities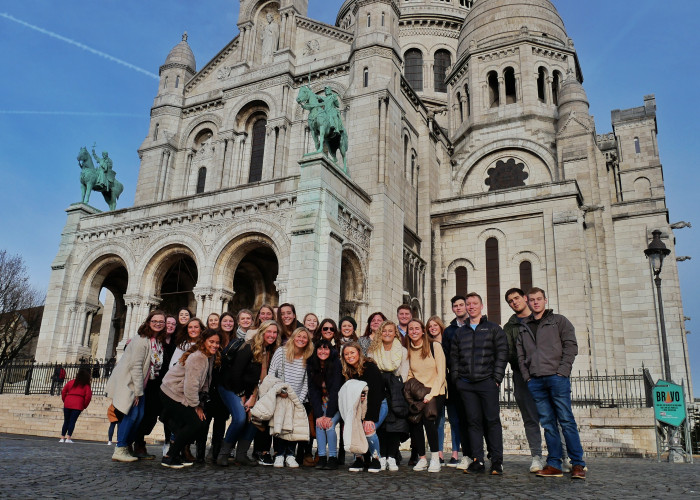 DePauw University once again is ranked among the best institutions in the nation for affording its students opportunities to study abroad.
The Institute for International Education, which annually ranks the top study-abroad programs in the country in its Open Doors® Report, announced today that in 2018-19 DePauw was:
No. 3 among baccalaureate institutions for participation in short-term programs, with 411 students participating. These programs take place in winter term, May term or summer.
No. 6 among baccalaureate institutions for total number of study-abroad students, 516.
No. 7 among baccalaureate institutions for student participation in study abroad, with 110.3% participation.
"DePauw has a long and rich tradition of students studying around the world," said Mandy Brookins, associate dean of experiential learning and director of off-campus programs at the Hubbard Center for Student Engagement. "It's one of the main reasons students choose to come to DePauw and is often cited as one of the most meaningful and memorable experiences of our graduates.
"Global engagement is more crucial than ever, as we are facing critical transnational problems such as pandemics, climate change and a growing migration crisis. Study abroad, which is a significant part of the DePauw experience, prepares our students for leadership roles in working across cultures and communities to address these 21st-century issues. Going forward, DePauw will continue to be a leader in global education by offering high-quality, dynamic and accessible opportunities for students to study, intern and research at universities and organizations around the world."
Whether we are writing about the intellectual challenge of our classrooms, a campus life that builds leadership, incredible faculty achievements or the seemingly endless stories of alumni success, we think DePauw has some fun stories to tell.

News media: For help with a story, contact:

Bob Weaver, Senior Director of Communications.
bobweaver@depauw.edu.