DePauw continues winter season competition plans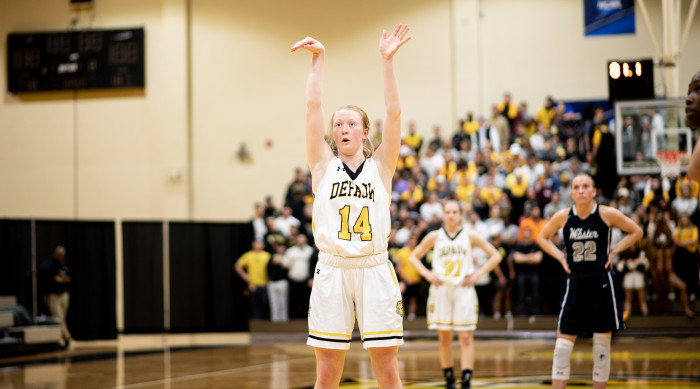 DePauw University will pursue competition opportunities for winter sports following a decision today by the North Coast Athletic Conference's Presidents' Council to cancel conference play, including conference championships, for the winter season.
The NCAC vote applies to men's and women's basketball, men's and women's swimming and diving and men's and women's indoor track and field.
The Presidents' Council decision was unanimous. It allowed for institutions to make individual decisions regarding outside competition during the winter season. Additionally, no NCAC institutions will return student-athletes to campus for practices or other athletic activity between Thanksgiving and New Year's Day.
"Following a carefully planned and successful reopening of our campus, including the introduction of practices for our teams, we feel we can develop a plan for competition for winter sports that protects the health and safety of our entire campus, our student-athletes, our athletics staff and the student-athlete experience," said Stevie Baker-Watson, DePauw associate vice president for campus wellness and Theodore Katula director of athletics.
The Student-Athlete Advisory Committee found that an overwhelming majority of student-athletes strongly desire to return to competition as part of their overall DePauw experience.
"During the past two months, our student-athletes and staff have demonstrated a commitment to the overall safety of our campus community, which is why I feel we can attempt to compete," Baker-Watson said. "We do, however, recognize the challenges ahead as COVID cases are increasing in Indiana and surrounding states and we are attempting to schedule for events three months from now. We will continue to stay vigilant and listen to experts about the likelihood of a winter-time surge in cases and other developments. Competition will be dependent upon our ability to execute a risk-reduction plan that includes robust testing."
In today's statement, the conference acknowledged that members have followed public health guidance and maintained universal masking and physical-distancing protocols, limits on travel on and off campus and limits on the size of on-campus gatherings, as well as contact tracing, quarantine and isolation protocols. However, many institutions have made or are considering significant modifications to the 2020-21 academic calendar and as a result many students will not return to campus for the spring semester until late January or early February.
The NCAC Health and Safety Advisory group will reconvene Monday with the goal of developing appropriate health and safety framework and protocols for league-wide COVID-19 testing requirements tied to competition during the spring 2021 semester. The group will review the health and safety document that was developed in preparation for fall 2020 competition but never fully implemented.
Although no decisions have been made regarding the fall sports that were suspended in July nor the upcoming spring season, the NCAC said it will continue to explore all options and plan for a safe return to intercollegiate competition, with the health and well-being of students, faculty, staff and the broader communities in mind. As the pandemic evolves, the conference will continue to monitor changing federal, state and local guidance, and members will consult one another, public health authorities and the NCAA plan for the eventual return to conference competition.
Whether we are writing about the intellectual challenge of our classrooms, a campus life that builds leadership, incredible faculty achievements or the seemingly endless stories of alumni success, we think DePauw has some fun stories to tell.

101 E. Seminary St.
Greencastle, IN, 46135-0037
(765) 658-4416

News and Media