DePauw Ethics Bowl team heading to national competition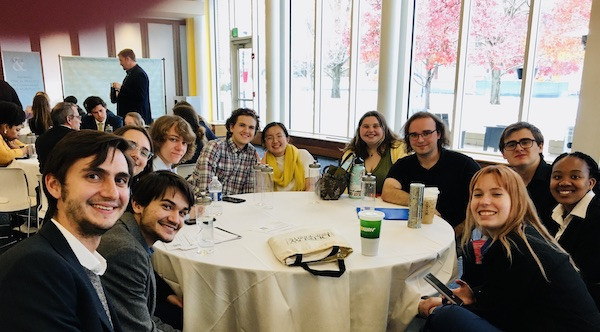 (pictured above: both teams and a couple of supporters)
On Saturday, Nov. 12, two DePauw Ethics Bowl teams competed in the Central States Regional Ethics Bowl at Marian University. One team finished in 2nd place out of 22 teams, thus earning a bid to the national competition in Portland, OR in March. This will be DePauw's 14th trip to Nationals in 19 years. The students on the qualifying team are Alex Bittle, Meadow Gray, Bodhi Hays, Lineo Khoete and Samuel McGuire. The other team's members are Luca Gomez, Hyejin Jang, Skylar Niles and Catarina Zabot Pisini.
Marcia McKelligan, professor of philosophy, chair of the Philosophy Department, coaches the teams. "I've been coaching our Ethics Bowl teams since the first year there was a Midwest Regional Competition in 1999. For many years the late Bob Newton, also in philosophy, was my co-coach. Working with students who are motivated and talented enough to take on the challenge is enormously rewarding. I enjoy the intensity of our preparation together and the excitement of the competition. Perhaps most important to me, in Ethics Bowl a genuine diversity of approaches and opinions is not only tolerated but essential. Ethics Bowl participants become true critical thinkers. I have been told countless times by team members that Ethics Bowl was the single most intellectually stimulating and significant thing they did while at DePauw."
Whether we are writing about the intellectual challenge of our classrooms, a campus life that builds leadership, incredible faculty achievements or the seemingly endless stories of alumni success, we think DePauw has some fun stories to tell.

News media: For help with a story, contact:

Sarah Steinkamp, Vice President for Communications and Strategy and Chief of Staff.
sarahsteinkamp@depauw.edu.