DePauw ethics bowl team secures bid to national competition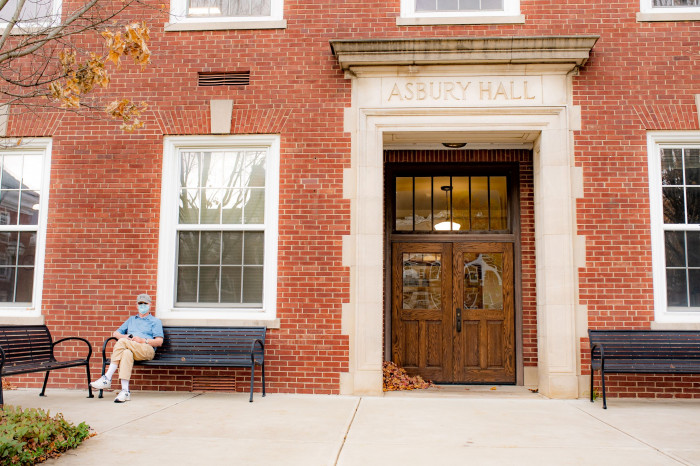 DePauw University has secured a bid to the national Intercollegiate Ethics Bowl® competition set to occur next spring, the result of its ethics bowl teams' performance at the Central States Regional Ethics Bowl last Saturday.
This marks the 13th time in 17 years that DePauw has qualified for the national competition, which is held by the Association for Practical and Professional Ethics, said philosophy professor Marcia McKelligan, the teams' coach.
The DePauw 1 team placed second in the regional competition, one of 12 held around the country to identify the top 36 teams that qualify for the nationals. Members of the team are Andrew Athenson '21, Lauren LaMore '22, Grace Nunnelee '22, Damir Pupovic '23 and Corinne "Cory" Steele '22.
Scores have not yet been finalized for the DePauw 2 team, McKelligan said. The team, which previously had six members – one too many for competition – lost three members, "which dumped a lot of last-minute work onto the remaining three, who were real troupers," McKelligan said. They are Elizabeth "Ellie" Harris '23, Matthew Hatch '22 and Maheen Naveed '23.
Students prepare to debate any of nine topics, six of which are used during three matches of two rounds each. The subjects chosen this year were whether to resuscitate COVID-19 patients when there is little chance of success; whether looting and property destruction can be a legitimate form of civil disobedience; whether it is permissible for a judge to contact U.S. Immigration and Customs Enforcement to check on the immigration status of defendants in the courtroom based on their language and appearance; whether it is permissible to administer medication covertly to demented and psychiatric patients; whether the moratoria on evictions and foreclosures during the COVID-19 pandemic should be continued; and whether it is just to exempt African Americans from mask mandates based on concerns about racial profiling.
Reporter's contact: Mary Dieter 317-809-5417; marydieter@depauw.edu
Whether we are writing about the intellectual challenge of our classrooms, a campus life that builds leadership, incredible faculty achievements or the seemingly endless stories of alumni success, we think DePauw has some fun stories to tell.

101 E. Seminary St.
Greencastle, IN, 46135-0037
(765) 658-4416

News and Media