DePauw honors distinguished alumni with prestigious awards
Four distinguished alumni will be honored during DePauw University's Old Gold Weekend homecoming celebrations.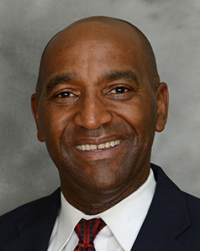 Alan P. Hill '81 will receive the Old Gold Goblet. The university's most prestigious award recognizes eminence in life's work and service to DePauw. Hill retired in 2022 as DePauw's Vice President for Student Affairs and Dean of Students. As a student at DePauw, he earned a bachelor's degree in sociology and a Master of Arts in Teaching. He was also a track and field national champion in pole vaulting and a high-achieving football athlete and has been inducted into the university's Athletics Hall of Fame.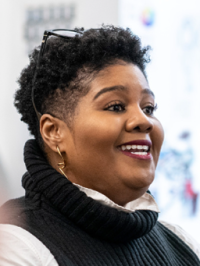 Anajah L. Roberts '10 will receive the Young Alumni Award honoring an individual under the age of 40 who has demonstrated leadership in career and civic associations and has shown strong loyalty to DePauw University. Roberts was a member of the Posse program and earned a degree in political science at DePauw. As an executive director for Teach for America (TFA), community advocate, and Certified Professional Coach, Roberts drives transformation in education across the Chicagoland area – and beyond.
Alumni Citations recognize outstanding professional achievement in areas such as performing arts, entrepreneurship, science, technology, or media. Those receiving Alumni Citations include Claire Cunningham Eblovi '04 and Dr. Saundra Lawson Taylor '63.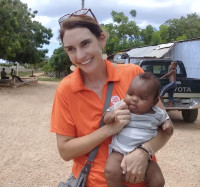 Eblovi serves as the chief executive officer of One World Surgery, a global health nonprofit with the mission to ignite the spirit of service and transform lives by providing access to high-quality surgical care globally. Under Eblovi's leadership, One World Surgery as a nonprofit was launched from inception to now operating in three countries with 90 employees and a $16 million operating budget to impact 27,000 underserved patients globally.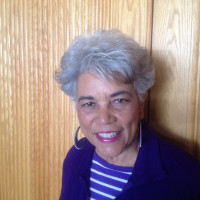 Dr. Taylor is nationally respected for her roles in clinical psychology, higher education, and civil rights. She earned a degree in psychology from DePauw and went on to earn a master's degree from Bowling Green State University and a doctorate from Ohio University. From 1968-1992, Taylor served Western Washington University as a counselor and director of the Student Counseling Center, an associate professor of psychology, and vice president for student affairs. In 1992, she made history at the University of Arizona as the first female Black vice president of student affairs.
"DePauw University produces leaders, innovators, and engaged citizens who bring about change and progress wherever they go. Our 2023 Alumni Award recipients are evidence of this. Their accomplishments bring honor to the entire DePauw community. I am humbled and delighted to celebrate their successes with these awards," said Associate Vice President for Annual Giving and Alumni Engagement, Al Smith.
Whether we are writing about the intellectual challenge of our classrooms, a campus life that builds leadership, incredible faculty achievements or the seemingly endless stories of alumni success, we think DePauw has some fun stories to tell.

News media: For help with a story, contact:

Bob Weaver, Senior Director of Communications.
bobweaver@depauw.edu.