DePauw inaugurates Lori S. White, its first woman and Black president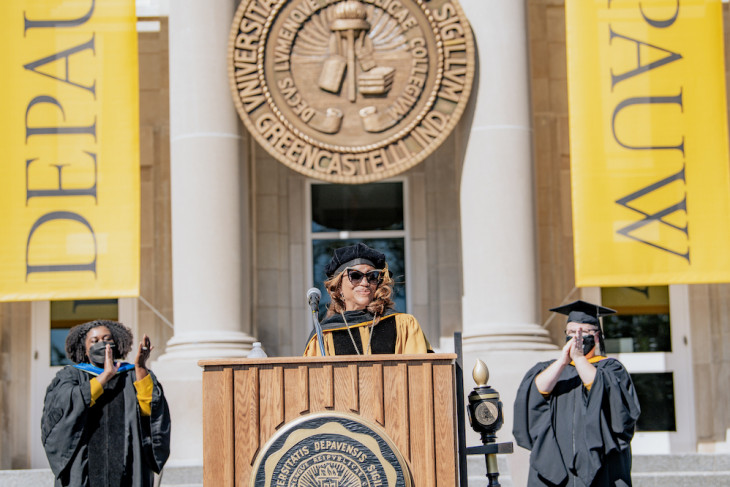 Lori S. White was inaugurated today as DePauw University's 21st president – and the first woman and first person of color to lead the 184-year-old institution – in a ceremony punctuated by gorgeous weather, colorful academic regalia, inspirational songs and rousing speeches.
The event was historic not only because White is a first, but also because her presidency began amid a global pandemic – a situation much in evidence at the ceremony, where attendees were required to wear masks.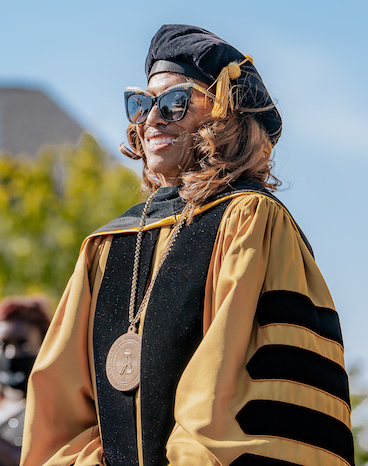 She was hired in March 2020 in a unanimous vote by the university's Board of Trustees, just five days before in-person classes were suspended and students were sent home. She took office July 1, 2020, but her inauguration was postponed until today because of the COVID-19 pandemic, and her first year at DePauw's helm was done in near isolation, with students, the faculty and the staff working remotely for most of the last academic year.
In her speech, given after trustees chair Kathy Patterson Vrabeck '85 slipped the presidential medallion over the president's head, White committed "to faithfully exercising all of the rights and privileges that come with all of the bling that I have just been given and to remember that leadership is most effective when carried out in service to others and for a greater good." She asked those assembled to support her.
She also cited three challenges to higher education to which DePauw must respond: A decline in public trust; a decline in the number and geographic makeup of prospective DePauw students; and "the long-held misunderstanding of the value of the liberal arts." The answer, she said, "lies before me, in the hearts and in the spirit of those gathered today. It lies in the countless strengths of this community and its people. And I have every faith that, together, we will rise."
That was a reference to the inauguration's theme, "Rise," based on the poem "Still I Rise" by Maya Angelou, one of White's favorites. The ceremony featured several songs, including a rendition of Rosephanye Powell's song "Still I Rise" by the DePauw Chamber Singers and "The Impossible Dream," sung by Chloé Johnson '22.
Student leaders and representatives of Greek organizations; members of the DePauw faculty and staff; alumni; and delegates from more than 50 higher education institutions from across the country attended and walked in a procession to the lawn near iconic East College. Also in attendance were many members of White's family, including her husband, Tony Tillman, DePauw's dean of student academic success and equity; her mother, Myrtle Escort White; and sisters Lynne White Kell and Lisa White. Her father was the late Joseph White, known as the godfather of Black psychology.
The ceremony started with an invocation and a libation ritual, directed by Thomas Parham, president of California State University, Dominguez Hills. The celebratory ritual, as interpreted by many Black Americans, is the offering of drink to ancestral spirits.
English professor Eugene Gloria, the John Rabb Emison professor of creative and performing arts, read his poem, "Outside of Eden," which he wrote for the occasion.
During his keynote speech, Holden Thorp, to whom White reported when he was provost and she vice chancellor at Washington University, referenced the earliest leaders of DePauw, then called Indiana Asbury College – Matthew Simpson, its first president, and Washington C. DePauw, the benefactor who saved Asbury from financial ruin and for whom the university subsequently was named. Thorp now is editor-in-chief of the Science family of journals.
"They are smiling," Thorp said, "because their vision is alive and well and has been entrusted to someone who is uniquely prepared to carry it out and adapt it to today; someone who understands and values the liberal arts tradition while realizing at the same time that it can only survive and thrive when it is honestly interrogated and changed when needed; someone who understands that an institution is not just a bank account and handbook full of policies, that it's a messy, pulsating group of opinionated, brilliant people – who are only trying to change the world."
As for White, Thorp said, "there is absolutely no one in higher education better prepared to bring and keep a campus together, which is what you hired her to do. You did the right thing because there is no one more honest. No more principled decision-maker. No better cheerleader. No better listener. No better leader. No greater champion for students."
President White's biography:
Lori S. White was inaugurated as DePauw's 21st president on Oct. 1, 2021. She had assumed the presidency July 1, 2020, and succeeded D. Mark McCoy.
White was chosen by an 18-member presidential search committee that worked eight months to identify DePauw's next leader. The committee was chaired by Justin Christian '95 and comprised of alumni, faculty members, staff, students and administrators. Interest in the DePauw presidency was high, with college presidents, vice presidents and corporate executives seeking consideration.
In addition to the presidency, White holds the rank of professor of education studies at DePauw.
She came to DePauw from Washington University, where she was vice chancellor for student affairs. She has more than 40 years of experience in both student-focused leadership and academic roles. She previously was vice president for student affairs and a clinical professor of education at Southern Methodist University; associate vice president for student affairs at the University of Southern California; associate vice president for student affairs and dean of students at San Diego State University; and assistant vice provost for undergraduate education and director of undergraduate advising at Stanford University.
White earned an undergraduate degree in psychology and English from the University of California, Berkeley, and a doctorate in education administration and policy analysis from Stanford. She also attended Harvard University's Institute for Management and Leadership in Education.
Media inquiries: Mary Dieter, 765-658-4286, 317-809-5417 or marydieter@depauw.edu.
Whether we are writing about the intellectual challenge of our classrooms, a campus life that builds leadership, incredible faculty achievements or the seemingly endless stories of alumni success, we think DePauw has some fun stories to tell.

News media: For help with a story, contact:

Bob Weaver, Senior Director of Communications.
bobweaver@depauw.edu.