DePauw listed among the most environmentally responsible colleges in America
DePauw University is one of the nation's most environmentally responsible colleges, according to The Princeton Review®.
DePauw is listed among 420 schools in "The Princeton Review Guide to Green Colleges: 2022 Edition," which was released Tuesday. The guide is accessible for free at www.princetonreview.com/green-guide.
The guide does not rank the schools, which were chosen based on a survey of administrators at 835 colleges in 2020-21 about their institutions' commitments to the environment and sustainability. The company's editors analyzed more than 25 survey data points to select the schools.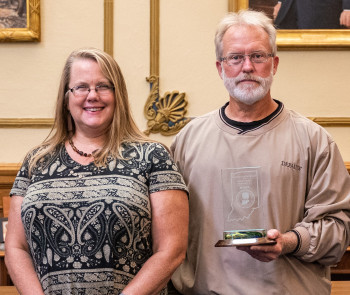 "Students recognize that sustainability is critical for their future, so I am glad that  The Princeton Review is providing information about colleges that prioritize the issue, and I'm proud of DePauw's on-going green accomplishments," said Jeanette Pope, geosciences professor and faculty sustainability coordinator.
Rob Franek, The Princeton Review's editor-in-chief, said, "we strongly recommend DePauw to students who care about the environment and want to study and live at a green college. DePauw offers excellent academics and demonstrates a commitment to sustainability that is exemplary on many counts."   
Said Chris Hoffa, director of facility operations: "It is an honor for DePauw to be recognized by The Princeton Review for our efforts toward being environmentally conscious and trying to be a strong leader in sustainable practices for our students, community and planet."
DePauw's commitment to environmental protection and sustainability recently was recognized with the Indiana Department of Environmental Management Governor's Award for Environmental Excellence. The award cited DePauw's campus energy master plan as an innovative and exemplary project that demonstrates measurable environmental, economic and social benefits.
The master plan also was cited by Duke Energy, which gave DePauw its Power Partner Award, and the International District Energy Association, which gave DePauw an innovation award for its work to reduce energy use, enhance efficiency and strengthen reliability.
DePauw's $11 million campus energy master plan, undertaken in 2019 and completed in 2020, reduces campus energy use by 33%, the equivalence of the energy used by 750 Midwestern homes; reduces greenhouse gas emissions by 7,303 tons, equivalent to taking 2,303 cars off the roads; improves reliability; and reduces costs by $780,000 a year. The project involved converting campus lighting to LED; optimizing the HVAC systems; installing low-flow water fixtures; and installing 860 solar panels atop the Indoor Tennis and Track Center. 
In August, The Princeton Review listed DePauw in its 2022 college guide, Best 387 Colleges. The publication also includes DePauw on its list of best Midwestern colleges and universities and colleges that create futures.
Top photo: DePauw's solar array atop the Indoor Tennis and Track Center. Second photo: Pope and Hoffa recently accepted the IDEM award.
Whether we are writing about the intellectual challenge of our classrooms, a campus life that builds leadership, incredible faculty achievements or the seemingly endless stories of alumni success, we think DePauw has some fun stories to tell.

101 E. Seminary St.
Greencastle, IN, 46135-0037
(765) 658-4416

News and Media