DePauw mourns loss of Norval Stephens '51, loyal benefactor of university
DePauw lost a loyal friend of the university with the recent passing of Norval B. Stephens Jr. '51. Stephens passed away at home on October 17, 2023 at the age of 94. He was a tireless and creative figure not only in helping shape life at DePauw University, but also Greek life at a national level and the civic life of Barrington, Illinois, the community he and his wife, Diane Forst Stephens '51, called home. Over many decades, Norval and Diane have given their time and treasure to our university. They are Washington C. DePauw Lifetime Society members.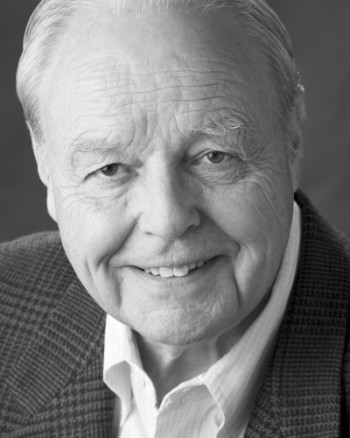 In 1994, Stephens was awarded the Old Gold Goblet, DePauw's most prestigious alumni award. Years prior, he received a Rector Achievement Award. As an alumnus, he served on the Board of Trustees beginning in 1983 in a voting role and continuing in advisory and lifetime roles. He was also a member of the Board of Visitors, Alumni Board and Reunion Planning Committee. As a student, Stephens was a Rector Scholar, Phi Beta Kappa, president of Delta Tau Delta and participated in many facets of campus life.
Throughout his life, Stephens was a strong advocate for Delta Tau Delta and the interfraternity system. "That is how I met Norval, through Delta Tau Delta," said his friend Max Hittle '66. "He was always front and center in supporting our chapter. We all revered him. And I had the good fortune of continuing a lifelong relationship with him through our work with the DePauw board and the proximity of our summer vacation homes in Michigan. He was a tremendous person."
Stephens served as Delta Tau Delta's international president from 1992 to 1994, earning the organization's highest service honor. As a volunteer, he worked to strengthen Greek culture and improve the health and well-being of its students. He was named outstanding Greek volunteer of the year by the North-American Interfraternity Conference and later received the organization's Gold Medal for outstanding lifetime service. He was also a civic leader in his hometown of Barrington, Illinois, serving as a founder and later president of the Barrington Area Community Foundation.
Stephens spent four decades as an advertising executive for Needham Harper (later known as DDB Needham Worldwide). At DePauw, he earned a B.A., majoring in economics. He then served as a Captain in the United States Marine Corps where he was a combat veteran of the Korean War. He later earned his MBA at the University of Chicago in 1959.
Stephens is survived by his wife Diane and children Jill Elizabeth, John Gregory, Katherine Stephens Weidner and James Norval '86. He was preceded in death by a daughter, Sandra Jean Stephens. Others preceding him in passing include his brother and sister-in-law, John L. '53 and Kay Leonard Stephens '53. He is survived by twelve grandchildren and five great-grandchildren.
DePauw family connections are many, including a grandson, Robert S. Weidner '14, granddaughter, Margaret Diane Gloyne '12, niece Virginia Stephens Terlep '82 and several great nieces and nephews including John Charles Stephens '06, Michael Fenn Terlep '16, Peter Kingston Terlep '11 and Anne Stephens Spillbeler '08.
Obituary and memorial service detail for Norval Blair Stephens Jr.
Whether we are writing about the intellectual challenge of our classrooms, a campus life that builds leadership, incredible faculty achievements or the seemingly endless stories of alumni success, we think DePauw has some fun stories to tell.

News media: For help with a story, contact:

Bob Weaver, Senior Director of Communications.
bobweaver@depauw.edu.