DePauw mourns passing of loyal friend Judy Locke '58
Judith (Judy) Blang Locke passed away on October 18, 2023 at home in Decatur, Illinois. She was 87 years old. Judy and her husband, Dr. G. Richard Locke (Dick) '58, who preceded her in death, served their community and alma mater with passion.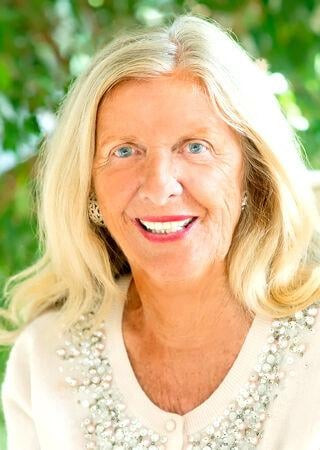 Judy served on the Board of Visitors, National Annual Fund Executive Committee, and chaired the Board of Fraternal Affairs and Greek Life Advisory Council. She also served as co-chair of the 50th reunion of the class of 1958. In 2014, she was awarded the DePauw Distinguished Alumni Achievement Award for Citizenship and Volunteer Service. Her husband Dick served as a Trustee from 1990 until his passing in 2009. 
Judy met Dick at DePauw where she was an education major and a proud member of Alpha Phi. After marrying in 1958, Judy taught math to gifted students in Cleveland while Dick attended Western Reserve Medical School (now Case Western Reserve University Medical School). She later took on the full-time work of raising their four boys, G.Richard (Rick) '83, Jon '85, Mark '87 and Michael '89.  
With the boys grown, Judy ramped up her work in public service, running for Decatur Park District Commissioner, where she served three six-year terms and became the first female president of the Board of Commissioners. She went on to found the Decatur Parks Foundation, ultimately serving more than 30 years in the parks. Along the way, Judy led enhancements that included building the Scovil Park Zoo, the Children's Museum of Illinois, golf courses, bike trails, sports complexes and a Special Olympics swimming pool. 
In addition to her husband Dick, Judy was preceded in death by her eldest son, Dr. G. Richard (Rick) and her younger brother Curt Blang '64. She is survived by sons Dr. Jon Locke and his wife Kathy (Galliher) '85, Dr. Mark Locke and his wife Sarah(Bovaird), J. Michael Locke and his wife Heather (Whittemore) '93, and Rick's wife Jean Locke. Judy was blessed with 14 grandchildren and three great grandchildren.
Many of Judy's grandchildren followed the footsteps of parents to DePauw including J. Michael 'Skip' Locke '23, G. Richard 'Chip' Locke IV '15, John David Locke '18, Anna Kathleen Locke '15, Mark Henry Locke '22, James Charles 'Charlie' Locke '20 and Elaine "Ellie" Sommer Locke '18. Niece Nancy R. Blang '95, nephew J. David Blang '92 and his wife Joy Row Blang '92 attended DePauw, as did Judy's great nephew, Alexander J. Layden '15 and sister-in-law Helen Locke Layden '54. 
Judy's memorial will be scheduled at a later date. Her online obituary can be seen here.
Whether we are writing about the intellectual challenge of our classrooms, a campus life that builds leadership, incredible faculty achievements or the seemingly endless stories of alumni success, we think DePauw has some fun stories to tell.

News media: For help with a story, contact:

Bob Weaver, Senior Director of Communications.
bobweaver@depauw.edu.