DePauw mourns Tim Ubben '58, who gave time and treasure to his alma mater
DePauw University lost one of its most loyal and generous alumni leaders and benefactors when Timothy H. Ubben '58 passed away Dec. 13. He was 84.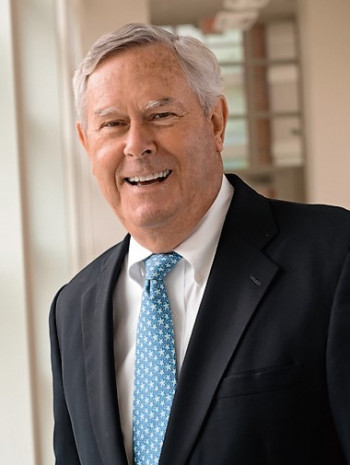 Ubben, who came to DePauw as a Rector scholar, founded Lincoln Capital Management, a Chicago investment firm, in 1967; when he retired in 1999, Lincoln was managing more than $50 billion in assets. Ubben and his wife of 62 years, Sharon Williams Ubben '58, were loyal supporters of DePauw throughout his life.
"Our DePauw community is heartbroken to lose our dear friend, Tim Ubben," President Lori S. White said. "His thoughtful generosity has ensured that high-achieving students can attend and thrive at DePauw. His creative thinking has ensured that top-notch faculty members are teaching across campus. Tim and Sharon's conscientious approach to giving has ensured that we have a beautiful, workable campus. And his open-mindedness has brought the world to DePauw and Central Indiana."
He gave millions of dollars to endow 15 faculty chairs, renovate several campus buildings and athletic facilities and support a lecture series that since 1986 has brought 116 world leaders to Greencastle. He also contributed to future generations by endowing need-based financial aid for DePauw students and expanding the Posse program, which provides scholarships to students whose talents might be overlooked by the traditional college application process.
DePauw has partnered since 1996 with the Posse program, which was founded in 1989 in New York City, based on the notion that sending a group of students to college together provided them with a support system. Ubben, who joined the Posse board in 2000 and spearheaded the program's expansion to Chicago by recruiting six other donors to hire a director, said in a November interview that he was drawn to do so because Posse was created to develop leaders in a variety of walks of life.
For more than three decades, Ubben volunteered as a member or leader of various DePauw boards and committees that serve to generate alumni engagement, motivate donor giving and advise the president and university administration. He provided investment expertise as a member of the university's Board of Trustees from 1987 to until his death; he was board chair 1998 to 2001. He also was a member and president of the Alumni Association. He chaired the university's record-setting Leadership for a New Century campaign from 1995 to 2000 and was honorary chairman of The Campaign for DePauw, which ran from 2012 to 2019. He served three terms as chairman of the Annual Fund, longer than any other chair in DePauw's history, and participated in the presidential search committees in 2007-08 and 2015-16.
"Our larger-than-life and very smart friend, Tim, shared not only his thoughtful and intentional judgments with the board, he also brought good humor and positive encouragement for all of us to do our part to make DePauw even more special," said trustee Michael L. Smith '70. "He wanted and expected everyone to be generous, be engaged and live in the moment, as he did. He made us all better in many ways."
In 2013, then-President Brian Casey recalled that Ubben and his wife Sharon made their first contribution to DePauw – $26 – in the 1958 Annual Fund drive. In the ensuing years, the Ubbens' contributions have "fundamentally altered the history of our university. … There is no facet of the essential elements of this university that have not been made stronger by the Ubbens' support."
The Ubbens made their first gift for scholarship endowment in 1983, when they established the Timothy and Sharon Ubben Scholarship. In 1996, they made a commitment for The Ubben Challenge, which resulted in a significant endowed scholarship fund that provides assistance for alumni children and grandchildren. The Ubben Challenge also created The Fund for DePauw Named Scholars Program, which connects supporters of The Fund for DePauw with scholarship recipients. During The Campaign for DePauw, the Ubbens' abiding love for the university and its students led them to commit $20 million for The Ubben DePauw Trust Scholarship to improve access for students with demonstrated financial need.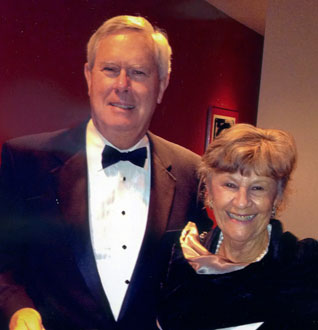 The Ubbens established the Timothy and Sharon Ubben Endowed Lectureship in 1986 to bring the world's leaders to DePauw. Eminent individuals from a variety of backgrounds – politicians, scientists, journalists, artists and human rights activists – have given lectures that are free and open to the public. Among them are Bill Clinton, Margaret Thatcher, Colin Powell, Malala Yousafzai, Leslie Odom Jr., Jane Goodall, Elie Wiesel, Tony Blair, Benazir Bhutto, Jesse Jackson, Mikhail Gorbachev and Spike Lee.
Ubben said in a 2015 interview with a Florida magazine that his and Sharon's philosophy was "giving while living. … While it probably won't happen, we'd love it if the last check we ever wrote was to the undertaker, and it bounced."
In the November interview, he said that "I enjoy seeing the fruits of philanthropy. I like to talk with kids who have received scholarships of mine and see how they're doing and see how much they appreciate the chance to have a presence in education."
He said he had identified five causes to which he contributes, limiting the list "so that I can make a difference in each one of them." In addition to DePauw, its students and Posse, Ubben also supported the Boys & Girls Club of Collier County in Naples, Florida; Golden PAWS, which provides assistance dogs to veterans; and Artis-Naples, a multidisciplinary arts organization in Florida.
He also donated to research at University of South Florida Health, where he was treated for pulmonary fibrosis, but said "that's separate. … I'm trying to give some money for some future person who has fibrosis. Hopefully, we'll find a cure, but that's way off."
Ubben was an economics major at DePauw, where he lettered in golf three years, 1956, 1957 and 1958. He was a member of Delta Tau Delta, the Union Board, the "D" Association and the German Club, and he worked for WGRE radio. He was a co-founder and chairman of DePauw's first Little 500 bike race in 1956. After graduating from DePauw, he earned an MBA from Northwestern University in 1959 and served in the U.S. Army.
DePauw awarded him the Old Gold Goblet in 1993 to recognize "eminence in life's work and service to alma mater" and an honorary Doctor of Public Service degree in 2012. The following year, the space in front of Mason Hall, Lucy Rowland Hall and Rector Village, formerly known as North Quad, was renamed Ubben Quadrangle. He also received the Ernest T. Stewart Award for Alumni Volunteer Involvement from the Council for Advancement and Support of Education in 2012. The Council for Independent Colleges presented his Award for Philanthropy (Individual) to Tim and Sharon Ubben in 2020.
In addition to his wife, Sharon, whom he met at DePauw, survivors include his son Jeff, daughter-in-law Laurie and grandchildren Charlotte Ubben, Josephine Ubben Dickinson and Theodore Ubben; his daughter Pamela Ubben Wisinski and grandchildren Mitchell Wisinski, Eliza Wisinski and Kendall Wisinski; his sister, Lou Ubben Walton '57; two brothers-in-law, Jerry L. Williams '54 and Dwight Walton '57; a sister-in-law, Jane Jones Williams '57; a niece, Brynne Williams Shaner '83; and a grandniece, Morgan MacBride Shaner '16. He was predeceased by his father-in-law, Rollin Williams '27.
A short video tribute can be found here.
Whether we are writing about the intellectual challenge of our classrooms, a campus life that builds leadership, incredible faculty achievements or the seemingly endless stories of alumni success, we think DePauw has some fun stories to tell.

News media: For help with a story, contact:

Bob Weaver, Senior Director of Communications.
bobweaver@depauw.edu.