DePauw Names New Vice President for Communications and Strategy and Chief of Staff
Sarah Steinkamp, chief of staff for DePauw University President Lori White since July 2020, has been appointed the University's Vice President for Communications and Strategy and Chief of Staff. Steinkamp has held a similar position as interim since July 2022. In appointing Dr. Steinkamp as the Vice President for Communications and Strategy, President Lori White said, "In her interim role, Sarah demonstrated her capacity to successfully lead an integrated communication strategy for the university and the president's office, and I am delighted to appoint her to this new position."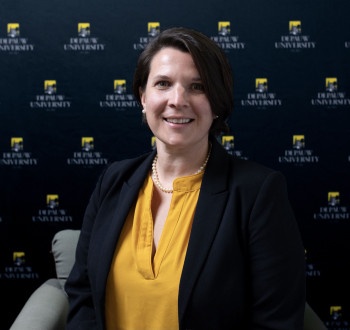 Steinkamp received a B.A. from Wells College; an M.S. in health education from Ithaca College; and a Ph.D. in education from Southern Illinois University Carbondale. She was also a participant in Harvard University's Management and Leadership in Education Program. Prior to coming to DePauw University, Steinkamp served in various capacities at Washington University in St. Louis and Southern Illinois University Carbondale.
Dr. Steinkamp said her undergraduate experiences at a liberal arts college inspired her interest in DePauw University. "I believe deeply in the transformation that occurs when students are poured into by faculty, staff, students and mentors. My own journey was shaped by mentors and faculty who pushed me to be and do more."
Steinkamp said she is looking forward to continuing the vital work with the communications and marketing team at DePauw to promote the university and support the excellent work of its students, faculty, staff and alumni.
She is excited to continue her duties in the president's office and "to reflect our institutional strategy through communication at DePauw. There are immense opportunities to demonstrate the impact DePauw makes on student's lives," she said.
"I first understood the depths of curiosity and exploration at a liberal arts college," Steinkamp said. Once she graduated, supporting and challenging students became a purpose she felt drawn toward professionally. "I find great meaning in mentoring, leading, learning and growing with others who are excited and curious. For that very reason, DePauw is an awe-inspiring community to be a part of."
Whether we are writing about the intellectual challenge of our classrooms, a campus life that builds leadership, incredible faculty achievements or the seemingly endless stories of alumni success, we think DePauw has some fun stories to tell.

News media: For help with a story, contact:

Sarah Steinkamp, Vice President for Communications and Strategy and Chief of Staff.
sarahsteinkamp@depauw.edu.