DePauw president joins free speech task force
DePauw University President Lori S. White has been named to a task force of academic leaders who will identify practices, programs and policies to foster free expression on college campuses.
Academic Leaders Task Force on Campus Free Expression is the creation of the Bipartisan Policy Center, a Washington D.C. think tank that merges ideas from both political parties to solve issues of health, security and opportunity for all Americans. The task force is co-chaired by former Democratic Gov. Christine Gregoire of Washington state, chief executive officer of Challenge Seattle, and former Republican Gov. Jim Douglas of Vermont, executive in residence at Middlebury College. It has 10 other members, including White, who is the only member from the Midwest.
White became DePauw's president July 1.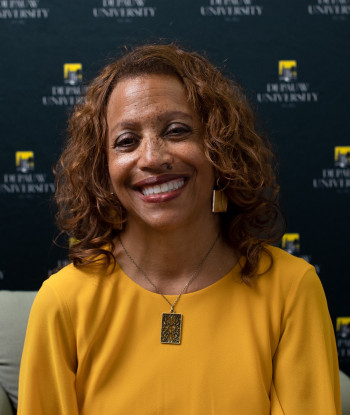 "Institutions of higher education have the critical role of creating leaders the world needs," White said. "To do so, we must foster two important values: Freedom of speech and expression and a commitment to diversity and inclusion. Some say these values are antithetical, but they should not be. Our campuses and our world are enriched, our communities become more equitable and we develop open-minded leaders when we explore and are open to discussing and debating a range of ideas and perspectives, freely expressed, while understanding these ideals within the context of the historical experiences of diverse communities."
Jason Grumet, president of the Bipartisan Policy Center, said that "higher education institutions have a special role in America's democracy, preparing the next generation for civic leadership and principled debate. Our democracy cannot succeed if we accept the false premise that free expression is somehow at odds with cultural diversity, inclusion and individual well-being."
The task force will consider these issues:
The adoption of a free expression statement that connects the value of free expression to a school's history and mission.

Approaches for college presidents and their leadership teams can follow to ensure input and buy-in from students, faculty, staff and other campus constituencies to the values of free expression and diversity and inclusion.

Procedures that ensure that free expression informs and harmonizes with other policies.

Guidelines for college presidents and their leadership teams about when it is appropriate for leadership to comment on contemporary political and social issues.
Reporters' contact: Mary Dieter, 317-809-5417, marydieter@depauw.edu
Whether we are writing about the intellectual challenge of our classrooms, a campus life that builds leadership, incredible faculty achievements or the seemingly endless stories of alumni success, we think DePauw has some fun stories to tell.

101 E. Seminary St.
Greencastle, IN, 46135-0037
(765) 658-4416

News and Media