A DePauw history professor is the first historian to show that Islamic scholars, previously ignored by Western medicine, actually rejected ancient Greek traditions and advanced medicine centuries before Europeans did so.
Nahyan Fancy, professor of Middle East/comparative history, won a competitive $60,000 fellowship from the National Endowment for the Humanities to continue his eight-year research project in which he has been studying eight Arabic medical commentaries written between 1200 and 1520 CE by Islamic physicians and philosophers. He plans to complete his book, already underway, by the end of the fellowship, which is scheduled to begin July 1.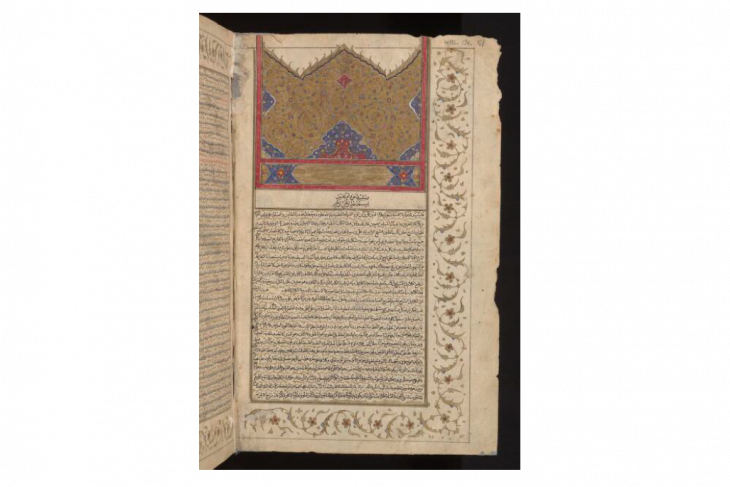 Commentary by Ibn al-Nafis on "Canon of Medicine"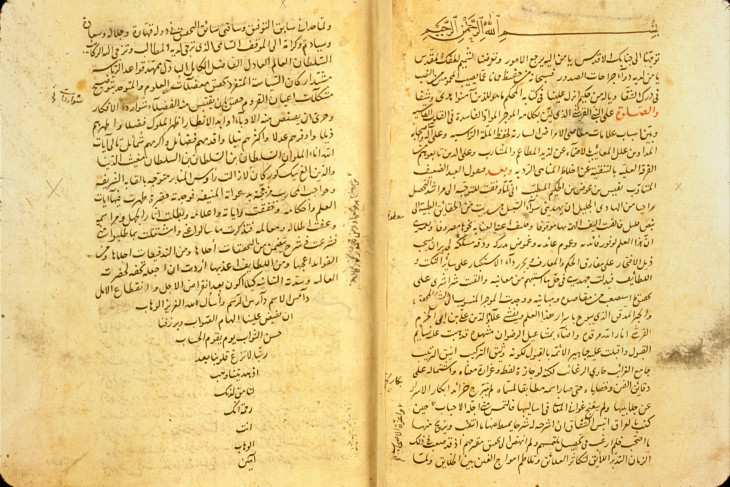 Commentary by Nafis al-Kirmani on "The Epitome" 
Islamic scholars "were critically engaging with the earlier tradition," correcting it and making empirical and anatomical observations, Fancy said. "These developments are not the same as modern medicine, but they are not Greek either." 
The commentaries are written in Arabic and range in length from 200,000 to 1.5 million words. Four of them were written on the "Canon of Medicine" –  the standard textbook of medicine from 1200 to 1700 CE in Europe and the Middle East written originally by Ibn Sīnā, an 11th-century Persian physician and philosopher also known as Avicenna. The other four commentaries were written on the Canon's abridgement, "The Epitome." The commentators hailed from Iran, Syria, Egypt and Anatolia (modern-day Turkey).
"I am literally, in the western academic setting, the first person to dive into these medical commentaries in earnest."
"I am literally, in the western academic setting, the first person to dive into these medical commentaries in earnest," Fancy said. "There has been some work done by South Asian historians of medicine out of what's called the South Asian Unani medical tradition, which reads these same commentaries as part of their medical practice."
For centuries, Western historians largely dismissed commentaries as inconsequential to the advancement of medicine because they were not considered original work. The commentaries also received "scant attention," Fancy wrote in his project narrative, "because historians of science and medicine have traditionally characterized this period as one of 'decline'" in the Islamic world.
But, Fancy said in an interview, "in actual fact, commentaries were where all the work was done."  They broke new ground in medical theory, transforming Greek medicine. The commentaries were simultaneously used as texts to teach medicine and to conduct research, advancing theories in ways not unlike modern medical journals or review articles. And since these commentaries were composed on the standard medical textbooks of the day, they introduced students and practicing physicians to the latest developments in medical theory and practice, such as a new understanding of fetal generation or how the pulse works.
Fancy, who came to DePauw in 2006, started this project during an NEH summer seminar in 2012 and continued to work on it during his sabbatical seven years ago. His work has been supported by DePauw's faculty development program, including a competitive three-year faculty fellowship, and professional development funds that have enabled him to travel to Turkey, Germany and England to access and purchase manuscripts. He was a member at the School of Historical Studies at the Institute for Advanced Study in 2015 and received a competitive two-month fellowship from the American Council of Learned Societies last summer. His sabbatical was cut short last fall because of travel restrictions, but he said he plans to spend the first part of his fellowship year at the University of Exeter as the al-Qasimi visiting professor in Islamic studies.
Whether we are writing about the intellectual challenge of our classrooms, a campus life that builds leadership, incredible faculty achievements or the seemingly endless stories of alumni success, we think DePauw has some fun stories to tell.

News media: For help with a story, contact:

Sarah Steinkamp, Vice President for Communications and Strategy and Chief of Staff.
sarahsteinkamp@depauw.edu.