DePauw program names Clayton, Indiana English teacher Battey Educator of the Year
DePauw's Honor Scholar Program is recognizing a Clayton, Indiana English teacher who her nominator said, "embodies the fervor and excitement that high school education should ignite for students."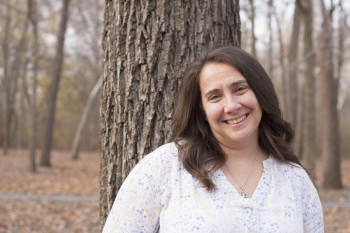 Allison Paradise, who teaches multi-grade level English literature and writing courses at Cascade High School, is the 2023 Battey National Educator of the Year, an honor awarded annually to a secondary school teacher who inspired a DePauw honor scholar graduating senior.
Paradise, a teacher for 22 years, has taught at Cascade High School since 2004, where Becca Parsons '23, a DePauw honor scholar, took her class. Parsons is majoring in English literature and minoring in political science at DePauw.
"From inside the classroom to the hours after school, Ms. Paradise made it known that she was someone you could come to for anything, and she would do everything in her power to help," Parsons wrote in a nominating letter. She said Paradise "champions important causes, leading suicide prevention walks and supporting child abuse awareness. Her heart of gold shines through her involvement as an advocate for the common good."
In an essay Paradise was asked to submit about her teaching philosophy, she wrote, "My teaching philosophy in its simplest terms, is to make sure that my students know that they have worth and potential. It is so important, especially these days as apathy runs rampant and suicide rates are on the rise, to let them know how loved they are."
Paradise added: "The relationships I have built with my students, the conversations I have had with students who are hurting, the smiles I have put on faces with tear stains still on their cheeks... those are my greatest achievements as a teacher, not AP scores, SAT scores or whatever bureaucrats tell us is a true "measure of success." We, as teachers, have to build confident students who are passionate about helping others the way they have been helped."
The Battey award was created in 2008 by Joan Westman Battey '54 and her husband Charles to thank pre-college educators who have made an enduring difference in the lives of DePauw students. Senior honor scholars are invited each fall to nominate a teacher who inspired them and continues to have an impact on their intellectual curiosity. The teacher's essay is used – along with the nomination letter and a recommendation letter from the teacher's principal – by the Honor Scholar Program to choose the Battey winner. The award provides a substantial honorarium for Paradise, and Cascade High School will receive a generous grant, to be spent on her recommendations.
Whether we are writing about the intellectual challenge of our classrooms, a campus life that builds leadership, incredible faculty achievements or the seemingly endless stories of alumni success, we think DePauw has some fun stories to tell.

News media: For help with a story, contact:

Bob Weaver, Senior Director of Communications.
bobweaver@depauw.edu.