DePauw ranked No. 10 liberal arts school in the nation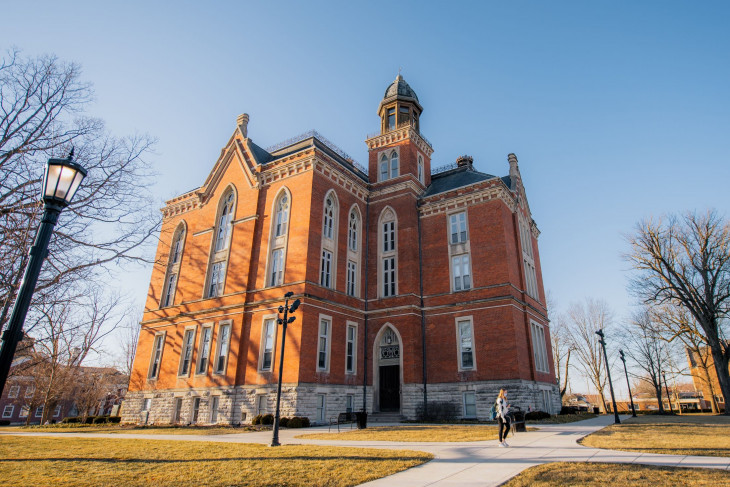 DePauw University is among top 10 liberal arts colleges in the country, according to a new ranking by BestValueSchools.org.
The website, which has a target audience of college-bound high school students looking for the right fit, published a list of the best 12 liberal arts schools in the nation, with DePauw at No. 10.
According to BestValueSchools.org, schools are ranked based on graduation rate, acceptance rates, tuition, curriculum, class size and reputation. "We also consider prestige, alumni performance and the campus and culture of the school," the website said.
BestValueSchools cited DePauw's calendar, including winter and May terms that "offer unique opportunities," such as domestic internships and study or service travel abroad. It also noted DePauw's low student-to-faculty ratio; small class sizes; and a wide variety of majors.
"A liberal arts college focuses on providing a well-rounded education instead of being highly career-focused," the website said. "These schools will prepare you for life. You'll gain knowledge in a wide variety of subjects, and learn more about who you are as a person. These schools are an excellent place to get a degree and discover your place in the world. …
"Even though the subjects taught expanded, the core sentiment has stayed the same through the ages. Liberal arts colleges prioritize free thinking and knowledge over career skills."
Whether we are writing about the intellectual challenge of our classrooms, a campus life that builds leadership, incredible faculty achievements or the seemingly endless stories of alumni success, we think DePauw has some fun stories to tell.

101 E. Seminary St.
Greencastle, IN, 46135-0037
(765) 658-4416

News and Media