DePauw remains among top national liberal arts institutions in the U.S., No. 1 in Indiana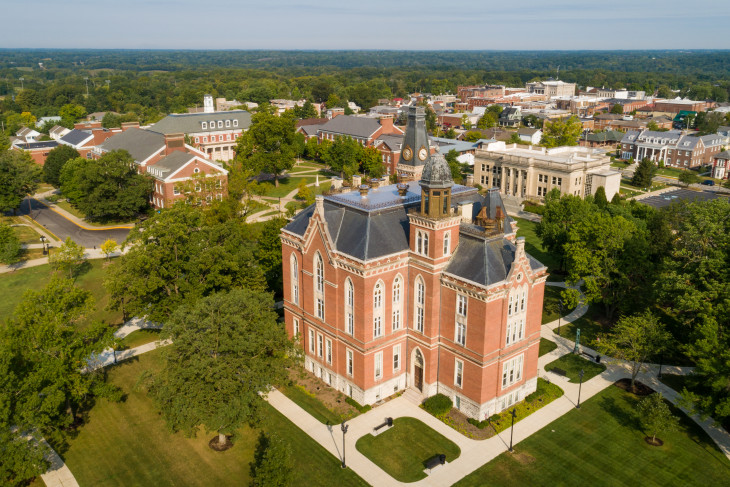 DePauw University ranks No. 46 on the preeminent list of the best national liberal arts institutions in the United States, according to U.S. News and World Report's 2022 college rankings published today.
DePauw ranked No. 1 in Indiana and one of the seven best in the Midwest. It also scored well in rankings compiled by College Factual, which likewise were released today.
DePauw was up a notch from U.S. News' 2021 ranking and tied with three other schools. In 2020, the university had moved up 10 spots over its 2019 ranking.
The overall ranking is based on data about each institution's graduation rate; the graduation rate of Pell grant recipients; the social mobility of graduates; graduate indebtedness; first-year student retention; and other factors.
DePauw also ranked No. 49 for best value among national liberal arts, a ranking that considers the percentage of students who receive need-based assistance and merit scholarships.
And the university ranked No. 80 for the social mobility of its students. This ranking measures the extent to which schools enroll and graduate students who receive federal Pell Grants. Such students typically come from households that earn less than $50,000 a year.
"Rankings don't drive what we do, but they signal to prospective students and their families that DePauw offers an academically rigorous and socially engaging experience for our students," President Lori S. White said. "I'm especially heartened to see that DePauw ranks among the best value colleges and best schools for social mobility. These rankings confirm our commitment to ambitious students regardless of their socioeconomic status and our success in enabling them to create a future of financial stability."
To create its annual list, U.S. News and World Report evaluated 1,466 American bachelor's degree-granting institutions on 17 measures of academic quality. Profile pages benchmark each school's relative performance across ranking indicators and include many of the statistics used in the calculations, such as the student-faculty ratio and the average federal loan debt of graduates.
College Factual, meanwhile, ranked DePauw as the No. 4 best bachelor's degree school among 45 Indiana institutions. It also ranked: No. 1 of 12 for best general economics; No. 1 of 10 for best music performance; and No. 1 of eight for best general education.
Media inquiries: Mary Dieter, marydieter@depauw.edu, 765-658-4286 or 317-809-5417
Whether we are writing about the intellectual challenge of our classrooms, a campus life that builds leadership, incredible faculty achievements or the seemingly endless stories of alumni success, we think DePauw has some fun stories to tell.

News media: For help with a story, contact:

Bob Weaver, Senior Director of Communications.
bobweaver@depauw.edu.