DePauw remembers John Jakes '53, prodigious author and loyal alum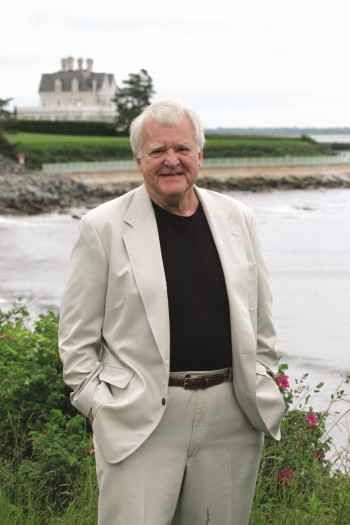 DePauw lost a loyal and generous alum when John Jakes passed away March 11, 2023 at the age of 90. Jakes was born in Chicago in 1932 and spent most of his life pursuing his passion for writing. He was a prolific author, publishing over 80 books in his lifetime and selling more than 120 million copies worldwide.
Jakes enrolled in the creative writing program at DePauw University following a year at Northwestern. At DePauw, he met Rachel Ann Payne '51 who was a teaching assistant in one of his classes. They were married for 71 years. After earning a masters degree, Jakes embarked on a 17-year career as an advertising copywriter and creative director. While working, he wrote for two to three hours almost every night. Some of his early books developed a following and in 1971 he quit advertising to write full time. 
 Jakes was fond of his alma mater and returned regularly for speaking engagements and even spent a semester guest-teaching a senior-level writing course during the time one of his daughters, Victoria Jakes Montgomery '82, was a DePauw student. "That was tough on me when my dad gave a Delt that I had my eye on a 'C'" says Victoria. "Dad loved being on campus and had a great affinity for DePauw." 
 As a student, Jakes loved Dr. Raymond Pence, a tough professor famous for his red pen. Dr. Pence was one of his DePauw connections who really inspired him to be committed to the craft of writing. As an alum, Jakes was vocal in his belief in the liberal arts education and active in his engagement with the university. He served on the DePauw  Board of Trustees and the Board of Visitors. He also gave the commencement address to the DePauw graduating class of 1995. 
 In his commencement address Jakes told the graduates, "The world needs smart people like you. It needs your mind along with your heart. Indeed I go so far as to assert that the degree you receive today confers a special responsibility, a duty. As an educated man or woman you have to know more all your life so you can do more that's enlightened and moral, that's beneficial for your family, your community, your future employers, your country and the increasingly complex world in which we all live together. The ideas encompassed by the liberal arts at DePauw, were for you and are for everyone, a wonderful starting point."  
Surviving family include his wife of 71 years, the former Rachel Ann Payne of Danville, Illinois, whom he met at DePauw; children Andrea Jakes (Charles Schauer), Ellen Jakes Kelm (Bruce Kelm), J. Michael Jakes (Carolee Jakes), Victoria Jakes Montgomery '82 (Michael Montgomery); grandchildren Jonathan Jakes-Schauer, Alec Jakes-Schauer (Amber Mosley), Duncan Kelm (Katie), Jaime Kelm (Arianna), Juliana Kelm, Nathan Jakes, J. Matthew Jakes (Shannon), Ellie Jakes, Hart Montgomery (Nellie Stoeckle), Faris Montgomery, Mack Montgomery (Lindsay); great-grandchildren Kallen, Kennedy and Camden Kelm.
Obituaries were published in The New York Times and Boston Globe.   
Whether we are writing about the intellectual challenge of our classrooms, a campus life that builds leadership, incredible faculty achievements or the seemingly endless stories of alumni success, we think DePauw has some fun stories to tell.

News media: For help with a story, contact:

Sarah Steinkamp, Vice President for Communications and Strategy and Chief of Staff.
sarahsteinkamp@depauw.edu.