DePauw University Appoints Inaugural Dean of School of Business and Leadership
DePauw University is pleased to announce the appointment of John Clarke as the inaugural Dean of its newly established School of Business and Leadership, effective July 1. Dr. Clarke comes to DePauw from the Tulane University Freeman School of Business where he is the Peter W. and Paul A. Callais Professor in Entrepreneurship and the John B. Elstrott Professor in Management.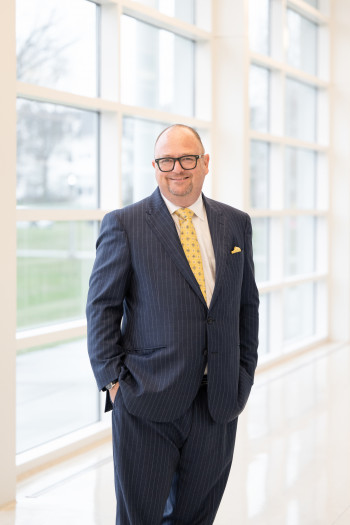 "John's broad administrative, teaching and industry experience, including experience at top academic institutions and consulting companies, combine to make him the ideal candidate to serve as inaugural dean," said Vice President for Academic Affairs Dave Berque. "I am very much looking forward to working with John as we deepen our commitment to preparing ethical leaders for the future."
Clarke previously served as Associate Dean for Academic Operations at Tulane's Freeman School, where he was integral in developing educational programs and corporate partnerships. Prior to Tulane, John was the Assistant Dean for Strategic Initiatives at the Gies College of Business at the University of Illinois Urbana-Champaign.

As the Dean of the School of Business and Leadership, Clarke will lead a team of distinguished faculty and staff in providing a rigorous curriculum built on the foundation of DePauw's liberal arts tradition. This tradition steeps students in leadership skills, critical thinking, problem solving, breadth of knowledge, creativity, communication and global citizenship. New areas of study will include finance, business analytics and entrepreneurship. DePauw's existing majors in economics and actuarial science will also be listed through the school.

"In addition to the compelling legacy of academic excellence at DePauw and the reputation of its faculty, students, and alumni, I was inspired by the vision in the Bold and Gold Strategic Plan," Clarke said. "DePauw is an institution that is going places, and the community is united behind these ambitious goals. Higher education institutions are facing many challenges; DePauw is stepping ahead of its peers and taking bold steps to build for the future."
DePauw President Lori S. White said, "We are excited about the appointment of John Clarke as the inaugural Dean of our School of Business and Leadership. Dr. Clarke's experience in academic, corporate and international settings will help DePauw shape a new direction for business and leadership education firmly grounded in our 186 year old liberal arts tradition. His outstanding educational and professional expertise will take this component of our Bold & Gold 2027 strategic plan to great heights."
Whether we are writing about the intellectual challenge of our classrooms, a campus life that builds leadership, incredible faculty achievements or the seemingly endless stories of alumni success, we think DePauw has some fun stories to tell.

News media: For help with a story, contact:

Sarah Steinkamp, Vice President for Communications and Strategy and Chief of Staff.
sarahsteinkamp@depauw.edu.