DePauw wins multimillion-dollar grant to expand student mental health services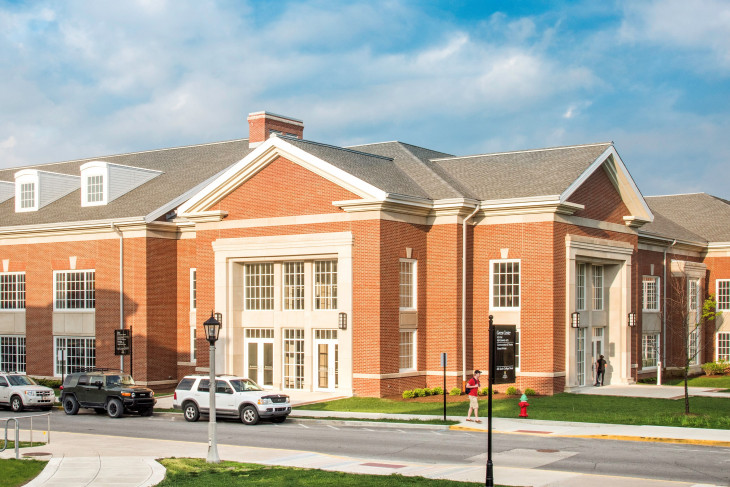 DePauw Health and Wellness Center
DePauw University has received a $2,695,912 grant from Lilly Endowment Inc. to expand mental health services for students through a consortium with two other Indiana schools.
The competitive grant, announced this morning, was awarded in phase three of Lilly Endowment's initiative, Charting the Future of Indiana's Colleges and Universities. The partner schools, Rose-Hulman Institute of Technology and Saint Mary-of-the-Woods College, each received grants of an equal amount, bringing the total for the consortium to nearly $8.1 million.
"Students who pursue an education at DePauw are high achievers and active community members," said DePauw President Lori White. "We know that college students in particular sometimes feel a tremendous amount of stress in their pursuit of excellence in all the things that they do, which in turn affects their mental health. With this grant, we not only can expand the outstanding services already offered by DePauw Counseling Services and other health and wellness offices on campus but also increase mental health awareness among our students." 
Said Trevor Yuhas, director of DePauw Counseling Services: "This really sets us up to be the leader in college mental health for the state and even the Midwest. … We'll be better equipped to meet the growing demand from students for individual counseling and therapy services, for group therapy, for psychiatric services, for increased education and for outreach programming. Everything that we do now will be able to increase."
DePauw will partner with the other schools to create MINDful College Connections, a shared-resource consortium that will enable the three institutions to focus on preventive care and increase their students' access to mental health services.
They are among the 16 Indiana colleges and universities that will benefit from funding through Lilly Endowment's Charting the Future initiative, which was designed to help schools assess and prioritize the most significant challenges and opportunities they face and develop strategies to address them. Lilly Endowment has made grants totaling more than $138 million in the three-phase initiative.
"Indiana's colleges and universities face myriad challenges as they work to fulfill their educational missions while adapting to growing financial pressures, rapid demographic and technological changes and evolving needs and demands of students," said Ted Maple, the endowment's vice president for education. "We are pleased with the creative and collaborative approaches the colleges and universities are taking to address these challenges and seize opportunities to better serve their students, institutions, communities and the state of Indiana." 
DePauw won a $100,000 planning grant from Lilly Endowment in late 2019 and a $1 million implementation grant last September. Those were the first two phases of the endowment's initiative. For the third phase, the endowment invited institutions with extraordinarily compelling challenges or opportunities to apply for another grant.  
Lilly Endowment is a private philanthropic foundation created in 1937 by J.K. Lilly Sr. and his sons Eli and J.K. Jr. through gifts of stock in their pharmaceutical business, Eli Lilly and Co. The endowment is a separate entity from the company.
Media contact: Mary Dieter, marydieter@depauw.edu or 317-809-5417
Whether we are writing about the intellectual challenge of our classrooms, a campus life that builds leadership, incredible faculty achievements or the seemingly endless stories of alumni success, we think DePauw has some fun stories to tell.

101 E. Seminary St.
Greencastle, IN, 46135-0037
(765) 658-4416

News and Media