The golden sun shone on DePauw University Oct. 1, as Lori S. White was inaugurated as DePauw's 21st president.
The two-hour ceremony was marked by a cloudless sky, vibrant academic regalia, inspirational songs and rousing speeches. Attendees – students, alumni, faculty and staff members, White's family and friends and delegates from more than 50 higher education institutions from across the country – braved the unusually warm temperature and honored a requirement to wear masks to witness a moment in DePauw history: White is the first woman and first person of color to be appointed president.
The inauguration's theme was "Rise," based on the poem "Still I Rise" by Maya Angelou, one of White's favorites. The ceremony featured several songs, including a rendition of Rosephanye Powell's song "Still I Rise" by the DePauw Chamber Singers and "The Impossible Dream," sung by Chloé Johnson '22.
Thomas Parham, president of California State University, Dominguez Hills, presided over a libation ceremony, a celebratory ritual in which he harkened to ancestral spirits. English professor Eugene Gloria, the John Rabb Emison professor of creative and performing arts, read his poem, "Outside of Eden," which he wrote for the occasion. Holden Thorp, White's boss when he was provost and she vice chancellor at Washington University, gave the keynote speech before White offered remarks.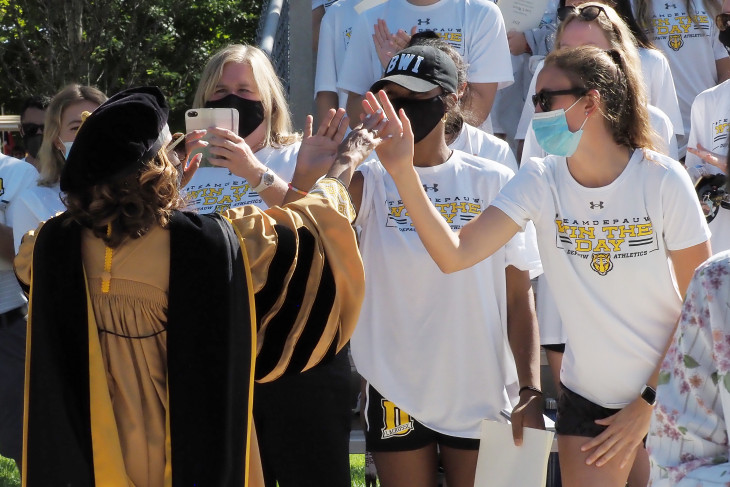 Dr. White high-fives students at her inauguration.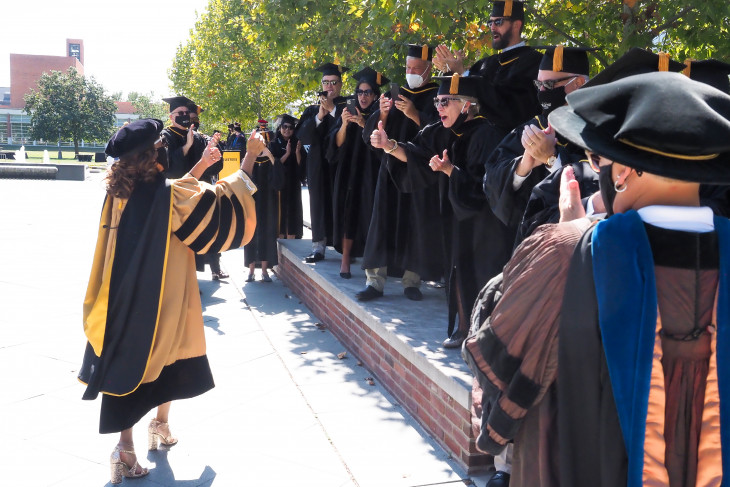 Faculty members give the thumbs up.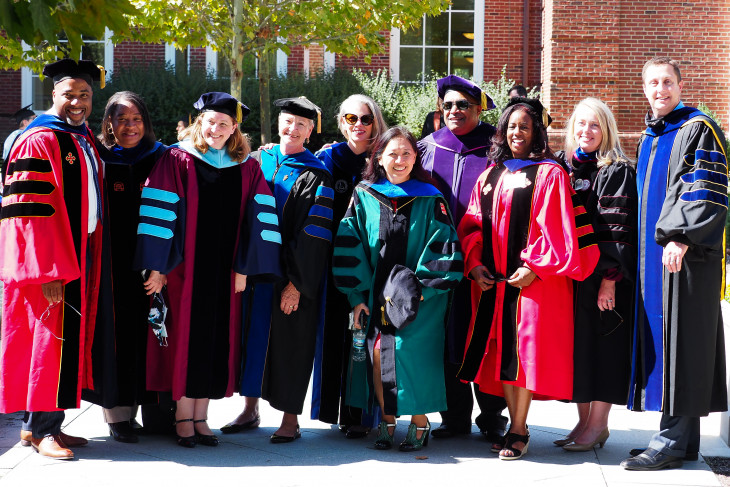 Delegates from more than 50 institutions attended the event.
"I believe that liberal arts colleges like DePauw are crucial, now more than ever, to our ability to create a better, more just and more humane world. … We will rise by staying true to this noble purpose and keeping our mission to contribute to the betterment of society at the very core of who we are." President Lori S. White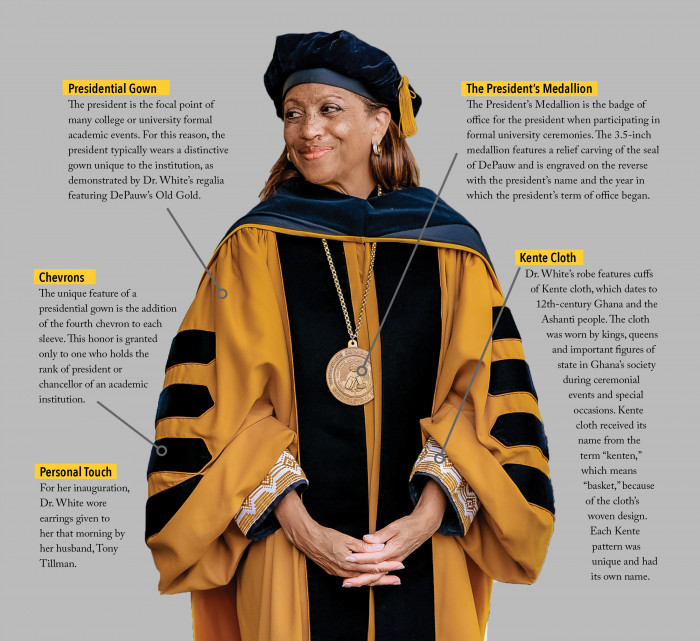 Delegates, faculty and staff prepare for the procession.
"She knows that no field stays the same, that there's no fixed canon, and that only in reaching for the new can scholarship thrive." Holden Thorp, keynote speaker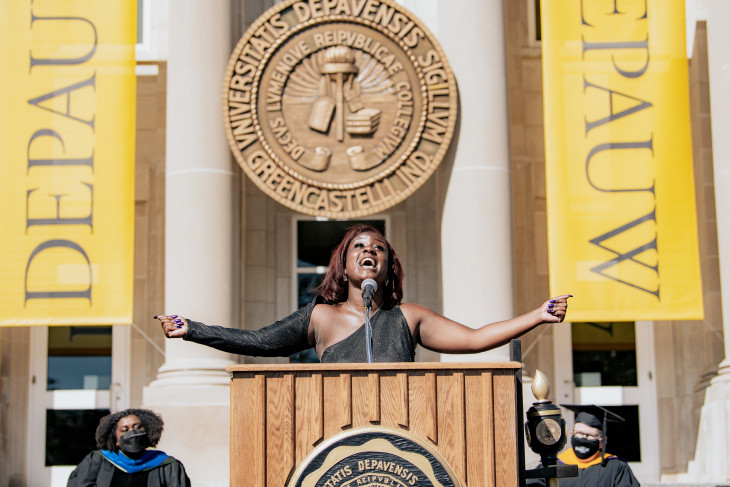 Chloé Johnson '22 sings "The Impossible Dream."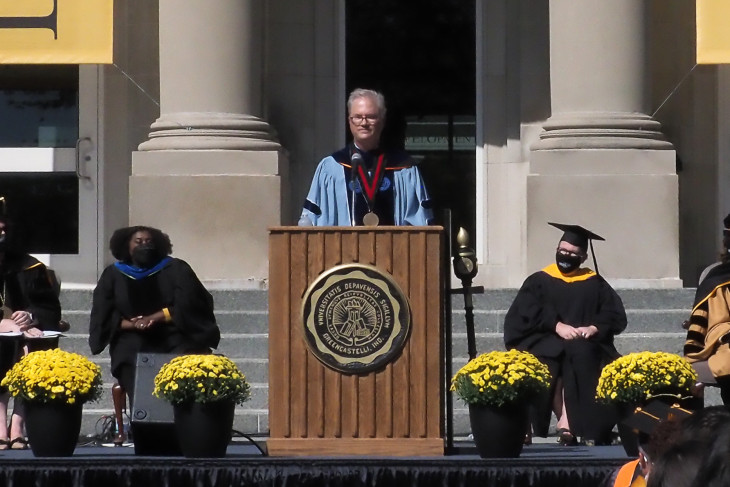 Holden Thorp gives the keynote address.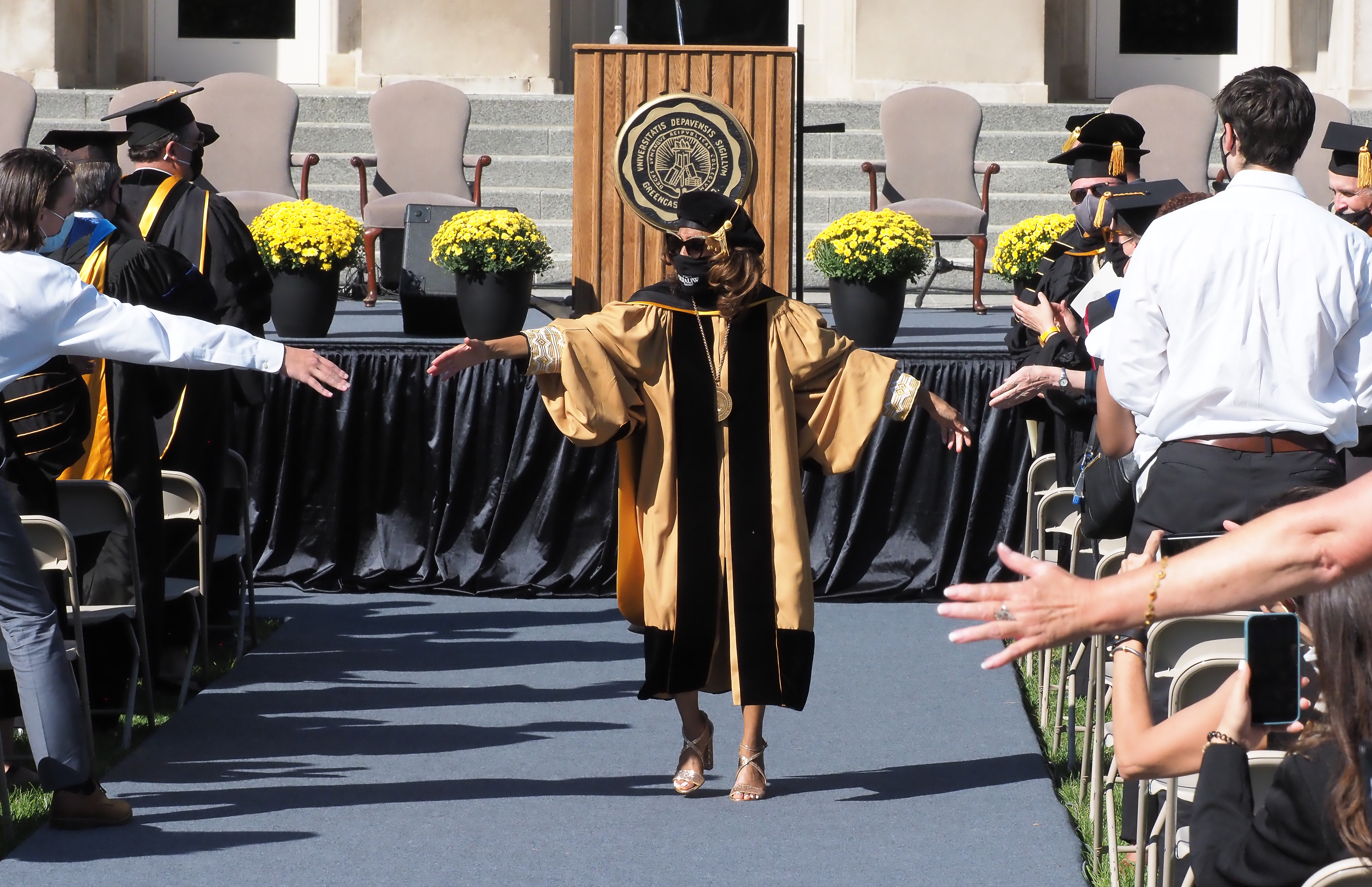 Dr. White greets well-wishers as she leaves the ceremony. 
Moments in DePauw's history
1837: Indiana Asbury College is established.
1852: Asbury Notes, Indiana's oldest college newspaper, is published.
1867: Five women enroll after the Board of Trustees and Visitors voted to include women.
1870: The nation's first sorority, Kappa Alpha Theta, opens.
1871: Indiana Asbury College graduates its first four women.
1877: DePauw welcomes its first international students, four men from Japan.
1884: The School of Music is established.
1888: Tucker E. Wilson is the first African American to graduate from DePauw, so named in 1882.
1890: DePauw and Wabash College compete for the first time in what would become one of college football's most intense rivalries. The annual game became known as the Monon Bell in 1932.
1928: Mary Washburn Conklin '28 becomes the first DePauw graduate to win an Olympic medal, a silver,  as a member of the United States' 400-meter relay team in Amsterdam.
1949: WGRE-FM, the first 10-watt college FM radio station in the country, goes on the air.
1970: Protests against the Vietnam War occurred on campus, including an attempt to burn down the campus ROTC headquarters.
1980:  The Science and Mathematics Center is named for chemist Percy Lavon Julian, the 1920 valedictorian appointed posthumously to the chemistry faculty in 2021.
1981: Alan Hill '81 becomes DePauw's first national champion when he wins the Division III pole vault title.
1982: Astronaut Joseph P. Allen '59 flies on the space shuttle. He did so again in 1984, when he walked in space.
1988: Dan Quayle '69 is elected U.S. vice president.
1996: DePauw partners with the Posse Foundation to enroll students with extraordinary potential who may be overlooked by traditional college selection processes.
1998: Ferid Murad '58, a physician and Ph.D. pharmacologist, is a co-winner of the Nobel Prize.
2015: Douglas Hallward-Driemeier '89 argues before the U.S. Supreme Court and secures the rights of two people of the same sex to marry.
2018: DePauw appoints Sami Aziz director of the Center for Spiritual Life, the first imam to direct a spiritual program at an American college.
2019: Veronica Pejril, director of Faculty Instructional Technology Support, becomes Indiana's first transgender elected official when she is elected to the Greencastle City Council.
2020: Lori S. White becomes DePauw's first woman and first Black president.
(Photos by Brittney Way, Linda Striggo and Cami Henry '22) 
DePauw Magazine
Fall 2021
A GATHERING PLACE FOR STORYTELLING ABOUT DEPAUW UNIVERSITY
Whether we are writing about the intellectual challenge of our classrooms, a campus life that builds leadership, incredible faculty achievements or the seemingly endless stories of alumni success, we think DePauw has some fun stories to tell.

News media: For help with a story, contact:

Bob Weaver, Senior Director of Communications.
bobweaver@depauw.edu.