When the Times Square Ball dropped in New York City to mark the beginning of 2020, few could have predicted the historic year that would ensue throughout the world, as well as on the DePauw University campus.
It was, after all, just the previous day that the government in Wuhan, China, confirmed that health authorities there were treating dozens of cases of pneumonia of unknown cause – the first notice the world would be stricken by a pandemic that would kill more than 1.5 million people, sicken many more, overwhelm health care workers and systems, put people out of work and separate us from our loved ones and the lives we have known.
Throughout 2020, DePauw recorded the history being made on campus and off by students and others with connections to the university. While it's unlikely most of us will ever forget that unusual year, we present DePauw's Year in Pictures.
(Header photo: Carlos Hillman '24 works on DePauw Campus Farm in October.)
See more of DePauw's Year in Pictures here.
January: Winter term takes students around the globe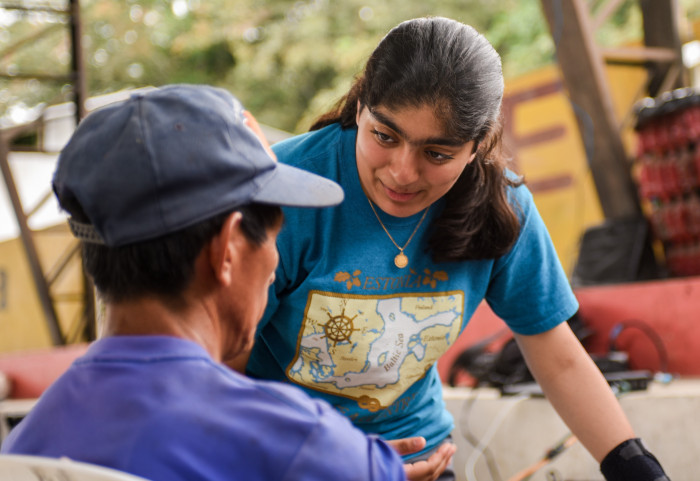 As 2020 began, DePauw students, most of whom had spent the winter break at their homes, were preparing for their winter term, which would take some to explore and learn about exotic spots such as Greece, Egypt and New Zealand. Other students returned to Greencastle to delve deeply into a single topic. And still others participated in a winter-term-in-service trip to Ecuador, where they assisted medical professionals volunteering for Timmy Global Health treat an underserved population.
In Ecuador, students and other volunteers started their days early, packing supplies that they would transport via buses and canoes to nine far-flung locales along the Amazon River. Some trips lasted three hours each way, with an eight-hour clinic day sandwiched in between.
Above, Rubina Cheema '23 assists a local man seeking medical care. Below, Jack Raffo '22 inventories vitamins and drugs the medical team will use to treat patients.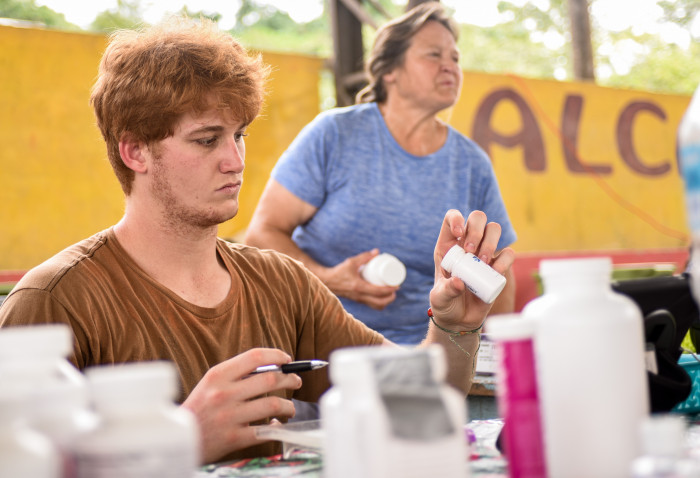 February: Sharing the love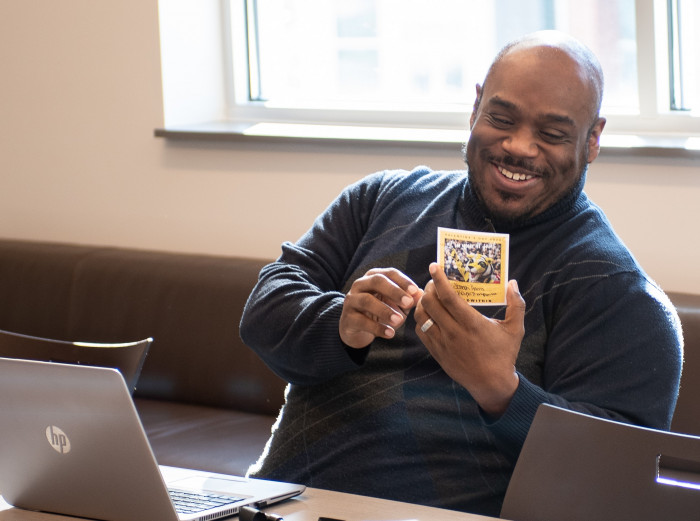 Students and alumni sent 660 messages of appreciation and affection to faculty and staff members on Valentine's Day. It took eight hours for the messages to be hand-delivered.
Above: Joseph Harris, coordinator of the Justin and Darrianne Christian Center for Diversity and Inclusion, reacts to a message. Below, Marilyn Culler, associate director of the Media Fellow Program, does likewise.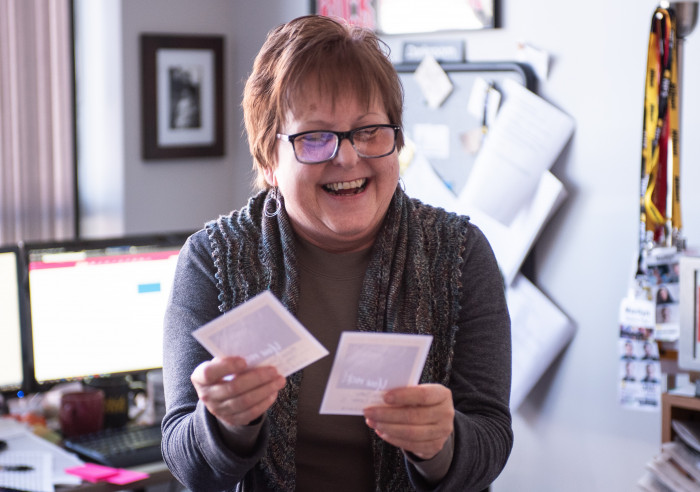 March: A historic choice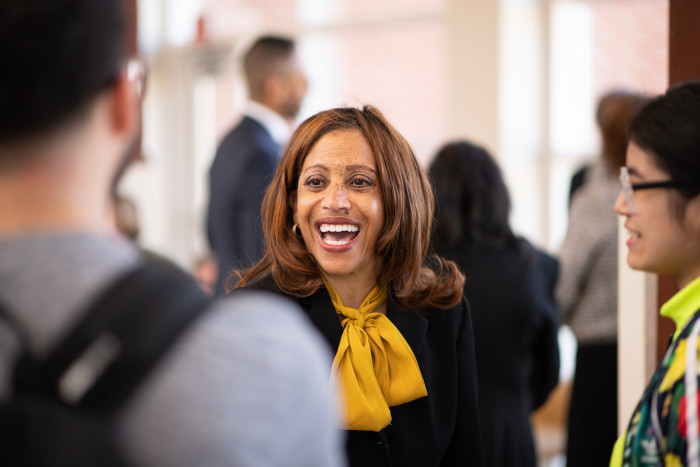 The DePauw Board of Trustees voted unanimously March 3 to appoint Lori S. White, then the vice chancellor for student affairs at Washington University in St. Louis, to be DePauw's 21st president. White, the first woman and the first person of color to lead DePauw, was introduced and made remarks (with a little trademark singing mixed in) at a community gathering that drew several hundred people to the Judson and Joyce Green Center for the Performing Arts.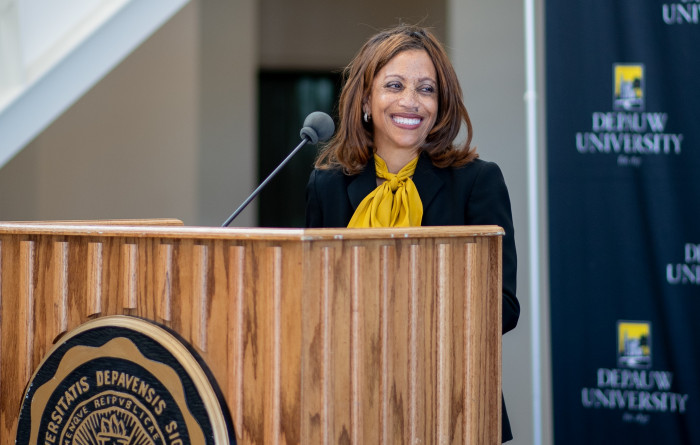 April: A deserted campus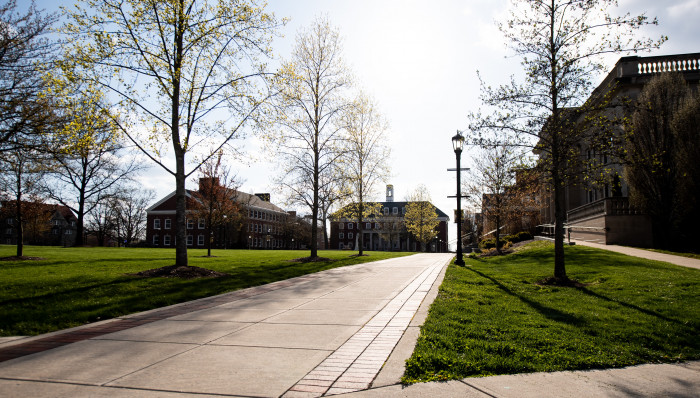 With heightened concerns that the coronavirus now known as COVID-19 was headed to Indiana, DePauw took steps to mitigate its effect on the campus. By mid-March, most students had gone home, resulting in an eerily quiet campus as spring blossomed. The university announced April 2 that the Class of 2020's commencement ceremony, set for May 17, would be postponed.
May: Celebrating differently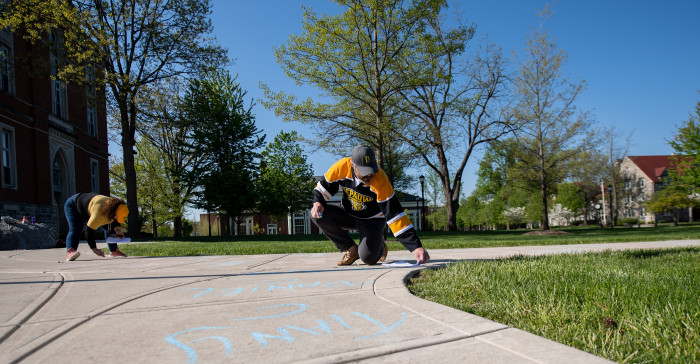 To ensure members of the Class of 2020 knew they had not been forgotten by their university community, volunteers chalked the name of every class member on the sidewalks between Alumni Arch and the academic quad.
On May 17, DePauw graduated 472 seniors in a virtual ceremony that was shown on YouTube around the world. The university began making plans for an in-person ceremony June 6, 2021.
June: Nature is unchanged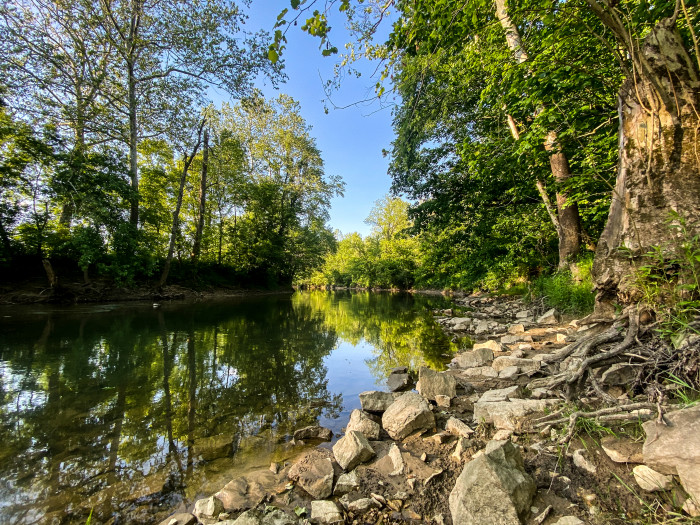 While humans struggled with the effects of the coronavirus, nature – as seen at DePauw Nature Park – remained unchanged.
July: Dr. White's first day of school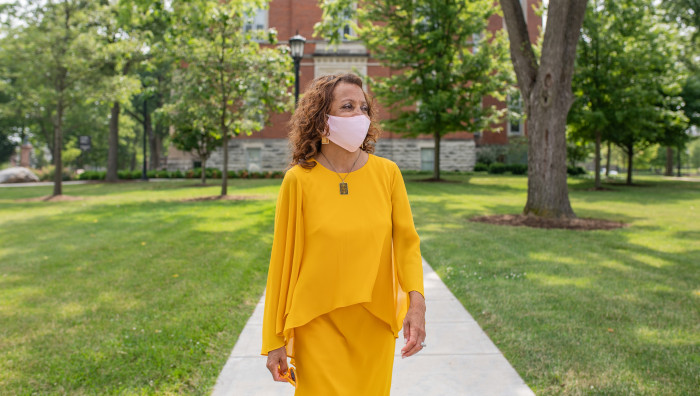 Under circumstances that no one predicted when her appointment was announced March 3, Lori S. White demonstrated her Gold Within when she assumed the DePauw presidency July 1.
August: Quiet move-in  days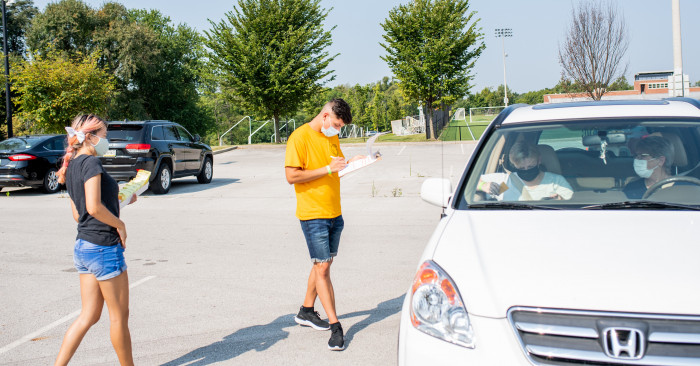 First-year students and sophomores, as well as some upperclass members, returned to campus in late August on decidedly low-key move-in days. During the fall term, 768 students lived on campus; 97 commuted (DePauw's residency requirement was waived for the term); 855 students studied remotely; and 32 students were studying off campus.
September: Adjusting to a new reality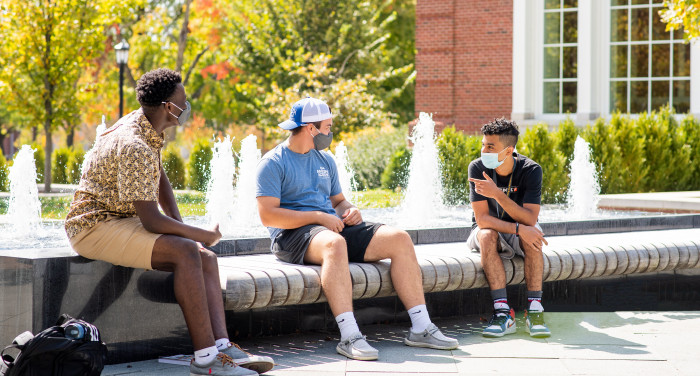 Face masks, social distancing and flexibility were the watchwords for the fall term. Students who returned to campus were required to wear masks and respect social distancing and were prohibited from participating in social gathering of more than 10 people. The university required students who lived or attended classes on campus to have two negative COVID-19 tests in seven days; adjusted housing to ensure students could socially distance; and began testing and contact tracing programs. 
October: Creativity blossomed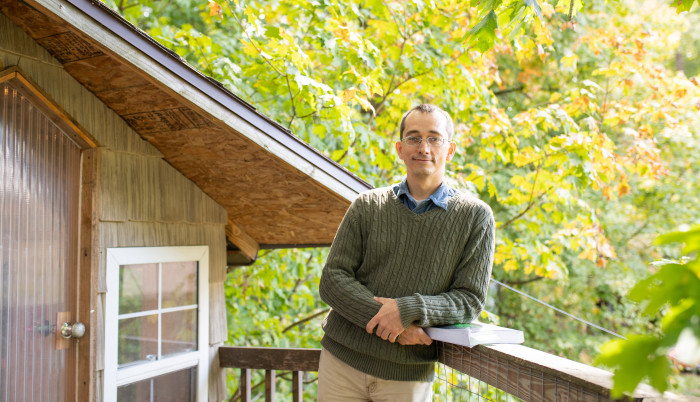 Physics professor Jacob Hale wasn't sure how he could teach remote classes from his house, which he and his wife share with their eight children. But with a little ingenuity and 150 feet of Ethernet cable, he was able to equip the abandoned treehouse he had built for his kids with the internet access he needed to teach. Hale's was one way of adjusting to the reality inflicted by the coronavirus; other faculty and staff members likewise made accommodations to ensure DePauw students continued to learn and receive important services.
November: Mother Nature was forgiving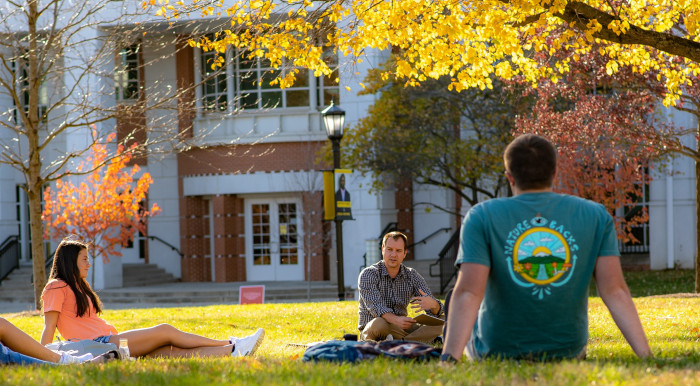 As the fall term waned, some days in Greencastle were warm enough to allow outdoor classes. Here, assistant history professor Anthony Andersson and his students socially distance during their History of Environmental Justice class.
December: First snow marks the end of fall term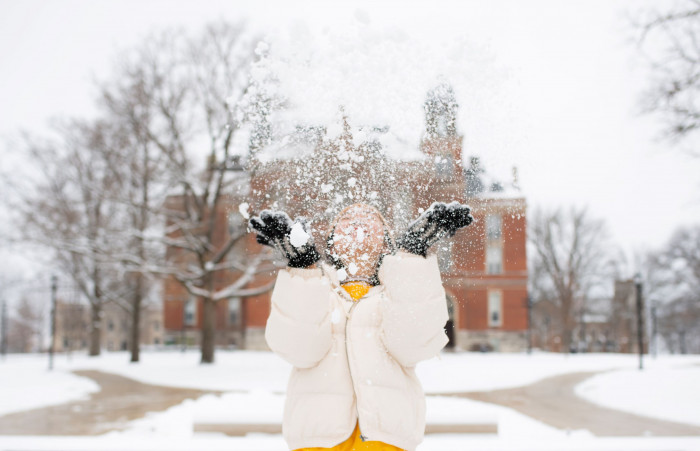 Ariel Pu '23 celebrated the end of the fall term and the first snow of winter 2020-21.
Pu, who comes from Tianjin, China, stayed in Greencastle for most of the winter break, although she visited a friend for several days. She worried that returning to China for the break might make it difficult for her to return to campus for the spring term. "I prefer to have classes in person," she said, "and staying on campus makes me feel more involved."
Pu, who is majoring in communications, is working during winter term on a DePauw marketing and advertising campaign aimed at Chinese prospective students.
Whether we are writing about the intellectual challenge of our classrooms, a campus life that builds leadership, incredible faculty achievements or the seemingly endless stories of alumni success, we think DePauw has some fun stories to tell.

101 E. Seminary St.
Greencastle, IN, 46135-0037
(765) 658-4416

News and Media