The physical space in Harrison Hall where DePauw University's new School of Business and Leadership will be located will be an open, inviting place with flexible classrooms usable for different learning and teaching styles.
"Whenever you think about space, you want to put people first," said Dave Berque, vice president for academic affairs, "and so understanding the needs of faculty, of students – and not just faculty who may be teaching courses that are listed in the business and leadership school but faculty who may already teach in Harrison Hall or plan to teach in some of the newly renovated spaces – is really, really important."
Representatives of Studio Ma, a self-styled people-centered architectural firm from Phoenix that is designing the space, were in Greencastle in late August to hear from university leaders, faculty members and students about how to accommodate modern-day learning and make the space welcoming to people from across campus and DePauw's invited guests.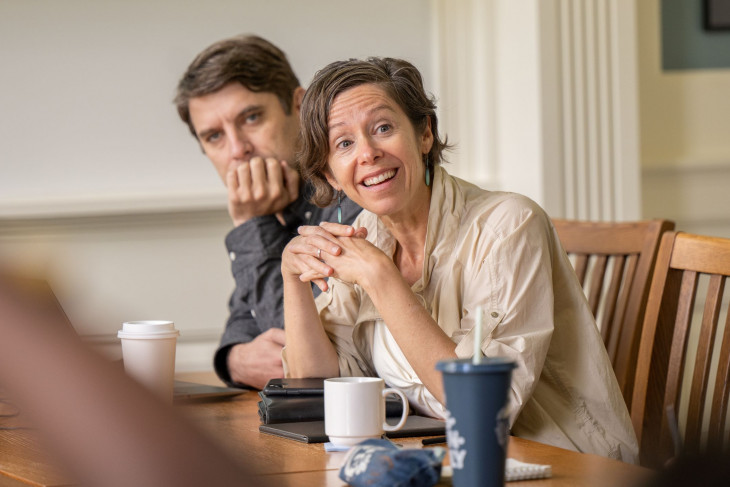 Moss and colleague listen to students.
"It takes a lot of really careful listening, a lot of questions and a lot of interactions to really get to the bottom of what people really want to see in their spaces," said Christiana Moss, a principal at Studio Ma. 
Her company wants to "imbue all of the ideals and the goals for the business and leadership school" into Harrison Hall, she said. "We've really been focused on the idea that space can" convey the new school's emphasis on business leadership and ethics.  
Moss and two colleagues heard from 13 students who attended an hourlong session and emphasized the need for space for individual study and their desire to create a warm, rather than industrial, tone. 
The school will share space in Harrison Hall with academic departments already located in the three-story red brick building, which dates to 1938. A university leadership team has decided that flexible classrooms, which will be available for use by any academic department, will be able to be configured for lectures, small-group collaboration or any other learning style. Classrooms will be equipped with wireless technology and 12 Bloomberg Terminals, which will give students access to research tools and facilitate collaboration. 
A common area will be available to all of campus, not just students in the School of Business and Leadership. An atrium with an extended ceiling will signal connections among the disciplines housed in Harrison and bring light into the building. 
The business and leadership school, which will launch next fall, is part of the Bold & Gold 2027 strategic plan announced in March. It will be one of only four business schools in the country located at a Top 50 liberal arts college and the only one in the Midwest. 
Demolition on portions of Harrison Hall is set to begin in December and construction is scheduled to begin in January.
The location of the business and leadership school in Harrison and related architectural decisions were intentional, Berque said, so that students feel neither isolated from campus nor more elite than students in other disciplines. DePauw researched the experiences at other institutions and leaders want to design the space so students identify with the university as a whole, rather than just the business and leadership school.
University leaders also want the architecture to signify DePauw's interdisciplinary nature. "One of the tenets of the academic renewal part of the strategic plan is to center and strengthen the College of Liberal Arts and Sciences," Berque said. "And that means that things that are happening in the College of Liberal Arts and Sciences are going to have an impact on shaping the School of Business and Leadership, as well as the Creative School. … Neither of these two new schools are going to be operating in a silo.
They're very much going to be integrated with the College of Liberal Arts and Sciences, and that means we need to be thinking holistically as we develop spaces."
See more about the school design in this video.
Whether we are writing about the intellectual challenge of our classrooms, a campus life that builds leadership, incredible faculty achievements or the seemingly endless stories of alumni success, we think DePauw has some fun stories to tell.

News media: For help with a story, contact:

Bob Weaver, Senior Director of Communications.
bobweaver@depauw.edu.